Highland Park Scotch Whisky Distillery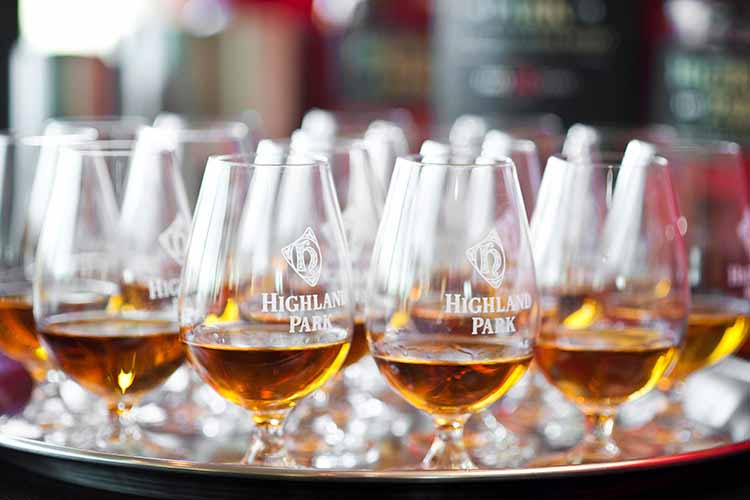 Highland Park Scotch Whisky Distillery was built around 1794 and is located in Orkney and is currently the only distillery within this region of Scotland. It produces all the Highland Park range of single malt whiskies including the very popular Highland Park 12 Year Old in the flat bottle, Highland Park 18 Year Old and Highland Park 25 Year Old. This is just the three of the range of malts that are on offer as there are over 25 malts available, but this number is changing constantly. All the malts have the excellent quality you look for from this very famous Scottish whisky distillery. The capacity of the Highland Park Distillery is 2,500,000 litres of alcohol per year.
The contact details for this distillery are Highland Park Distillery, Kirkwall, Orkney, KW15 1SU and the contact telephone number is +44 (0)1856 873107.
For further information please visit www.highlandpark.co.uk or call the visitor centre on 01856 874619.
Where to buy Highland Park Malts
Buy Highland Park Scottish Single Malts Whisky
Highland Park distillery tour opening hours:
October to March
Mon – Fri 1pm – 5pm
Tours 2pm and 3pm
April & September
Mon – Fri 10am – 5pm
Tours on the hour every hour until 4pm
May to August:
Mon-Sat 10am – 5pm; Sun 12pm – 5pm
Tours on the hour until 4pm
Closed for the festive holidays
Five star visitor centre:
Read more details about this Five Star Rating
Read the latest whisky news on Planet Whiskies from Highland Park Distillery
Highland Park Releases Stunning And Category Breaking Packaging To Reflect Viking Heritage: 'The Orkney Single Malt with Viking Soul': 28th April, 2017
Highland Park Launches Rebus30: An exclusive 10 Year Old Single Malt to celebrate special 30th anniversary: 13th April, 2017
Highland Park Brings Midsummer Solstice To Life :: 30th June, 2016
Introducing Highland Park Ice Edition :: 'Celebrating Norse myths, legends and our Viking roots':: 10th March. 2016
Highland Park Latest News - Slow Food UK Announces its 100th Chef Alliance Member - 13th Nov, 2013
Highland Park pairs whisky with music - 23rd September, 2013
Highland Park announces sponsorship of Top 50 Gastropub Awards - 17th September, 2013
Highland Park 25 Year Old Triumphs Unprecedented 100-Point Score At Ultimate Spirits Challenge - 9th May, 2013
Highland Park Clinches Seven New Accolades - 9th August, 2012
Highland Park to create living tapestry of global fans - 1st August, 2012
Highland Park - Over 50 Chefs Join The Slow Food Uk Chef Alliance In Partnership - 14th June, 2012
All Change For Highland Park With New Distillery Manager - 18th April, 2012
Highland Park Brings 21 Year Old to U.K. Market - 2nd March, 2012
Highland Park Shows Passion For Food With Increased Investment - 22nd February, 2012
Highland Park Unveils New Global Brand Advovate - 9th February, 2012
Highland Park - London's top chefs out in force to celebrate launch of slow food UK Chef Alliance - 16th September, 2011
Highland Park reaches out to record audiences at Hay - 23th June, 2011
Highland Park first Scotch whisky to enter The Spirit Journal Hall of Fame - 13th June, 2011
Highland Park reveals oldest ever Island Single Malt with striking 50 year old - 1st October, 2010
Highland Park visitor centre retains five star accolade - 28th September, 2010
Highland Park launches third bottling from the Orcadian Vintage Series - 10th August, 2010
Highland Park hailed as number one Scotch - 1st June, 2010
Highland Park ambassador awarded prestigious global accolade - 5th March, 2010
Highland Park unveils global travel retail range - 19th March, 2010
Highland Park Launches Tasting Collection - 18th December, 2009
Highland Park reveals new bottling the Earl Magnus Edition 1 - 15th December, 2009
First flow of Orcadian Vintages from the creators of the best spirit in the world - Highland Park releases 1964 and 1968 premium editions - 6th November, 2009
View Highland Park Q&A regarding the release of the 1964 and 1968 premium editions - Click Here
The best spirit in the world announces partnership with the UK's most spirited publisher - Oct 1st, 2009
Limited edition single malt celebrates Scandinavian heritage and Highland Park's Orcadian home - August 20th, 2009
Highland Park named 'Best Spirit in the World' as sales soar - August 17th, 2009
Highland Park celebrates fourth year of book festival sponsorship - August 4th, 2009
Treasure trove of rare Highland Park single malt whisky discovered in Japan - 27th March, 2009
You can see the selection of single malts available at Highland Parkl distillery by going to the following link on this website for Single Malts from Highland Park distillery
Selection of whisky from Highland Park Whisky Distillery