Knappogue Castle Whiskey Range :: St Patrick's Day Cocktails :: Emerald Old Fashioned :: Dead Rabbit Irish Coffee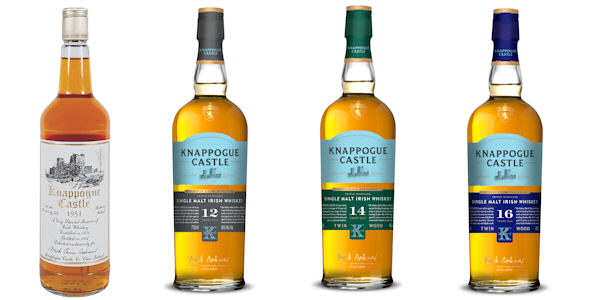 St Patrick's Day is one of the best loved days of the year and is celebrated by millions world-wide on the 17th March. So Planet Whiskies thought we would bring you a couple of St Patrick's Day Cocktails that you could have during the day made with Knappogue Castle Whiskey.
Before we bring you the cocktails we thought you might be interested in some of the background information of the recipes. Following the cocktails you can find out more details about Knappogue Castle Whiskey.
History of The Irish Coffee
It has been said that "Only Irish coffee provides in a single glass all four essential food groups: alcohol, caffeine, sugar and fat." The above recipe is a version that traces back to the 1940s Foynes original.
Whilst there are several bartenders who claim they invented the recipe, the creator of the recipe we know today was chef Joe Sheridan who cleverly combined whiskey and coffee as a way to warm up a group of American guests after they arrived to his restaurant in Foynes, Ireland from a particularly chilly voyage. The recipe was subsequently developed as travelers brought it back to America, namely Stanton Delaplane, a journalist who worked with bartenders and even a dairy farmer to recreate the drink. They attempted different methods and tried several varieties of cream to achieve the perfect cream float on top.
Emerald Old Fashioned
Created by: Joaquín Simó
Available at: Pouring Ribbons
2oz Knappogue Castle 12 year Single Malt Irish Whiskey
1tsp honey syrup (2 parts wildflower honey: 1 part water)
1tsp Green Chartreuse
1 tsp Dolin Génépy des Alpes
Add all ingredients into a rocks glass. Add ice and stir briskly until chilled and just combined. Garnish with a mint sprig, spanked and inserted
"The Emerald Old Fashioned is my attempt to bring civility and deliciousness back to a holiday desecrated with green beer and disrespectfully-named shots. Knappogue Castle 12 year's fruit and spice notes serve as a rich base to layer upon whispers of herbal complexity and lashes of floral honey. The whiskey remains front and center in this elegant ode to the original cocktail, with only a refreshing sprig of mint to add brightness to the nose and eye while echoing the alpine herbs in the modifiers" - Joaquín Simó
Dead Rabbit Irish Coffee
Created by: Dale DeGroff
Available at: Dead Rabbit NYC
1.5oz Clontarf 1014 blended Irish Whiskey
4oz hot Caro De Minas Birch Coffee
0.5oz Demerara sugar syrup
Heavy cream
Beginning with the coffee, pour all ingredients (not including the cream) into an 8oz stemmed glass and gently stir
Hand whip the cream so that it still pours
Using the back of the bar spoon to guide, float the cream on top of the coffee
"I'm Italian mostly but I've enjoyed the luck of the Irish at exactly the moments I most needed it. One of those moment was stepping behind the bar in 1975 at Charley O's Bar and Grill in N.Y.C. Joe Baum, a master of the details that make greatness in the hospitality business, opened Charley O's in Rockefeller Center in the early 1960's. Senator Patrick Moynihan chose Charley O's as the venue for his St Patrick's Day breakfast and that tradition continued for two decades joined by crowds of resellers. At the centre of that celebration was Charley O's Irish Coffee, the third best in the world after Joe Sheridan's revival of the drink in San Francisco at the world famous Buena Vista Café. With this recipe I am evoking the spirit of Joe's greatness at the Dead Rabbit where from this day forward you will find the world's best Irish coffee" – Dale DeGroff
About Knappogue Castle Single Malt Irish Whiskey
Knappogue Castle Single Malt Irish Whiskey is named after Knappogue Castle, a 15th century castle in western Ireland, restored by Mark Edwin Andrews II upon purchasing it in 1966. At the castle he amassed an impressive and rare collection of pure pot still whiskey; when the whiskey reached its peak age, it was bottled and named after his beloved Knappogue. The last of Mr. Andrews's whiskey, Knappogue Castle 1951 is the oldest and rarest Irish whiskey in the world. There are just 200 bottles left in existence and it is still available to purchase for $2,000 a bottle by special order. Today, Mark Andrews III continues his father's legacy with a line of premium Knappogue Castle Single Malt Irish Whiskeys. The portfolio also includes:
Knappogue Castle 12-Year Old Single Malt: Aged in bourbon barrels, bright, light color, elegant fruit, mildly spicy, citrus taste, 80 proof

Knappogue Castle 14-Year Old Twin Wood: Aged in two types of wood, Oloroso Sherry casks and bourbon barrels, fruity with hints of green apple and grapefruit zest, and vanilla notes from the charred oak casks, 92 proof

Knappogue Castle 16-Year Old Twin Wood: Aged for over 14 years in bourbon barrels and finished for 21 months in Oloroso sherry casks; deep, complex, and very smooth, with a fruity nose and dusty dark, 80 proof
About Clontarf 1014 Irish Whiskey
Clontarf 1014 Blended Irish Whiskey is named after the famous battle of Clontarf when the Irish achieved a remarkable victory over the Vikings, permanently ending the invaders' return, making possible the Ireland we know today. A combination of barley, maize and pure Irish spring water, Clontarf pot-stilled blended Irish Whiskey is aged four years in charred oak bourbon casks, distilled three times and filtered through Atlantic Oak charcoal. This unique method provides a pure and extraordinary flavor. Production: Using the best grains and pure Irish spring water, Clontarf 1014 is triple- distilled, filtered through Atlantic Irish oak charcoal, and aged four years in bourbon barrels: ten percent is pot stilled single malt whiskey; the rest of the blend is a combination of pot stilled and column stilled grain whiskey.
Tasting Notes: Medium gold color; a light aroma of toasted oak wood, with hints of toffee and a background maltiness, gives it a rich, soft nose; in the mouth the whiskey is velvety, lush, mellow and smooth; its taste and long finish impart lingering, subtle hints of vanilla, slight maltiness, and notes of toffee. It is balanced, flavorful, easy-to- drink, and refreshing, 80 proof
<< Back to all the latest whisky news brought to you by Planet Whiskies