The Balvenie Range of Single Malt Whiskies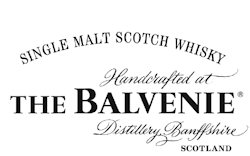 On this page on Planet Whiskies are more details relating to The Balvenie Single Malt Whisky range. All the below information has come directly from the Scottish Distillery and is all very interesting reading. There is also a article at the bottom of this page all about About William Grant & Sons.
If you would like to view the range of The Balvenie Single Malts and buy these bottles please click this link - The Balvenie Single Malt Whiskies
Notes on the Most Handcrafted Collection of Whiskies
Below is a banner from the Balvenie Distillery. All you have to do is click the banner and sign up for free to their website and you will receive a Free WHISKY TASTING NOTEBOOK. You will also be entered into prize draws and find out the latest news for Balvenie Distillery.
Our Award Winning Single Malt
With over one hundred international whisky awards in the last ten years, The Balvenie has been recognized by the world's most acclaimed experts for its commitment to the rare crafts involved in traditional malt whisky making. This dedication to traditional methods and crafts sets The Balvenie apart from other single malts.
The Balvenie Single Malt Scotch Whisky Range
The Balvenie range includes very rare, old and extremely high quality Single Malt Scotch Whiskies. Each expression is absolutely unique, but all share the rich, luxurious smoothness and deliciously honeyed character of The Balvenie.
The Balvenie DoubleWood Single Malt Scotch Whisky, Aged 12 Years
A distinctive character from maturation in two different casks
During maturation, The Balvenie DoubleWood is transferred from a traditional oak bourbon cask to a European oak sherry cask. Finishing the whisky in a different barrel lends a unique quality to the resulting Single Malt – the bourbon casks soften and add a honeyed character, while the sherry wood brings depth and fullness of flavor.
Tasting Notes
Nose: Sweet fruit and Oloroso sherry notes, layered with honey and vanilla.
Taste: A smooth and mellow single malt of beautifully combined flavors – nutty sweetness, cinnamon spiciness and a delicately proportioned layer of sherry – with a long and warming finish. Click to buy
The Balvenie Signature, Aged 12 Years
An exposition of the traditional art of The Balvenie Malt Master, David Stewart.
David Stewart skilfully marries aged Balvenie from the finest bourbon, new oak and sherry casks to create this signature malt, characterised by honey, spice and subtle oak. A limited release, each batch of The Balvenie Signature is a unique marriage of these three cask types and each bottle carries its own batch number.
Tasting Notes
Nose: Rich and complex with honey, citrus fruits and vanilla oak notes.
Taste: Rich and honeyed sweet with a hint of sherry fruitiness. A spiciness of cinnamon and nutmeg and a subtle oakiness develop with time. The finish is warm and lingering. Click to buy
The Balvenie Caribbean Cask, Aged 14 Years
This exciting new expression follows the acclaim of 2008's limited edition Balvenie 17 Year Old Rum Cask, and the subsequent popularity of rum cask-finished whiskies, with a whisky that bears all the hallmarks of the Balvenie, but with an added level of complexity that comes from finishing the whisky in casks that once held Caribbean rum. After a 14 year maturation period in traditional oak whisky casks, the Balvenie is then transferred to the rum casks, leading to an exceptional Single Malt that exemplifies the signature smooth, honeyed character of the Balvenie, while adding unique notes of toffee and fruit that come from its innovative cask finish.
Tasting Notes
Nose: Rich, sweet and creamy toffee on the nose combines with fresh fruit notes
Taste: Rounded with vanilla and sweet oak notes, with a fruity character that develops with time
Finish: Soft and lingering Click to buy
The Balvenie Single Barrel Single Malt Scotch Whisky, Aged 15 Years
Aged in a single oak bourbon cask for a unique flavor
This expression is aged in American oak barrels that once held Bourbon, which imparts a warmth and sweetness. The single barrel process also means that no two casks are ever alike, although The Balvenie Malt Master selects only those casks which have the essential characteristics of The Balvenie Single Barrel, particularly honey, vanilla and oaky notes. Each bottling forms a limited edition of hand numbered bottles - each one of which is unique and unrepeatable.
Tasting Notes
Nose: Fragrant aroma of vanilla, honeyed sweetness, hints of heather and dry oaky notes.
Taste: Rich and complex, suggestive of years of careful ageing. It has a honeyed maltiness with vanilla oak flavors, and delicate spice notes. A long and complex finish with a touch of liquorice. Click to buy
The Balvenie PortWood Single Malt Scotch Whisky, Aged 21 Years
A marriage of rare Balvenie finished in port wine casks
After 21 years spent maturing in traditional casks, this exquisite Single Malt is transferred to casks that once held Fine Port Wines. Because of the age of this whisky, it is sampled regularly by The Balvenie Malt Master to ensure that just the right amount of character is imparted by the port casks, which enhance and develop the single malt, while preserving its original characteristics.
Tasting Notes
Nose: A perfume of fruity and ripe raisin notes, backed by a nutty dryness.
Taste: Refined with remarkable character, it is creamy and silky with fruit, honey and spice notes. Long and gentle, nutty finish. Click to buy
The Balvenie 17 Year Old Limited Edition Cask Finish
A rare and collectible Single Malt release featuring unique and memorable cask finish
Each year, Malt Master David Stewart creates a new 17 Year Old Expression that becomes an instant collector's item. Known for its unique range of cask finishes, these never-to-be repeated marques showcase the distinctive taste of The Balvenie, while marrying them with one-of-a-kind cask finishes. Since its first introduction, this range has included whiskies finishes in Islay, new oak, new wood, sherry oak, rum, Madeira wine and Peated casks. In 2010, David Stewart created The Balvenie 17 Year Old Peated Cask.
The Balvenie Thirty Single Malt Scotch Whisky
A rare and especially fine single malt for which David Stewart selects only exceptional casks that were laid down over thirty years ago.
By marrying Balvenie slowly aged in traditional oak whisky casks with that aged in European oak sherry casks, David Stewart creates a rich, mellow Scotch whisky with unusual depth and complexity. 'Thirty' is bottled at 47.3% abv to capture all the signature characteristics of The Balvenie.
Tasting Notes
Nose: Silky smooth and honeyed with mellow oaky tones and hints of candied orange peel.
Taste: Great depth with rich dark chocolate, hints of plum, marzipan and caramelised pear. An exceptionally smooth and warming finish with gentle spice and lingering sweetness. Click to buy
The Balvenie Vintage Cask Single Malt Scotch Whisky
Hand bottled from a single vintage cask.
Some exceptional casks of The Balvenie will continue to improve beyond even thirty years and so each year, David Stewart samples these and selects one or two for release as The Balvenie Vintage Cask Single Malt Scotch Whisky.
If you would like to view the range of The Balvenie Single Malts and buy these bottles please click this link - The Balvenie Single Malt Whiskies
About William Grant & Sons
William Grant & Sons, Ltd. is an independent family-owned distiller headquartered in the United Kingdom and founded by William Grant in 1886. Today, the super-premium spirits company is run by the fifth generation of his family. Among the most recent accolades for the well-awarded company, William Grant & Sons was honored as the "Distiller of the Year" for the third time in four years by the prestigious International Spirits Challenge.
Founded in 1964, William Grant & Sons USA is a wholly-owned subsidiary of William Grant & Sons, Ltd. and features one of the fastest growing spirits portfolios in the USA with super-premium brands including Stolichnaya vodka, the world's best-selling single malt Scotch whisky Glenfiddich, The Balvenie range of handcrafted single malts, Grant's blended Scotch, Hendrick's® Gin, Sailor Jerry® Spiced Navy Rum, the award-winning Milagro® Tequila, Frangelico Hazelnut Liqueur, Licor 43, BOLS Liqueurs, Galliano, Lillet and Solerno Blood Orange Liqueur.
William Grant & Sons USA has offices in New York City (sales and marketing) and Edison, NJ (bottling and warehouse facilities). For more information on the company and its brands, please visit www.grantusa.com.