Master blender Keith Law talks about pairing food and whisky…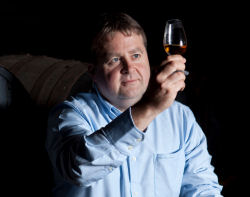 People have a very divided opinion over pairing food with whisky and most people find it hard to envisage a whisky and food match. Personally, I think a blended scotch whisky can match certain foods and dishes excellently and the array of flavours found in blended whisky can bring out and define a food's taste.
Many articles about pairing whisky and food talk about single malts, however I like to remind people that blended whiskies offer a perfect alternative.
I feel that people have missed an opportunity not to drink blended whiskies with food mainly because it is something they never thought about trying before. The truth is that blended Scotch whisky when drunk neat or sometimes slightly "longer" than usual with water can make a great alternative to wine and really emphasise the flavours of certain foods and dishes.
Matching whisky with food takes some experimentation and experience to get it right. But if you stick to simple foods it can be a real eye opener.
In general, dishes with extreme flavours that generally do not match easily with some wines work well with blended whisky. Tapas, Asian dishes and particularly seafood combine well with some of the lighter less peaty blends such as Buchanan's and J&B.
Desserts and after dinner courses work well with blended whisky too. Johnnie Walker Gold Label served "frozen" (at least 24 hours in the freezer please!) can give an indulgent taste sensation when served "straight" with dark chocolate desserts.
To finish off a meal a smoky, rich blend such as Johnnie Walker Black Label goes nicely with a cheese platter.
In the past I have experienced some unusual combinations of blended Scotch whisky and food - How many of you have attended a Burns Supper and saw people pouring some whisky over their Haggis? It just works!
So in many cases choosing foods to match blended Scotch whisky is very much down to personal preference and experimentation is the key. So keep educating your palate and have fun trying out new combinations. Enjoy!
Message from Planet Whiskies
We also have another page on Planet Whiskies where Keith Law talks give a question and answer session. If you would like to read this go to Keith Law Master Distillery, Diageo - Question and Answers page.