Penderyn Distillery: About Penderyn Single Malt Whisky
If you would like to buy Penderyn click here
Penderyn Single Malt whisky has been around only for a few years after being launched 1st March 2004 (St David's Day). This date is a key date in Welsh whisky history as it returned to producing whisky after more than 100 years in exile. The first batch of Penderyn Whisky was released on the above date and was sold out almost immediately.
The Single Malt Penderyn is made at the Penderyn Distillery which is located with the Southern reaches of the Brecon Beacons. It is not a massive distillery to say the least and only produces a small amount of whisky each day. It is then matured in Bourbon casks (mostly from Buffalo Trace) and finished in rich Madeira wine casks. The strength of the whisky produced is 46% ABV and is light and fresh in style.
One of the best things about the location of the Penderyn Distillery is the pure water source that runs under the distillery. The pure water source is a blessing for Penderyn and is replenished by rain water that flows through the soil and filters through to near-surface rocks within the Brecon Beacons National Park.
Penderyn is a new generation of Welsh whisky as the previous whisky distilled in Wales was by a the Welsh Whisky Company at the distillery in Bala in North Wales. This distillery was called the Frongoch Distillery, but sadly was closed in the late 1800's.
Penderyn has taken over the Welsh whisky industry by storm and is one of the most influential Welsh exports with their whisky being sold all around the world in a number of key outlets. The distillery itself is a key employee for the local area and has a team of around 30 dedicated craftsman, staff and professionals all helping in the running of the distillery. One of the key personnel at Penderyn is Dr Jim Swan who overlooks the whole process at the distilling include style and flavour known worldwide as Penderyn Single Malts Whisky.
Dr Jim Swan is one of the world's finest master distillers, but is also a world authority on wood management. At present there are around 60 shareholders that own the distillery and over the next few years I can see Penderyn whiskies becoming even more popular. The company and its products are fiercely independent and the spirit of entrepreneurship within the company is already a model that is being used in course work in colleges and universities.
In the UK, Penderyn is available from the main shop retails including Tesco, Sainsbury's, ASDA, Morrisons and can be bought on the companies store websites www.penderynstore.com. Penderyn as stated above is a world-wide brand and can be found around Europe and North America, as well as Japan, South Africa and Australia.
Penderyn Distillery Visitor Centre
Penderyn Distillery Visitor Centre opened its doors to the public in June 2008 with a new purpose built Visitor Centre. Guests to the visitor centre can go along a very exciting journey regarding the history of whisky making in Wales and then enjoy a selection of all the Penderyn products in the well-stocked bar. With the visitor centre open throughout the year is has become one of South Wales's top attractions with visitor attraction with around 30,000 people going through the visitor centres doors over the last 12 months. For more information please visit https://penderyn.wales/.
How Penderyn Whisky is made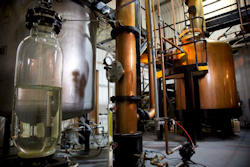 The spirit: The whisky is distilled from a high quality malted barley wash that is fermented by Welsh Brewers SA Brain and Co. The new whisky spirit is produced from this barley wash on a specially commissioned, unique whisky still, designed by a team led by engineer Dr David Faraday. This unique still produces a high quality and flavourful whisky spirit at up to 92% alcohol by volume.
The water: The whisky spirit is married with spring water drawn from directly beneath the distillery. The distillery lies within the bounds of the Fforest Fawr National Geopark, one of only 53 Geoparks across the globe (areas designated by UNESCO as exhibiting 'geological heritage of great significance').
The ageing: Initial ageing is in ex-bourbon oak casks, sourced from the best Tennessee and Kentucky distilleries. Most casks come from Buffalo Trace, widely recognised as one of the finest bourbons in

PENDERYN TASTING NOTES (MADEIRA FINISH)

Dr Jim Swan:
The original Penderyn in this bottle has been aged in ex-bourbon barrels and finished in ex-Madeira wine casks to bring out its full golden character. At a generous 46% ABV, it has a classic freshness with aromas of cream toffee, rich fruit and raisins. The palate is crisp and finely rounded, with the sweetness to balance an appetising dryness. Notes of tropical fruit, raisins and vanilla persist in the finish.
The unique distillation process produces a single malt whisky that is supremely smooth, light in character, softly golden in colour and does not require chill filtering.
Jim Murray's Whisky Bible 2011 (Madeira Finish; various expressions)
A dark, baritone undercurrent to this one: the mushy fruit occasionally flies off on a high one but elsewhere there is more persistent deep murmur of beautifully fused grape and cocoa. Exactly the same on delivery: not often outside fresh oloroso that the evident fruit offers such deep base; the odd sparkier high notes carrying both grape and vanilla with aplomb. The middle ground fills in beautifully, shaped by soft oils and embracing the lightest of praline chocolate wafers; no high notes at all here: a long, persistent rumble of fruit and praline with a spot-on degree of sweetness. A creaseless experience, a gentle massaging of the taste buds... The light cocoa infusion just tops this off perfectly. A truly classic Penderyn; more charm than Tom Jones, hitting just as many pure notes... and just a fraction of his age. 93.5/100.
ABOUT OTHER PENDERYN WHISKY EXPRESSIONS
Penderyn Peated:
Launched in 2007, this expression of Penderyn was created to satisfy the demand from people who already enjoy Penderyn and occasionally want something that complements the unique taste of Penderyn. It will also appeal to those who like smoky, peated malt whiskies. The packaging has been designed to be instantly recognisable as a Penderyn whisky – but different.
At premium strength, (46% vol) the sweet, aromatic smoke of Penderyn Peated is immediately obvious - but soon vanilla, green apples and refreshing citrus notes mingle to give an array of gentle flavours that challenge even the most sophisticated palate. A medium length finish with residues of smoke and vanilla that leaves the palate thirsting for more.
Buy Online for £40.95
Penderyn Sherrywood:
This Whisky is finished to impart a generous flavour of subtle complexity. Hand-crafted to perfection, the unique distillation and maturation produces a single malt whisky in which the Penderyn style is enhanced by rich tones of dry sherry. The fine whisky captures the true spirit of Wales.
At premium strength (46% vol) Penderyn Sherrywood yields rich dark fruits and caramels from dry Oloroso sherry casks which intermingle with green apples, hazelnuts and hints of sugared almonds. The nose is quickly reminded of Penderyn's classic freshness. The taste begins with remarkable sweetness that gives way for a moment to a refreshing dryness in the mid palate. Caramels and sultanas persist into a long finish.
Buy Online for £39.95
SPECIAL EDITIONS
Penderyn Red Flag edition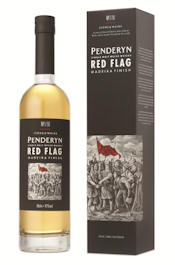 Launched in 2012, Red Flag is the first bottling in the Icons of Wales range, a series of 50 special edition whiskies which will celebrate Wales's impact around the world.
The Red Flag expression commemorates the first time that a red flag was raised as a symbol of social protest: during the 1831 Merthyr rising which ended in the execution of miner Dic Penderyn. The bottling carries a passage telling the story of Dic Penderyn, whose real name was Richard Lewis, and the bottle features a specially commissioned print by the artist Andrew Davidson.
70 cl bottle: ca. £36.50
Penderyn Single Malt Whisky Grand Slam 2012 Edition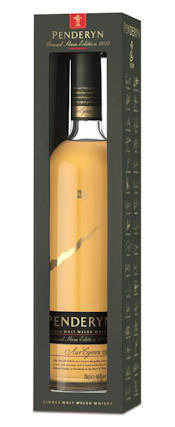 In early 2012, Penderyn announced the issue of a special bottling of Penderyn Single Malt Whisky to mark Wales' 2012 Grand Slam success in the RBS Six Nations Championship, their third such success since 2005.
The spring bottling of our award-winning single malt whisky was dedicated as the Grand Slam Edition 2012 and presented in a special commemorative package - a stylish celebration of what we believe to be Wales' best season yet.
The commemorative package contains the signatures of the Welsh coach, Warren Gatland and the Welsh team. It also features the tournament league table and gives the highlights of the crucial last game, the Grand Slam decider against France.
This is the third Grand Slam Edition that Penderyn has had the privilege of releasing in the last eight years.
70cl bottle: ca. £39.95
Latest Whisky News from Penderyn Distillery
Three Golds Landed By Welsh Whisky Company at the Prestigious International Wine & Spirit Awards
Published Date: 15th August 2019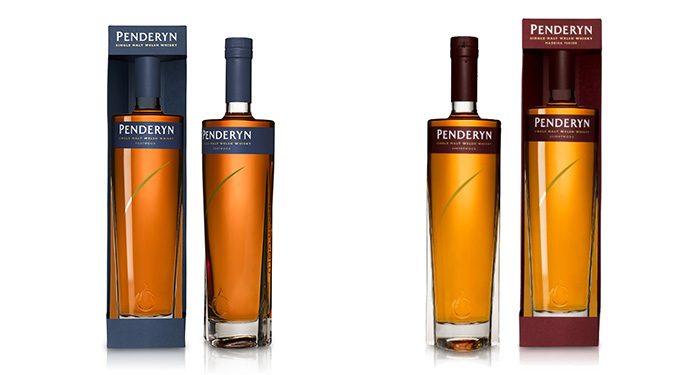 Penderyn, a unique Welsh whisky distillery based in the Brecon Beacons, is celebrating having taken home three prestigious gold awards at this year's International Wine & Spirit Competition. Read more
If you would like to buy Penderyn click here
Recent Awards for Penderyn Single Malts Whisky
Whisky Bible Awards 2013
European Whisky of the Year – Penderyn Portwood Swansea Edition
Whisky Bible Awards 2012
European Single Cask Whisky of the Year (single) – Penderyn Bourbon Matured Single Cask
International Whisky Competition 2012
Gold for Penderyn's flagship single malt whisky, the Madeira Finish - Best World Whisky class.
International Wines and Spirits Competition 2011
Gold Best in Class award for Brecon Special Reserve Gin in the Worldwide Gin 40% class
Silver Best in Class for Penderyn Bourbon Matured Single Cask Whisky in the World Whisky Class
Bronze for Penderyn Single Malt Whisky
Bronze for Merlyn Cream Liqueur
San Francisco World Spirits Competition 2011
Bronze for Penderyn Single Malt Whisky
The Whiskeys of the World Masters 2011
Gold for Penderyn Bourbon Matured Single Cask for European Single Malt - Super Premium class.
Silver for Penderyn Portwood 41% in the European Single Malt - Standard Class
International Spirits Challenge 2010
Silver for Brecon Special Reserve Gin
International Wine and Spirits Competition 2010
Silver Best in Class for Penderyn Single Malt Whisky
Bronze for Penderyn Sherrywood Single Malt Whisky
Key Welsh Whisky Dates
4th century - Archaeology proves that there were small stills throughout Wales
1705 - Evan Williams' family has a distillery in Dale, Pembrokeshire. They immigrated to the New World and Evan Williams was a founding father of the Kentucky Bourbon Whiskey Company
1889 - Distillery opens in Ffrongoch, Bala
1903 - Frongoch distillery closed down
1st March 2004 - Penderyn Single Malt Whisky is launched in Wales
1st March 2005 - Penderyn is launched in London
9th November 2005 - Penderyn is released in the US in New York
1st October 2007 - Launch of Merlyn, Brecon Five Vodka, Brecon Special Reserve Gin
November 2007 - Penderyn Peated launched
June 2008 - Distillery opens to the public
October 2009 - Penderyn Port Wood Edition named 'European Single Cask Whisky of the Year' in Jim Murray's 2010 Whisky Bible
Latest Whisky News about Penderyn Distillery