The Glenrothes Ultimate Gentleman's Cocktail
Also more The Glenrothes Ultimate Gentleman's Cocktail - Click here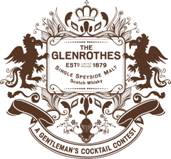 Latest Whisky News - Glenrothes Distillery - Share a Chevelier Sangaree this Summer- 10th June, 2010
With summer on the horizon, long sunny days and lingering dusky nights, it is the perfect time to open the drinks cabinet and shake up a refreshing cocktail to share with friends. The Chevelier Sangaree, inspired by Dean Evans of Blythwood Square Hotel, Glasgow - at The Glenrothes Ultimate Gentleman's Cocktail Competition – is a long refreshing tipple combining the fruity notes of The Glenrothes with the warmth of an almond finish.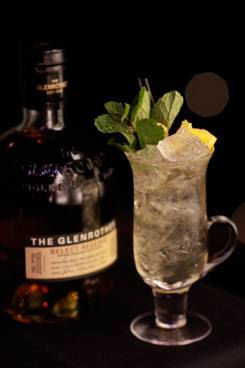 To make the Chevelier Sangaree take a Toddy glass and cool down with ice while you are preparing the rest of the ingredients. Pour 35ml The Glenrothes Select Reserve, 5ml Luxardo amaretto liqueur, 5ml Crème de poire, 5ml Cinzano Bianco and 5ml Simple Syrup (1 sugar to 1 water) into a cocktail shaker filled with ice and shake all of the ingredients. Strain the ingredients into the glass filled with ice and then garnish with a mint sprig and grated nutmeg.
The Glenrothes Select Reserve is a versatile yet unique malt laced with notes of ripe fruits, juicy citrus, creamy vanilla and hints of spice - making it the perfect liquid to partner with cocktails.
A vatting of casks distilled in different years, The Glenrothes Select Reserve typifies the Speyside distillery house style. It is presented in the iconic Glenrothes bottle and is the very essence of The Glenrothes range. RRP £33.45, available at Sainsbury's, Oddbins, House of Fraser, Harrods, Harvey Nichols, Wine Rack, specialist whisky retailers or online at www.theglenrothes.com.

Additional cocktails to try using Glenrothese whiskies:

Monol of the Glen

Matty Hutchinson, Ricks, Edinburgh

Glass: Coupette

Garnish: Orange zest twist

Method: STIR all ingredients with ice and strain into chilled glass. 50ml The Glenrothes Select Reserve
20ml Cointreau triple sec
5ml Antica Formula
2 dashes Chocolate bitters

Fantastic Mr. Fudge

>

Sheverne Shahbazkhani, Voodoo Rooms, Edinburgh

Glass: Old-fashioned

Garnish: Half passion fruit

Method: SHAKE all ingredients and fine strain into ice-filled glass.

2 shots The Glenrothes Select Reserve
2 wedges Freshly squeezed lime
1 shot Fudge reduction (homemade)
½ shot Passion fruit juice
½ shot Inness & Gunn

Sweet N Sour Spicy

Matthew Law, Bind Pig, Glasgow
Glass: Old-fashioned
Garnish: Rinse glass with Ricard
Method: SHAKE ingredients with ice and strain into ice-filled glass.

50ml The Glenrothes Select Reserve

25ml Freshly squeezed lemon juice
25ml Simple syrup (2 sugar to 1 water)
½ fresh Egg white
15 dried Cloves
1 dash Runny honey