Tasmanian Whisky Week 13 -19 August 2018: Hellyers Road Distillery: Australian Whisky
Take a Walk with us during Tasmanian Whisky Week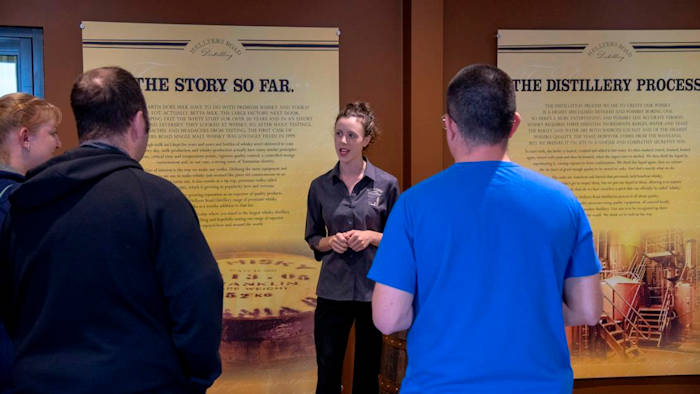 BUY ONE WHISKY WALK & GET ONE FREE!
During Tasmanian Whisky Week 13 -19 August, visitors to Hellyers Road Distillery can purchase one Whisky Walk (Guided distillery tour) and receive another one for free. The per person cost of a tour is usually $19.50 but for Tasmanian Whisky Week, the one price will admit a couple.
Bookings for a Whisky Walks are essential and there are four fully interpreted walks held daily at 10.30 and 11.30am and 2.30 and 3.30pm. Whisky Walkers get to experience the workings of Australia's largest single malt whisky distillery, get a birds-eye view on the Hellyers Road Bond Store which houses around 1400 x 200 litre American Oak casks and taste the award-winning whisky.
For an extra fee you can also can pour and wax seal your very own 500mL bottle of Distiller's Choice single malt which comes with a signed Certificate of Authenticity.
Afterwards, stop by the distillery's beautiful cafe that boasts magic veiws across the Emu Valley and offers one of the region's most enjoyed lunch menus. There's a dedicated whisky tasting bar and fully stocked gift shop to experience also.
TASMANIAN WHISKY WEEK 13-19 AUGUST
Tasmania's distilleries will come alive in August with all the major venues holding special events to celebrate Tasmanian Whisky Week.
For lovers of fine single malt whisky the week represents a wonderful opportunity to enjoy some of the world's finest New World single malts while taking in the beauty and hospitality of the nation's Island State.
The Tasmanian Whisky Trail incorporates some of Tasmania's best known distilleries extending from one end of the State to the other.Visitors can fly in to Launceston, Devonport or Hobart or better still, put their vehicle on the Spirit of Tasmania and tour the trail in their own set of trusty wheels.
There's a lot to do, and taste during Tasmanian Whisky Week.
We look forward to welcoming you in August!
<< Read more about Australian Distilleries

<< Buy Australian Whisky