Japanese Whisky - Malt, Blended Malt , Pure Malt and Grain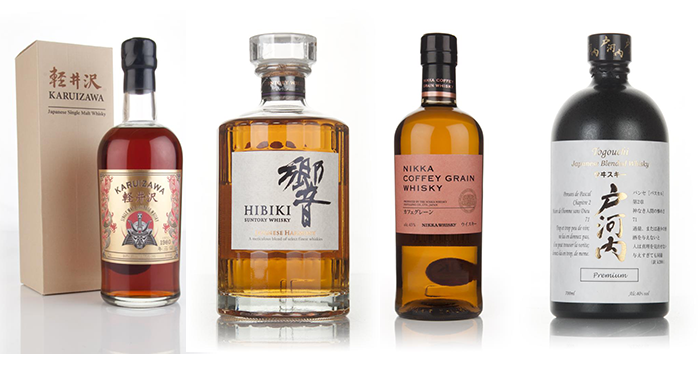 Japanese whiskies have been increasing in demand recently with all the attention it has received from certain awards it has achieved. Japanese whiskies have been around for nearly 75 years and is based of Scotch model being double distilled in pot stills. There are four different kinds of Japanese whiskies in the links below.
The first one is Single Malts Whisky, then you have Blended, then Pure and finally Grain. If there are any types of whiskies missing on the below links please send Planet Whiskies a quick email with details and a picture if possible and I will update this pages straight away. Remember to visit the page for Japanese Whiskies Distilleries that have details of the distilleries in Japan.
During a recent visit to Australia by the Planet Whiskies team, we noticed how popular Japanese whiskies was becoming within this country and was the 'talk of the town'. This can only be a good thing for the whole of the whisky industry and one that Planet Whiskies will keep a close eye on.
Clcik to see Japanese Single Malt page
Click to see the Japanese Blended Whisky range
Clcik to see the Japanese Pure Whisky range
Click to see the Japanese Grain Whisky range
Click to see the Japanese Blended Malt Whisky range
Japanese Whisky by Distillery
Akashi Distillery
Chita Distillery
Chugoku Jozo Distillery
Eigashima Shuzo Distillery
Fuyu Distillery
Golden Horse Distillery
Hakushu Distillery
Helios Distillery
Kaiyo Distillery
Kamiki Distillery
Karuizawa Distillery
Kirin Distillery
Kurayoshi Distillery
Mars Distillery
Miyagikyo Distillery
Monde Shuzo Distillery
Nikka Distillery
Suntory Distillery
White Oak Distillery
Yamazakura Distillery
Yoichi Distillery
Buy Japanese Whisky Online
Below are 15 Japanese whiskies that can be bought online. They are from a range of Japanese Distilleries, with some of them blended, single malt and blended malts. It is excellent that countries like Japan are now finding their feet within the whisky industry. Planet Whiskies can only see this improving more over the next few years when high aged malts start coming onto the market regularly.