Highland Park - Loki - 15 Year Old Single Highland Malt - The Valhalla Collection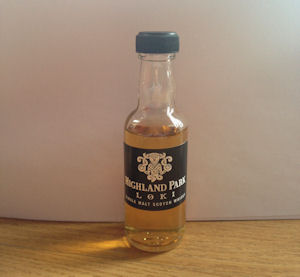 Just last week at Planet Whiskies headquarters we received a second whisky out of four from Highland Park in their acclaimed Valhalla Collection. This malt whisky is called Loki and strength is 48.7% abv and is a 15 year old limited edition single malt for the Highland Park distillery. We have to say the tasting of this malt was breath taking and a experience to remember. Tasting notes are at the end of this article were supplied directly from Highland Park.
If you were buying this limited edition malt – Loki – it comes housed in the same unique and award winning wooden frame as Thor which looks like a traditional Viking long ship.
As stated before Loki is the second in The Valhalla Collection after Thor and there is a classic traces of sweetness and spice throughout, but as this malt was matured in two different cask types – Spanish sherry casks and heavily peated casks – it has a very smoky punch, but also importantly it retains a light colour malt whisky. It has been stated by a few experts that Loki is "enigmatic" and "truly another whisky of the Gods" and while tasting this malt it is hard to disagree with these whisky taster experts. The name Loki comes from the inspiration from the legendary Nordic Gods of old.
Gerry Tosh, Global Marking Manager says,
" Thor was the first of its kind, a true quality malt built around an individual's personality. This proved massively successful and it sold out globally. Loki will continue to take Highland Park and The Valhalla Collection into new territory.
While everyone will recognise the definite ' Highland Park-ness" of this 15 year old single malt, it will be the unexpired and surprisingly smoky dynamics that will really get palates excited and mouths talking. This is unlike any expression that has come before and will beguile and fascinate with its complexity and trickery. Remember, all is not as it seems"
If you would like to buy this new expression for £120 please click here

Highland Park - Loki - The Valahalla Collection - 70cl - 48.7%
Single Island Malt Scotch Whisky for the Highland Park Distillery, Kirkwall, Orkney. This malt is a new expression called Loki and is park of The Valahalla Collection.

Buy Highland Park - Loki -Single Malt Whisky for £120.00 - Buy Now
World-wide delivery available - Price Subject to Change
Buy other Highland Park Single Malt Whiskies >>
Tasting Notes for Loki
Nose – A spirited lift of dried orange which turns into lemon peels. Cardamom notes trick then tease the nose, before an enticing hit of gingerbread develops. With water, liquorice and aromatic smoke are both unleashed.
Palate – The true shape-shifting ability of Loki springs to life on the palate: its waxy texture is amplified by an intense smoke that doesn't appear on the nose, shattering the light citrusy illusion of the aroma. All is not what it seems. The smoke fades as liquorice and rich spiced apple flavours comes out to play. Lemon and grapefruit are consistent throughout thus elusive, yet intriguing character. With a touch of water, lingering notes of melted dark chocolate over spent embers leave a soft smoky impression.
Finish – As Loki departs, he leaves behind toasted cloves, hickory smoke and soft vanilla. It is constantly changing, from appearance to finish. Loki us an enigma and truly another whisky of the Gods.
World-wide Whiskies
Other Drinks

Christmas Advent Calendars
(Whisky, Gin, Rum, Irish Whiskey, Bourbon, Vodka, Tequila, Cognac and Douglas Laing)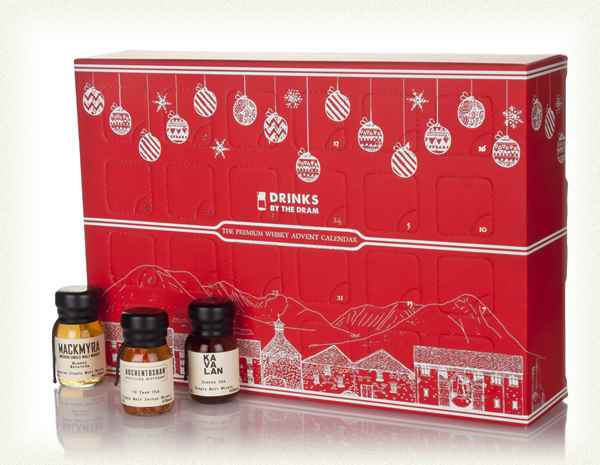 Hellyers Road Distillery: Tasmania's Exporter of the Year: 16th October, 2017
Redbreast Remains The World's 'Best Irish Whiskey' For Jim Murray: 13th October, 2017
The Glenlivet 1943 Private Collection 70 Year Old Single Malt Whisky: 7th October 2017
One Of The World's Rarest Whiskies Sells At Auction: 1981 Port Ellen sold for nearly double price estimate: 7th October 2017
50 Years Of A Unique Spirit: Introducing Loch Lomond 50 Year Old: 7th October 2017
A New Era for Luxury Irish Whiskey: Midleton Very Rare Bourbon barrel 1994: 7th October 2017
Christmas Advent Calendars (Whisky, Gin, Rum, Irish Whiskey, Bourbon, Vodka, Tequila, Cognac and Douglas Laing)
Latest Gin News
Ian Macleod Distillers Acquires Edinburgh Gin :: 13th September, 2016
Crafted Upon Four Pillars :: The definitive Modern Australian Gin Debuts in the U.S :: 13th July, 2016
VisitScotland Interactive Whisky Guide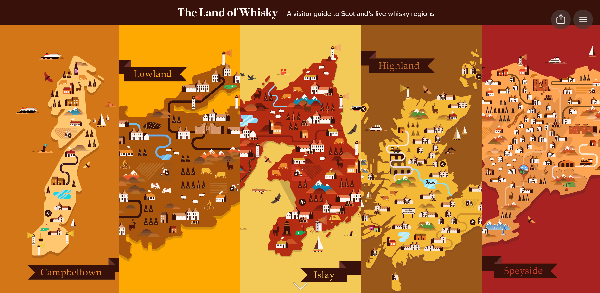 Found out about 105 whisky distilleries in Scotland's five whisky regions in this very exciting interactive whisky guide :: More information
Selection of Scottish Malts Whisky available from Spirits By Post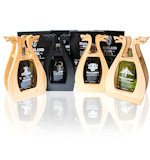 Highland Park The Valhalla Collection Set Single Malt Whisky
Distillery: Highland Park
To find out the tasting notes for all four Highland Park - Valhalla Collections and other details about these bottles please click here for more details, .
Buy Now for £1700.00
World-wide delivery available - Price Subject to Change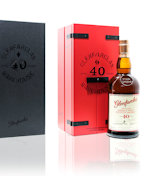 Glenfarclas 40 Year Old Highland Single Malt Scotch Whisky
Distillery: Glenfarclas
Nose: Chocolate, raisins, prunes, touches of mint, leather.
Palate: Flavourful oakyiness, liqueur filled chocolates, Christmas cake, chocolate flavoured prunes, dried fruits, cinnamon, black pepper.
Finish: Sweet, crisp, dry and lingering.
Buy Now for £672.00
World-wide delivery available - Price Subject to Change
More details about Spirits By Post can be found on their website at www.spiritsbypost.com