Scottish Blended Scotch Whiskies A To Z Listing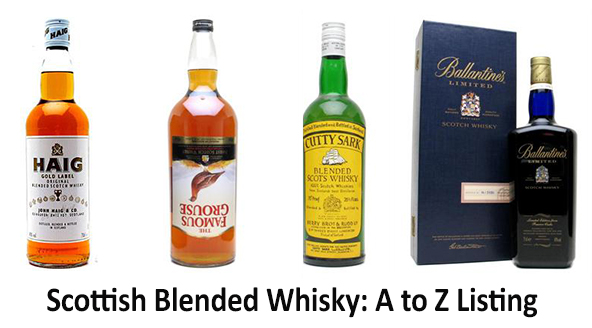 A to Z listing for Scottish Blends
Blended Home ~ A ~ B ~ C ~ D ~ F ~ G ~ H ~ J ~ K ~ L ~ M ~ O ~ P ~ Q ~ R ~ S ~ T ~ V ~ W and Y
Blended Scotch Whisky is a whisky that contain malt and grain whiskies from different distilleries and have usually been matured for 5 years to make the taste and quality better. It is split in a 60% grain and 40% malt. To gain an even higher quality blend whisky you would add whisky that have been aged longer, so the quality is smoother as the taste.
There are so many famous blends on the following page and all have a great part to play in Scottish Whisky history. Some of the blends that are included on these pages include one of the most famous of all called The Famous Grouse from the Edrington Group. It has a wonderful history and is probably known by near every whisky drink in the western world. Also from the Edrington goup you have Cutty Sark Blended whisky. The name Cutty Sark comes for a famous ship that was built on the River Clyde in Glasgow. Another two famous blends that are on the following pages is Whyte & Mackay and 100 Pipers Blended Scotch Whisky.
There is also a page for The Black Grouse whiskies where you can find out about the taste of the blend and the special donations they give to the RSPB with every bottle sold... Read More
We also have a special page on the site regarding the excellent blend from Duncan Taylor. It is the Black Bull 12 year old. Black Bull contains 50% malt whisky and 50% grain whisky and is non-chill filtered. Iif you would like to read more click the following link - Duncan Taylor - Black Bull 12 year old.
There is just so much deepth within the Scotch Blended Industry that I could keep listing these famous name, but there are so many I could mention, but will leave it up the you to browses through the 'A-Z' listing below, but remember I have only used the letter that have a blended whisky within the range.
A to Z listing for Scottish Blends
Blended Home ~ A ~ B ~ C ~ D ~ F ~ G ~ H ~ J ~ K ~ L ~ M ~ O ~ P ~ Q ~ R ~ S ~ T ~ V ~ W and Y
Below are top 50 Scottish blends by highest prices that are available on Planet Whiskies. All these bottles are sold by Master of Malt and are very special indeed.
Very Old & Rare Advent Calendar - Walnut (2019 Edition) Blended Whisky ~ 48% ~ 72cl
Region: Other Scotch ~ Type: Scottish Blended


Buy Now for £9,999.95
World-wide delivery available - Price Subject to Change
Very Old & Rare Whisky Advent Calendar - Macassar Ebony (2019 Edition) Blended Whisky ~ 48% ~ 72cl
Region: Other Scotch ~ Type: Scottish Blended


Buy Now for £9,999.95
World-wide delivery available - Price Subject to Change
The Last Drop 1971 Blended Scotch Blended Whisky ~ 46.7% ~ 75cl
Region: Scotch ~ Type: Scottish Blended


Buy Now for £3,000.00
World-wide delivery available - Price Subject to Change
Avonside-Glenlivet 35 Year Old 1938 Blended Whisky ~ 43% ~ 75cl
Region: Speyside ~ Type: Scottish Blended


Buy Now for £2,845.00
World-wide delivery available - Price Subject to Change
Avonside-Glenlivet 33 Year Old 1938 Blended Whisky ~ 43% ~ 75cl
Region: Speyside ~ Type: Scottish Blended


Buy Now for £2,000.00
World-wide delivery available - Price Subject to Change
The John Walker Blended Whisky ~ 40% ~ 70cl
Region: Other Scotch ~ Type: Scottish Blended


Buy Now for £2,000.00
World-wide delivery available - Price Subject to Change
Chivas Regal The Icon Blended Whisky ~ 43% ~ 70cl
Region: Scotch ~ Type: Scottish Blended


Buy Now for £1,995.00
World-wide delivery available - Price Subject to Change
Old & Rare Whisky Advent Calendar (2019 Edition) Blended Whisky ~ 47.6% ~ 72cl
Region: Other Scotch ~ Type: Scottish Blended


Buy Now for £999.95
World-wide delivery available - Price Subject to Change
Royal Salute 28 Year Old - Kew Palace Edition Blended Whisky ~ 40% ~ 70cl
Region: Scotch ~ Type: Scottish Blended


Buy Now for £548.89
World-wide delivery available - Price Subject to Change
Pinwinnie 12 Year Old - 1970s Blended Whisky ~ 43% ~ 175cl
Region: Scotch ~ Type: Scottish Blended


Buy Now for £504.00
World-wide delivery available - Price Subject to Change
Below is a quick listing of just some of the Scottish Blends that are currently on Planet Whiskies