Isle of Skye Blended Scotch Whisky - Information and Product Range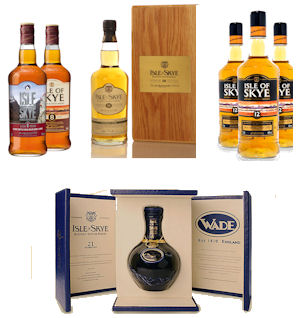 Isle of Skye whisky is owned by Ian Macleod Distillers Ltd and still uses the 19th century recipe for all their blended scotch whiskies. This recipe was first used by Clan Macleod whose ancestral home is the Isle of Skye.
For generations now the recipe has not changed and is one of the most popular blends that can be bought because of it's smoothness and quality. It is really one of the special blends out there and a must for all whisky drinkers to have in their cabinet.
As you already know Isle of Skye is a blended scotch whisky with a special selection of malts being used from selected distilleries with the Scottish islands and the Speyside region of Scotland.
The lowest age blend within the Isle of Skye portfolio is an 8 year old and this means the malt used in the production of this blend must be of a minimum age of 8 years maturing. After the various of Island and Speyside grain and malt whiskies have been blended together, the blend is returned to oak casks to marry for a further 6 months and developing the Isle of Skye Blended Scotch whisky further. With using malts over 8 years old this gives the Isle of Skye blends a smoothness, mellowness and quality you would expect.
Other blended available are 12 year old, 21 year old and 50 year old. As with the 8 year old, the malts used in these blends requires the minimum age of the year of the blend so the 50 year old will use malts that are at least 50 years old.
Scottish Mountain Rescue Charity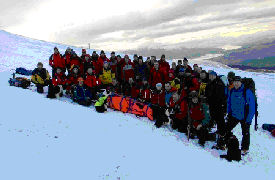 Isle of Skye Scotch Blended whisky is a support of the for Scottish Mountain Rescue (Charity Registration No. SC015257) and donates 15p from the sale of each Isle of Skye 8 year directly to this charity.
At the time of writing over £6,000 has been raised for this very important charity.
The Scottish Mountain Rescue charity has over 1000 volunteers and is a very important charity for rural Scotland. You can find out more details about this excellent charity on the website link at the bottom of this page.
Meet the Core Range of Isle of Skye Blended Scotch Whisky
Isle of Skye 8 year old - Mellowed in Oak for 8 years
'Superstar whisky that gives us all reason to live', (Jim Murray's whisky bible).
Rich in distinctive island and mellow Speyside malts - matured in oak casks for 8 years.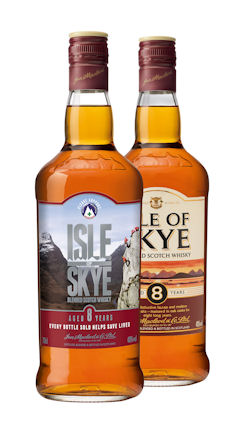 15p from every bottle sold now goes to Scottish Mountain Rescue. A special UK edition of the 8 Year Old featuring a bespoke fundraising label has been launched to highlight the Mountain Spirit campaign. The label features a mountaineering image and a clear message that every bottle sold will help save lives.
Nose: Stunningly evocative. Deep peaty tones waft from the glass, like the reek from a crofter's lum. But there is a lot more beyond: the grains intermingle deliciously with oaky, vanilla notes and something malty and even slightly honeyed. The stuff of dreams.

Palate: Sweet at first, and remarkably viscous. This seems to be the peat hanging around and there is intense barley sugar and spice. Massively flavoured. This creaminess continues for what seems hours.

Finish: Remains sweet, spicy and chewy and at the end faintly nutty.
The oak returns at the end.

Comments: The stuff of dreams. Jim Murray, Classic Blended Scotch
Isle of Skye 12 Year old - Mellowed in Oak for 12 years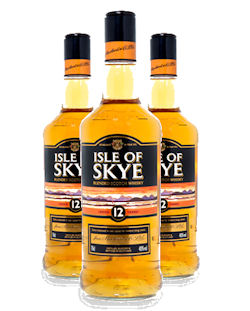 Extra matured in oak casks for 12 long years. It contains an exceptionally high proportion of distinctive island and mellow Speyside malts which, after blending, are returned to cask to 'marry' prior to bottling.

Nose: Ripe, fruity and well balanced. Sherry, dried fruits and a hint of smoke. Water brings out a butter edge. A lot going on.

Palate: Overall, a little drier than the nose suggests but with excellent, soft, mid-palate weight. Light smoke all the way through.

Finish: Ripe and soft

Comments: Very well balanced. A lovely blend.
Isle of Skye 21 Year Old - Mellowed in Oak for 21 years
The 1000 limited edition and individually hand numbered Isle of Skye 21 Year Olds are packaged in a Royal blue and gold Wade porcelain decanter, presented in a blue leather box.

Appearance: Rich gold.

Nose: Sweet vanilla biscuits and banana.

Palate: Very smooth, pepper and violet with slight smoke.

Finish: Gentle peat smoke lingers.
Isle of Skye 50 Year Old - Mellowed in Oak for 50 years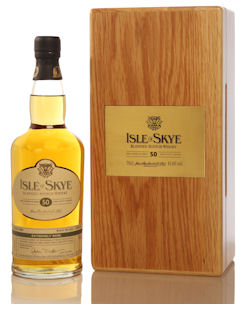 A unique blend of personally selected Scotch whiskies aged in oak for over fifty years.
Only 400 individually numbered limited edition bottles.

Appearance: Rich gold.

Nose: Elegant and full, sweet oranges, white pepper and marzipan.

Palate: Complex mix of oriental spice, dried herbs and smoke

Finish: Long, with wood and continued spice.
More details can be found out about Isle of Skye Blended Scotch whisky - www.isleofskyewhisky.com
If you require more details about the Scottish Mountain Rescue Service - www.mountainrescuescotland.org
To donate directly to the Scottish Mountain Rescue Service - www.justgiving.com/isle-of-skye-whisky
Latest Whisky News from Isle of Skye and Ian Macleod Distillers
Skye's The Limit For Ian Macleod Distillers At The International Spirits Challenge - 7th June, 2014

Distillery of the Month: December 2023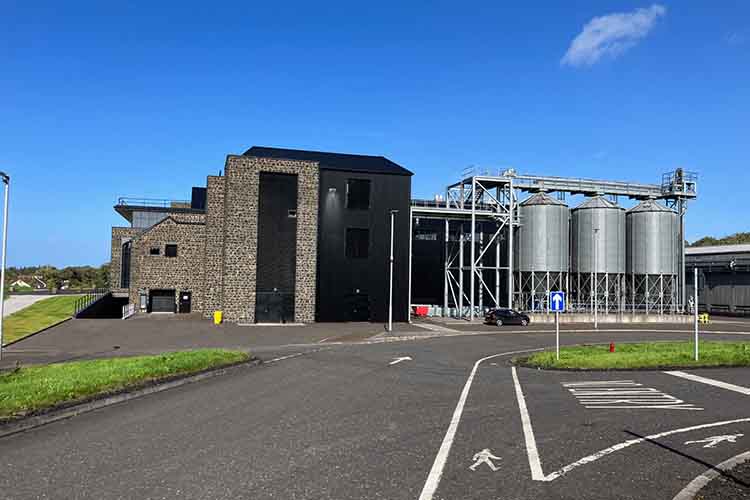 Planet Whiskies visited the new Bushmills Distillery in Northern Ireland on the 25th and 26th of September. Read our review of the experience of Bushmills and Northern Ireland at Planet Whiskies tour of Bushmills and Northern Ireland
You can also read the whole section about Bushmills Distillery at Bushmills Distillery Information on Planet Whiskies... So Bushmills is Planet Whiskies Distillery of the Month title for December 2023
Get Newsletter
Subscribe to our newsletter to get latest news, popular news and exclusive updates.