Makers' Mark - How to Spot an Original Maker's Mark : The Original Bourbon - 17th September, 2013
Maker's Mark is a very popular bourbon in the UK and just before the Kentucky Bourbon festival which starts today lasting for 6 days (until the 22nd September) we thought be do a special page about Maker's Mark - The Original Bourbon.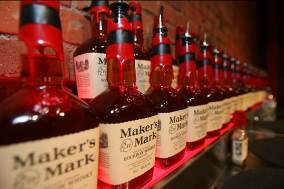 Maker's Mark, the beloved bourbon in the UK, is the original bourbon. Handcrafted and premium with its smooth, rich flavour, Maker's Mark is one of the fastest growing bourbon brands and has been doubling in sales since 2005.
Created in batches of less than 19 barrels at a time the slow production process includes hand dipping each bottle in the signature red wax seal and double distillation, resulting in an inefficient production that's worth every drop. Whether you are a bourbon buff making the annual pilgrimage to the Kentucky Bourbon Festival (starting today until 22 September) or just want to be in the know – here are three marks of an original…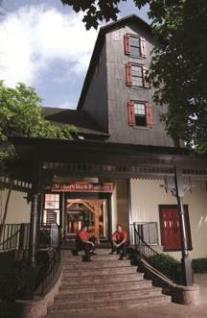 Mark One: The Recipe
Born in bread
It was in 1951 that Bill Samuels, Sr. developed the new recipe for Maker's Mark bourbon whisky which we know and love today. Having dramatically set fire to the previous Maker's Mark recipe created in 1784 by his great great-great-grandfather, Robert Samuels, Bill experimented with various ingredients and grains and baked bread in the family kitchen to achieve just the right taste. Even without access to a distillery, Bill reinvented the recipe to include red winter wheat, instead of rye, coupled with locally grown maize and malted barley, which gives Maker's Mark its renowned smooth sophisticated taste.
Mark Two: The Bottle
Behind every great man…
Bill's wife, Marjorie Samuels was a fan of fine pewter pieces, which were known for the mark their maker put on them. (Hence our name.) But to truly embrace the name, she felt that the bourbon needed its own special mark. This led her to create the SIV symbol, which stands for "Samuels - 4th generation." She also collected antique cognac bottles that were commonly dipped in wax giving her the idea to have the necks of the bottles dipped in a characteristic red wax, making the product appear even more refined and unique than its competitors. And her creativity didn't stop there: Marjorie completed the Maker's look by creating the distinctive typeface herself. And it turns out Bill and Marjorie were good at creating bourbon, but not so great at genealogy. Bill, Sr., was actually the sixth generation of the family to carry on the distilling business, but thankfully that doesn't affect the wonderful taste. >
Mark Three: The Taste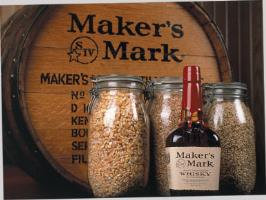 No changes, no compromise, no comparison
The difference between Maker's Mark and most other bourbons, is in Maker's delicacy and that it is bottled on taste, not age. On average, Marker's Mark ages its bourbon anywhere from five to six years. People, not machines, taste test the bourbon throughout the entire production process. Bottling the bourbon by taste instead of age helps to ensure a consistent quality and taste in each and every batch of bourbon made. The unique bourbon taste of Maker's Mark can actually be attributed to Limestone-purified spring water — every drop of its water comes from a spring-fed lake right at the distillery. The natural limestone in the water filters out iron, which is good for buildings but can quickly ruin the taste of whisky.
Stockist information: 70cl RRP £28 from Sainsbury's and Waitrose
Please enjoy Maker's Mark responsibly
<< Back to all the latest whisky news brought to you by Planet Whiskies
Distillery of the Month: December 2023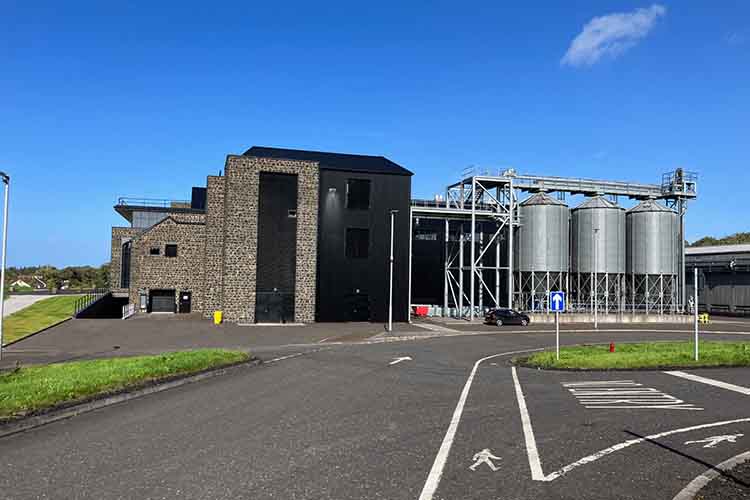 Planet Whiskies visited the new Bushmills Distillery in Northern Ireland on the 25th and 26th of September. Read our review of the experience of Bushmills and Northern Ireland at Planet Whiskies tour of Bushmills and Northern Ireland
You can also read the whole section about Bushmills Distillery at Bushmills Distillery Information on Planet Whiskies... So Bushmills is Planet Whiskies Distillery of the Month title for December 2023
Get Newsletter
Subscribe to our newsletter to get latest news, popular news and exclusive updates.