Swedish Whisky Distilleries
Welcome to the page on Planet Whiskies for Swedish whisky distilleries. Swedish whisky has been going strength to strength buliding their worldwide client base and is beginning to sell their brands throughout the world. Sweden has in total nine whisky distilleries presently and another distillery which is closed, but some have never producted any whisky yet and there has been a number of times distillery have failed in their starting business plan to eventually be a working distilleries many years on. Some of the distillers are not listed on this page as they have not really started to become distilleries, but if you are wanting to read about all the distilleries in Sweden please go to this external link www.whisky.nu/destillerier-i-sverige
<< View a list of Swedish whiskies that you can buy online
Hvan Backafallsbyn Whisky Distillery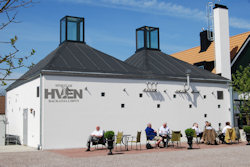 Hvan Backafallsbyn is a distillery Sweden can be proud of and is located on beautiful island of Hven which is situated in Öresund between Denmark and Sweden. It is the third Pot Still distillery built in Sweden and is family owned. They main purpose is to produce Single Malt Whiskies, but they also have a number of spirits made at the distillery including Eau-de-Vie's and Gin to Vodka and Rhum varieties. As their main spirit is whisky they have keep it simple and produce a number of excellent Single Malts. Their malts are smooth as well as peated.
The distillery is multi- purpose 4-star hotel & conference centre with Gourmet restaurant, Pub, Wine bar, Spa, Distillery, Boutique & Sweden's most unique Whisky bar located on site which make this distillery an ideal location if you are in Sweden and want a few days away to enjoy Oresund.
Everything at the distillery is created to perfection using the best hand selected organic herbs, spices and fruits. The distilling takes place in unique small copper pot stills and after this process the whisky is bottled by hand on the site. Also all the whiskies are bottled without any additives and without carbon- or chill filtering
Mackmyra Swedish Whisky Distillery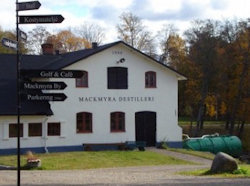 Mackmyra Swedish Whisky Distillery is trying it best to get onto the worldwide whisky market but promoting their brands to different countries. There have a saying at the distillery that their whisky is to good to stay in Sweden and they are starting to make this happen. They want to give the Mackmyra brands the viewing that they think they deserve and make the whisky available for people to experience the unique taste and spirit.
At the end of 2011 this distillery opened a new distillery which will quadruple production to 1.2 million litres. The old distillery could only produce 300,000 litres and the great thing about this distillery is they are using all the extra production on Single Malts. As the distillery get older and more experienced the quality of their Single Malt are going to increase. Now when they release a new bottle through a network of outlets it sells out within hours and this just show you how popular in Sweden the Mackmyra whisky brand has become. At present (March 2012) Mackmyra are on their Special number 7 after great success from the previous 6 bottles.
The distillery is now 20 years old after a group of friends decided to start this company and is now Sweden biggest producing distillery. The distillery is located 90 minutes from Arland Airport if you plan a visit to Sweden. You can see a list of available Mackmyra whisky brands where you can buy these online on the Swedish whisky page - Click here
Latest Whisky News from Mackmyra
Mackmyra Svensk Whisky turns 20, Sweden's first ever single malt whisky distillery
Published Date: 19th June 2019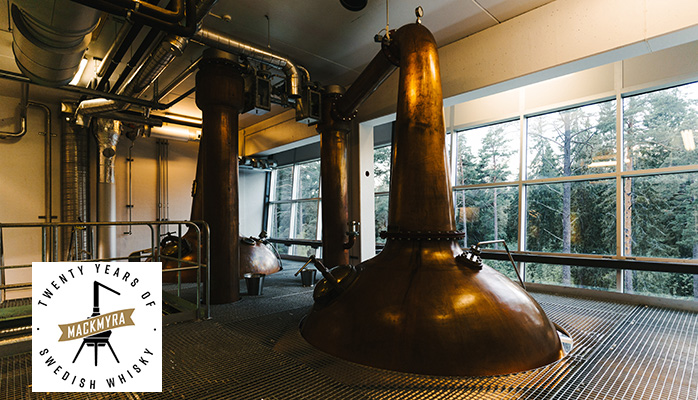 Mackmyra is turning 20 this year, both as a company and Sweden's first ever single malt whisky distillery. Under the tagline "The Swedish Original since 1999", our vision to be at the cutting edge and produce world-class, innovative and eco-friendly malt whisky is the same today as it was when we started. After 20 years of hard work, we now enjoy a well-deserved position as a leading distillery in the New World Whisky category. Read more
Gotland Whisky Distillery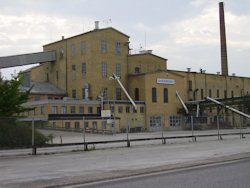 Gotland Whisky Distillery is situated on the west coast of Gotland on Sweden largest island. The company was started in 2004. This venture did not success at the start and the company was sold to local businessman Anders Stumle.
The new owner after years of planning is now in production and the first bottles are expected in 2013. The name of this whisky will be Isle of Lime, which is making reference to the island as this is built on limestone bedrock.
You can read more about this distillery at www.gotlandwhisky.se/
Smögen Whisky Distillery
Smögen Whisky Distillery is located on the Swedish west coast just outside Hunnebostrand and started producing whisky on the 7th of August 2010. Since this distillery was just founded in 2009 this was very quick indeed. But as you would guess this distillery is small and is one of the smallest whisky distillery in Sweden and the expected production rate is only 5,000 litres in the first six months.
It is a new and swiftly accomplished private venture. The distillery went on stream on the 7th of August 2010, a mere year and a half after the company was founded in 2009.
Ådalen Distillery Distillery
Ådalen Distillery was formed by six people in May 2007 and the name of their whisky is going to be called Box. The equipment at the distillery is small with two Forsyths stills 3,000 and 2,000 litres. This distillery is one for the future as production is small.