Planet Whiskies - Whisky - Whyte and Mackay Christmas Cocktail
As Christmas is very much upon us Whyte and Mackay would like to help you through with a delicious festive cocktail recipe!
Scottish whisky connoisseur David Clelland, owner and founder of New York's most exclusive whisky club 1494 (named in homage to first written record of Scotch Whisky distillation) has created a bespoke Christmas-inspired cocktail to celebrate the season, aptly named 'Whyte Christmas' using whisky favourite, Whyte & Mackay. Whyte Christmas perfectly combines the smooth and rich flavour of whisky, with classic Christmas favourites of orange and cinnamon, giving a fantastic fusion of flavours and a luxurious, warming winter cocktail.
David Clelland, owner of New York's exclusive whisky club 1494, one of the most expensive whisky clubs in the world, said, "'Whyte Christmas' is really easy to make and tastes like Christmas in a glass. It's a lovely celebration of those traditional festive spices like cinnamon and nutmeg, and great way to enjoy Whyte & Mackay."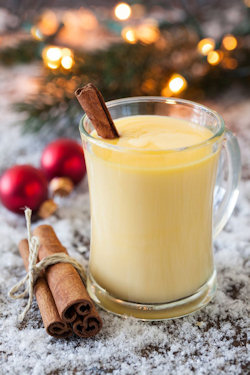 RECIPE:
Whyte & Mackay 'Whyte Christmas' Recipe
Ingredients:
50ml Whyte & Mackay
12.5ml Cinnamon Syrup
25ml Pasteurised Egg White
12.5ml Lemon Juice
12.5ml Orange Juice
Method:
Shake and strain (on the rocks or straight up)
Garnish with grated nutmeg