Dornoch Whisky Festival. 28 - 30 October 2016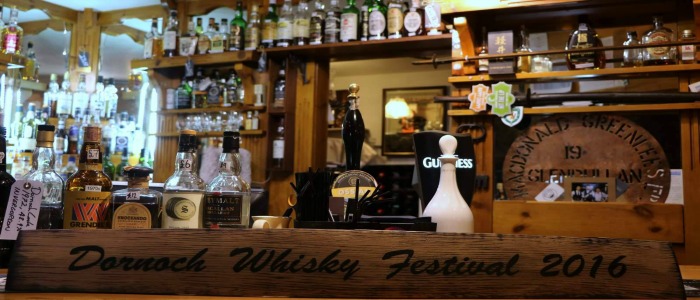 The Dornoch Whisky Festival is around eight weeks away, and Planet Whiskies would like to give you some details about this whisky event. The festival runs for three days from Friday 28th to Sunday 30th October, and they have a great selection of whisky events happening during the weekend. Also if you are interested in going to Dornoch over for the festival, or finding out much more about this three day whisky evenr, or even booking your tickets please go to www.dornochwhiskyfestival.yapsody.com. Also on this website you can find out more details about events happening durning the three days of the festival. Just remember there is limited space for most of the tasting etc.

Friday 28 October
With most whisky festival there is a community spirit going around the town with tastings going on everywhere and all the local distilleries are involved as you would expect. You can book a tasting at Balblair Distillery and then be treated to the famous whisky film Angel's Share. After this there is a Gala Dinner in Dornoch at Links House (in partnership with Balblair Distillery).
Or if you want to try something else there is The Dalmore Masked Dinner at The Royal Golf Hotel, The Glenmorangie Gala dinner­ at Royal Dornoch Golf Club, Dinner and Traditional music at the Dornoch Castle Whisky Bar and Castle Bistro as well as live music at the Dornoch inn and Eagle Hotel!

Saturday 29th October
With Saturday you have the main event of the Dornoch Whisky Festival with the Gala Tasting in the Castle Hotel. All the local distilleries will be there including; Balblair, Clynelish, The Dalmore, Glenmorangie, Glen Ord, Old Pulteney, Wolfburn & The Dornoch Distillery as well as Gordon & McPhail, Ben Nevis and Douglas Laing. It looks as if it going to be an action pack afternoon with these distilleries letting you try samples and runs from 12 midday until 4 pm. All this for just £25 per person.
Also that day there is an Independent Bottling ­ Master Class at The Carnegie Whisky Cellars, Tours of Glenmorangie and Dalmore, a Dinner at Links house, a Ceilidh and BBQ at The Castle Hotel.

Sunday 30th October
Sunday is the final day of the 2016 Dornoch Whisky Festival and with the 'partnership' between golf and whisky, it would be right to hold a Whisky Festival Open Stableford Golf Competition at the famous Royal Dornoch Golf Club. There are tee times available for 90 minutes from 10.30 am with whisky 'surprising' being the prizes.
Also on Sunday there will be tours available around some of the local distilleries including Glen Ord, Teaninich (which is not open to the general public) Balblair and Clynelish distilleries. There is also a tasting session the Eagle Hotel where you can try just some more of the local malts or at the Castle Hotel for an 'Old and Rare ­Balblair Bottle Tasting' or go on a Guided Archaeological tour of Ferintosh, the site of an 18th-century distillery.
On Sunday there will be a whisky themed lunch of three courses at Link House, or you can go to the One Up Restaurant at Dornoch Inn for a Sunday Carvery.
Just remember most of these events have restricted numbers, so book now at  www.dornochwhiskyfestival.yapsody.com
Get Newsletter
Subscribe to our newsletter to get latest news, popular news and exclusive updates.