The Macallan Scotch Whisky Distillery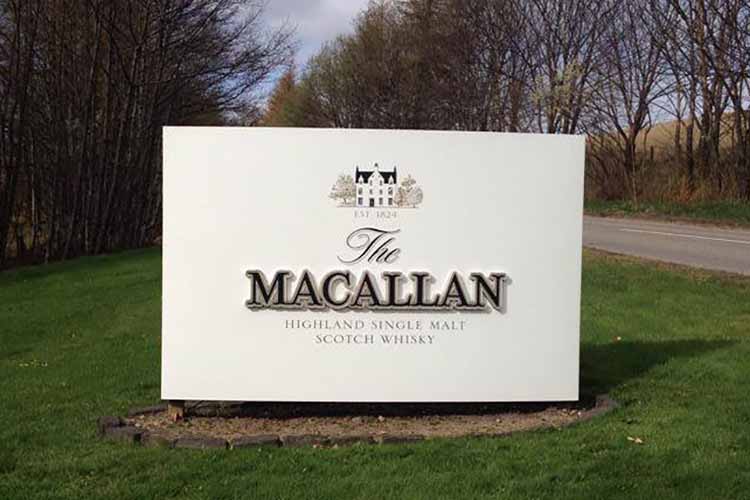 The Macallan Scotch Whisky Distillery was built in 1824 and is located in the Speyside region of Scotland. The distillery produced numerous single malt whiskies, so a few of them are The Macallan 12 Year Old Single Malt Whisky, The Macallan 15 Year Old Single Malt Whisky, The Macallan 18 Year Old Single Malt Whisky and The Macallan 25 Year Old Single Malt Whisky.
The distillery also have an impressive 1824 series with has been a major success for The Macallan. There are four malts in this series and theses are called Gold, Amber, Sienna and Ruby. There will be tasting notes on this Planet Whiskies shortly for the 1824 series.
View the selection of The Macallan malts on the Planet Whiskies
Planet Whiskies toured The Macallan Distillery in April, 2014 and have an excellent tour and tasting session. The tour was called The Six Pillars Tour. Click to read all about Planet Whiskies tour of The Macallan.
We also had a question and answer session with the distillery manager Russell Anderson and you can read his views about The Macallan and the whisky industry at Russell Anderson - Master Distiller of The Macallan
Read about The Six Pillars Tour from The Macallan website
"Much like our curiously small stills, our small groups are limited to just 10 people to ensure a luxurious, personal experience. Your friendly and knowledgeable guide will explain how we create The Macallan's rich spirit in a working still house and introduce you to the 'Six Pillars'. You will learn how our unparalleled investment in the finest casks contributes to the natural colours, aromas and flavours that set The Macallan apart. After a thorough immersion into the world of The Macallan, you will experience a nosing and tasting of four The Macallan whiskies as well as their very foundation, our wonderfully rich new make spirit".

Tour duration: approx. 2 hours 15 minutes.
Price per person - £15
To book please call +44 1340 872 280.
Contact Details for The Macallan Distillery
The contact details for this distillery are The Macallan Distillery, Craigellachie, Banffshire, AB38 9RX and the contact phone number is +44 (0)1340 871471. There is also a visitor centre and the contact phone number is +44 (0)1340 872280 for more information regarding time of tours.
Where to buy Malts from The Macallan Distillery
View more of the selection of The Macallan malts on the Planet Whiskies
Latest Press Releases for The Macallan Distillery
The Macallan In Lalique Legacy Collection Achieves Exceptional Auction Price Of Us$993,000 At Sotheby's Hong Kong: 3rd April, 2017
The Macallan Double Cask 12 Years Old :: Two worlds unite to create distinctive new Macallan :: 12th October, 2016
The Macallan Celebrates Commitment To Wood: Limited Edition Gifting Series Launched: 7th September, 2016
DECADENCE DEFINED :: Introducing The Macallan Rare Cask :: 25th July, 2015
The Macallan Launches Its London Residence :: The Macallan is taking over London's Two Temple Place for two nights only :: 2 and 3rd of June :: 6th May, 2015
The Macallan Breaks World Record For Most Expensive Whisky Sold At Auction :: 25th February, 2015
The Macallan Latest News :: The Macallan Unveils the 1824 Master Series :: 18th February, 2015
The Macallan :: MasterChef Winner Toasts Launch of New Scotch Beef Campaign :: 2nd February, 2015
The Macallan | Work Officially Starts At The Macallan On New Distillery | 4th December, 2014
Mario Testino, the world's most iconic fashion photographer, unveiled as The Macallan Master of Photography - 12th November, 2014
The Macallan Receives Planning Approval For New £100m Distillery In Speyside | 5th August, 2014
Click to read all about Planet Whiskies tour of The Macallan - April 2014
Russell Anderson - Master Distiller of The Macallan - Q&A's - April 2014
The Macallan Unveils Masters Of Taste Collaboration With The World's Best Restaurant, El Celler De Can Roca - 7th April, 2014
The Macallan in Lalique "The Spiritual Home" - Limited Whisky Edition - 10th December, 2013
The Macallan announce limited edition bottling - Remix, Remixed - 5th December, 2013
The Macallan Amber Named The Whisky Shop's Whisky of the Year 2013 - 2nd November, 2013
The Macallan Unveils M - A collaboration between three masters: The Macallan, Fabien Baron & Lalique - 10th October, 2013
The Macallan Tees Up For RWBO Golf Sponsorship - 31st July, 2013
The Macallan select reserve 1948 fetches £4,400 for charity at masterpiece auction - 3rd July, 2013
The Macallan Launches Limited Edition Coronation Bottling, 23rd May, 2013
The Macallan stars in Harrods Great Gatsby Cocktail Bar - 9th May, 2013
The Macallan Set To Auction 1962 Bottle For Skyfall Charity - 25th March, 2013
The Macallan unveils The Flask in Oakley Inc. design collaboration - 27th February, 2013
The Macallan Reaches Strong Numbers in the Art World - 6th February, 2013
The Macallan Appoints New Master of Wood - 20th November, 2012
The Macallan, single malt whisky brand thank their 100,000 Facebook fans
The Macallan Announces New Global Marketing Manager, 7th August, 2012
The Macallan To Unveil Exclusive New Range For The UK - 4th July, 2012
The Macallan Breaks World Record For Most Expensive Whisky Sold At Auction - 2nd July, 2012
The Macallan Celebrates Eight Decades With Sir Peter Blake, Godfather Of Pop Art - 25th June, 2012
The Macallan Launches Limited Edition Diamond Jubilee Bottling - 31st May, 2012
The Macallan Commissions Legendary Photographer Annie Leibovitz As its Third Master of Photography - 24th May, 2012
The Macallan launches first ever virtual dram app - 29th November, 2011
Limited Edition Lalique Decanter celebrates The Macallan's legendary small stills - 20th September, 2011
The Macallan and the royal photographic society put O'Neill in the frame - 9th September, 2011
The Macallan Masters of Photography Winner Revealed - 3rd August, 2011
The Macallan Visitor Attraction Wins Five Star Accolade - 5th July, 2011
The Macallan hosts photography competition inspired by Albert Watson - 14th December, 2010
Scots photographer Albert Watson captures stunning journey to heart of the Macallan - 1st Dec, 2010
The Macallan and Lalique break record for most expensive whisky and crystal decanter ever sold: $460,000 (£288,000) - all for charity - 16th November, 2010
The Macallan - Announcing masters of photography II introducing Albert Watson - 13th May, 2010
The Macallan toasts global success as fine oak 21 Years Old wins ultimate trophy - 16th March 2010
Raising the Bar - The Macallan Introduces the Ice Ball Serve - 15th March 2010
The Macallan 57 year old single malt whisky in Lalique decanter- 21st September, 2009
All our experience, distilled into one collection - July 22nd, 2009
The Macallan holds inaugural dinner in record breaking surroundings - June 19th, 2009
Selection of whisky from The Macallan Whisky Distilery