The Macallan Breaks World Record For Most Expensive Whisky Sold At Auction, The Macallan's 64yo
Published Date: 2nd July 2012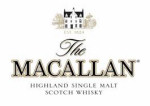 Guinness World Records™ has awarded The Macallan the accolade of 'most expensive whisky sold at auction'. Now the definitive world record holder, The Macallan's 64yo, The Macallan's 64 Year Old in Lalique, Cire Perdue sold at auction for $460,000 (£291,125), with 100 percent of the proceeds benefiting charity: water, an organisation that provides access to clean, safe drinking water to people in developing nations.
Coveted by bidders, the one-of-a kind Lalique crystal decanter housed the oldest and rarest Macallan ever bottled by the distillery, a 64 Year Old single malt whisky. The historic auction which took place at Sotheby's in New York in November 2010 was the culmination of a 12-city "tour du monde" of the decanter.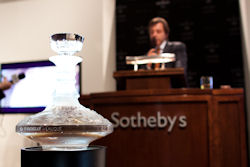 David Cox, Director of Fine and Rare Whiskies for The Macallan commented: "We are absolutely thrilled to have been awarded the Guinness World Record™ for the most expensive whisky sold at auction. This major accolade from such a world-renowned and respected organisation, proves once and for all that The Macallan is the world record holder."
He continued, "We had a phenomenal response around the world to this very special and rare decanter and I feel it is a fitting tribute to the inspiring project which managed to raise a staggering $600,000 overall for charity: water."
Silvio Denz, President and CEO of Lalique, commented: "We are enormously proud of this world record we share with our friends at The Macallan, with whom we have successfully collaborated since 2004. Over the years our crystal decanters, which are entirely handcrafted by our glassmakers, have proved hugely admired and sought after by whisky consumers and connoisseurs, as well as collectors of Lalique crystal and lovers of beautiful 'objets d'art'. This latest achievement, which was realised through the lost-wax moulding technique, is testament to the exceptional quality, artistry and longstanding tradition that is shared by both Lalique and The Macallan."
The Macallan and Lalique global fundraising tour raised more than $600,000 (£375,000) for charity: water to provide clean water to over 30,000 people (www.charitywater.org/themacallan).
<< View Single Malt Whiskies in The Macallan range
<< Back to all the latest whisky news brought to you by Planet Whiskies