The Whiskey Affair: New event debuts in London this November on 28th November, 2015 :: An exciting event for any casual or serious fans of scotch, bourbon, whiskey or cocktails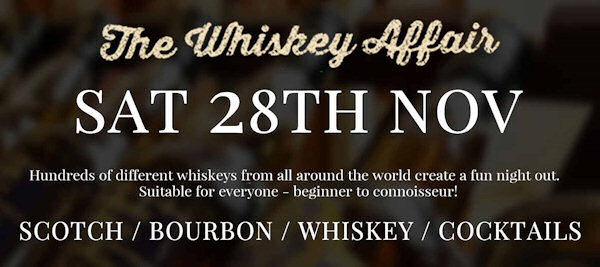 A new event is making a debut in London this November.  A lively and fun night out for any fans of whiskey who may discover new brands, drinks and favourites along the way.  Split into four sections: scotch, bourbon, whiskey and whiskey cocktails, there is something for all levels of knowledge catering for beginners right through to the aficionado. 
The event takes place at Conway Hall in Red Lion Square, London on Saturday 28th November at 7pm.  Tickets are £10 each and available online now. 
This new festival makes its debut in London before going nationwide next year.  Originating from a simple idea: to explore the world of whiskey comprehensively, whilst having fun and ensuring inclusivity for any level of knowledge in the attendee. 
Music, speakers and representatives from the brands are all comprising factors of the events and even people with no interest in whiskey can sample the cocktail menu and still enjoy the night!
Organiser Catherine Jackson is keen to develop a burgeoning whiskey interest and share her enthusiasm with as many people as possible:
"I had so many friends who were knowledgeable about different whiskeys and I was often lost as to where to start.  I wanted to dip my toe into the differences and similarities within the brands and learn how to judge which finishes and ages suited my tastes more but I wanted to do so with friends and have a good night out at the same time. 
There are some wonderful, smaller independent distillers involved next to household names so there is a true mix of brands to sample.  A rockabilly band is providing our entertainment for the evening and a photo booth will provide a permanent memory of the night.  It's going to be great fun and we can't wait to share it!"
To learn more about the business and the event visit www.thewhiskeyaffair.co.uk
Facebook page :: www.facebook.com/whiskeyaffair