The Glenlivet Scotch Whisky Distillery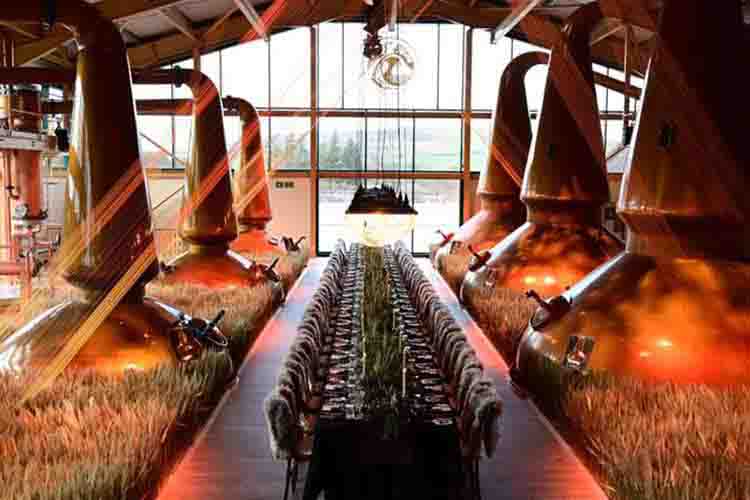 The Glenlivet Scotch Whisky Distillery was built in 1824 by George Smith and is situated in the Speyside region of Scotland. This is where Scottish Malt whisky industry started in Speyside and was the first licensed distillery in the parish of Glenlivet. The water that is used in The Glenlivet Malts is from the rich spring water of Josie's Well. It is still currently producing all 'The Glenlivet range' of single malts including 12, 15 and 18 Year Olds just to name a few. This brand is also very famous world wide and one of the top whiskies I would say.
The contact details for this distillery are The Glenlivet Distillery, Ballindalloch, Banffshire, AB37 9DB and contact phone number being +44 (0)1542 783220. The Glenlivet visitor centre is an excellent place to visit and the guided tour includes an interactive exhibition showcasting the history of the surrounding area of Glenlivet. You will also be able to taste The Glenlivet award-winning range.
This distillery visitor center was awarded the Best Visitor Attraction at the Whisky Magazing 2007 Icons of Whisky Awards. If you would like to contact the visitor center at The Glenlivet please call them on +44 (0)1340 821720.
The Glenlivet Distillery Tasting Tour by Planet Whiskies

Read about Planet Whiskies tour of the famous Glenlivet Distillery in the Speyside Region of Scotland. This was a tour that the Planet Whiskies team had wanted to complete for a number of years and when Chivas invited us to the distillery, like all whisky enthusiast we accepted. Tours at the Glenlivet are available all year round, but booking advisable. Find out more details about their tour at the bottom of this page. Read more about The Glenlivet Distillery Tour
You can also see more at Buy Glenlivet Scottish Single Malts Whisky
Selection of whisky from The Glenlivet Whisky Distillery
Read the Glenivet Latest Whisky News
News: The Glenlivet - 7th August 2023

News: The Glenlivet - 19th January 2022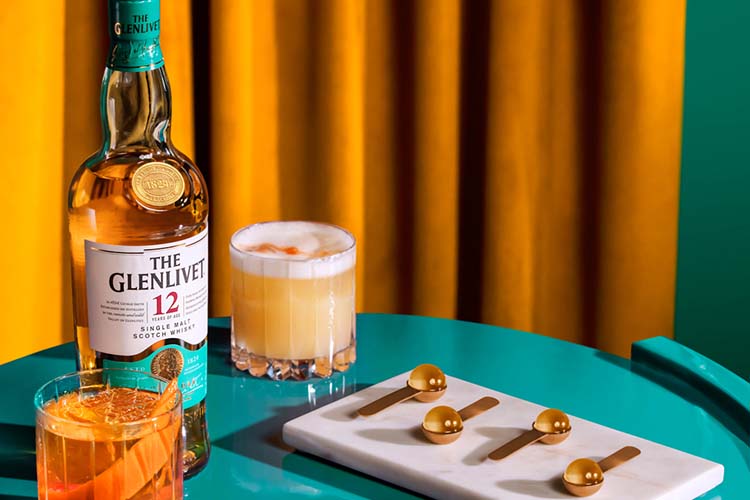 News: The Glenlivet - 2nd November 2021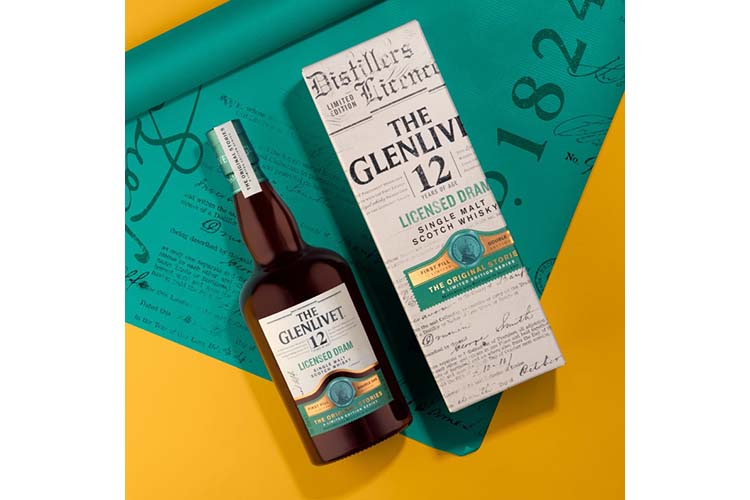 Award-winning British designer Bethan Gray designs The Glenlivet's Winchester Collection Vintage 1967, a limited-edition 50-year-old Single Malt Scotch whisky
Published Date: 8th March 2019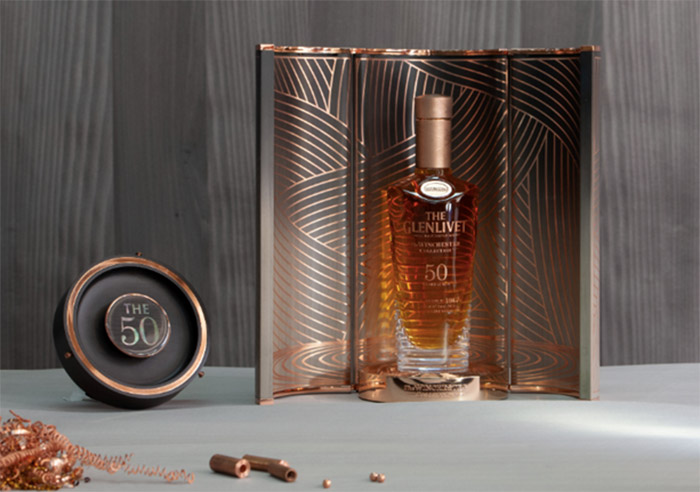 The $25,000 Glenlivet Winchester Collection Vintage 1967, designed by Bethan Gray
8 March, 2019 – The Winchester Collection Vintage 1967 represents the first time the brand has collaborated with a designer to create The Glenlivet bottle and display case. The maple and copper case and hand blown glass bottle were created by Bethan in response to the land around the distillery, her family history in the area and the complex whisky itself.  Read more 
The Glenlivet Master Distiller, Alan Winchester, Honoured With Lifetime Achievement Award: 13th July, 2018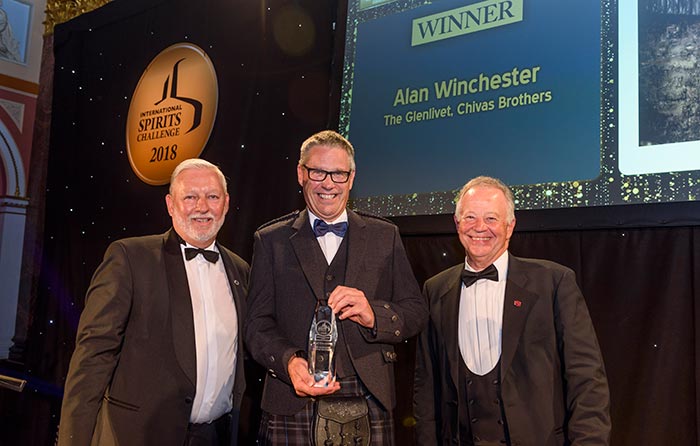 13 July 2018 –The Glenlivet is today celebrating a true industry icon as it raises a dram to its very own Master Distiller, Alan Winchester, who has been awarded one of the most prestigious industry accolades, the International Spirits Challenge (ISC) 2018 Lifetime Achievement Award. Read more
The Glenlivet 1943 Private Collection 70 Year Old Single Malt Whisky: 7th October 2017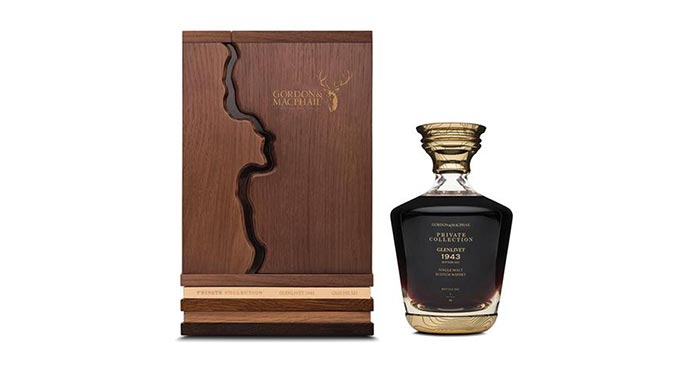 This unique whisky from The Glenlivet is one that would be the showpiece in any collection. It's from The Glenlivet Private Collection and is a 70 year old malt. It could be the rarest and most expensive whisky out on the market today. Read more
The Glenlivet Launches Liquid History: Introducing The Glenlivet Winchester Collection Vintage 1966 :: 30th September, 2016
The Glenlivet Latest News :: The Glenlivet Announces The Arrival Of Founder's Reserve :: permanent benchmark expression in the brand's core range :: 30th March, 2015
The Glenlivet 12 Year Old Launches New Limited Edition Gift Packs For Christmas | 10th December, 2014
The Glenlivet launches new global communications campaign - 'IT ALL COMES BACK TO THE ORIGINAL' | 20th November, 2014
The Glenlivet | Innovation Underpins Success For The Glenlivet - 30th October, 2014
The Glenlivet Nàdurra Unveils Hand-Crafted Dram Chair By Award-Winning Designer Gareth Neal | Watch Video from The Glenlivet | 16th October, 2014
The Glenlivet Master Distiller | Alan Winchester | Planet Whiskies Questions and Answers | Published 2nd October, 2014
Read about the The Glenlivet WInchester Collection
Read Alan Winchester Q&A about The Glenlivet Winchester Collection
Read about Investing in Whisky – A Guide by Martin Green Head of Whisky at Bonhams
The Glenlivet | New Single Cask Edition The Glenlivet Kymah Released As Heinemann Duty Free Travel Retail Exclusive | 1st May, 2014
The Glenlivet Nàdurra Expands Into A Range Of Cask Experiences - 26th April, 2014
New Chapter Written For The Glenlivet As The Guardians Of The Glenlivet Are Invited To Select Its Next Single Malt - 26th September, 2013
The Glenlivet makes whisky history with launch of mystery campaign - 7th May, 2013
The Glenlivet Launches Rare Single Cask Editions - 10th April, 2012
The glenlivet continues to inspire with launch of the glenlivet cellar collection 1980 - 17th November, 2011
<< Back to Scottish Whisky Distillery Home Page