The Glenlivet makes whisky history with launch of mystery campaign - 7th May, 2013
<< See the range of Glenlivet Scottish Single Malts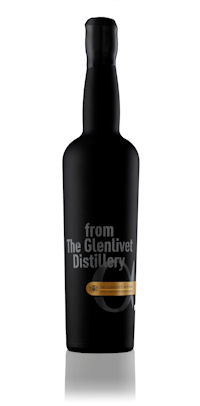 The Glenlivet, the world's No. 2 single malt Scotch whisky, is pioneering an innovative approach to flavour with the launch of The Glenlivet Alpha; a new, mystery expression released without cask information or tasting notes.
Presented in a black bottle to preserve the mystery, consumers are encouraged to let taste and smell lead their experience of The Glenlivet Alpha. Connoisseurs of the range will be able to identify its signature style but also discover a new flavour palate due to the inclusion of never-before-released spirits.
The Glenlivet Alpha launch will be supported by an integrated marketing campaign that will see consumers exploring The Glenlivet's complex flavours through multi-sensory experiences both online, through www.theglenlivet.com and the brand's Facebook page, and offline. The campaign will help to generate discussion and a deeper understanding of The Glenlivet, the single malt that started it all.
The campaign will bring The Glenlivet Alpha to life with a launch film, advertising, in-store activity and a global media launch event in London. Additional films, which explore the roles of sight, smell, taste and feel on flavour perception, will be hosted on The Glenlivet's digital social media platforms and will link through to online sensory challenges that allow consumers to gradually unlock the secrets of The Glenlivet Alpha. Sensory experts including taste visualisation specialists, Greyworld, will also be working with the brand on the campaign.
In June, the mystery behind The Glenlivet Alpha will be revealed by Master Distiller Alan Winchester in a global broadcast to The Glenlivet fans on www.theglenlivet.com and on the brand's Facebook page.
Nikki Burgess, International Brand Director for The Glenlivet, says: "The Glenlivet is famous for its smooth, full bodied flavour and with the launch of The Glenlivet Alpha we're excited to be exploring this in an original way. This is the first time anyone has launched a 'blind' whisky in this way and we are confident that this innovative campaign will excite whisky drinkers and help them to truly appreciate single malt and understand the flavours they taste in The Glenlivet's award-winning range."
With only circa 3,500 bottles worldwide, The Glenlivet Alpha will be available in USA, UK, France, Netherlands, Italy, Germany, Denmark, Sweden, Switzerland, Andorra, China, Hong Kong, Malaysia, Taiwan, Japan, India and South Africa and will retail at $120.
The Glenlivet was the first licensed distillery in the Livet valley and offers a variety of expressions, all boasting its signature smoothness and floral, fruity profile.
The Glenlivet has been the biggest contributor to volume growth in the single malt category over the last five years, adding more than any other Single Malt brand*. The release of The Glenlivet Alpha continues the brand's legacy of innovation and reinforces its position as 'the single malt that started it all'.
<< See the range of Glenlivet Scottish Single Malts
<< Back to all the latest whisky news brought to you by Planet Whiskies