Grant's Whisky - Grant's mini-masterclass in whisky tasting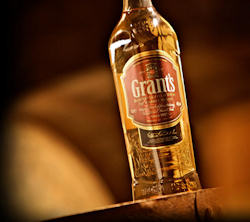 Over the last three years alone, Grant's whiskies have won over 50 medals including 2008 and 2009 Distiller of the Year. In 2010, they are having their best ever year in competition with three gold medals at the International Wine and Spirit competition (IWS) and two golds at the International Spirits competition (ISC). But what makes Grant's so special? In this behind-the-scenes glimpse into Grant's world, you can see the passion and commitment that go into making Grant's whiskies a richer, more rewarding experience.

Here you'll join Grant's Master Blender, Brian Kinsman, for a mini-master class on whisky tasting. And he should know. Following a 10 year apprenticeship, he was chosen to become only the sixth Master Blender in Grant's entire history.

Find out more about Grant's Whisky at GrantsWhisky.com and register today to receive regular updates.