Robert Burns Night - 12 Chivas Burn's Night Cocktails
Chivas 12 Burn's Night Cocktails
By London's Top Barmen
Ensure your merriment while paying homage to Scotland's famous bard, Rabbie Burns, this January 25th with delicious Chivas 12 cocktails designed by the wonderfully charming bartenders of Claridges, The Ritz, Novikiov and Benares.
See below for links to Youtube videos and recipes.
Claridge's Regal
By Claridge's Oliver Blackburn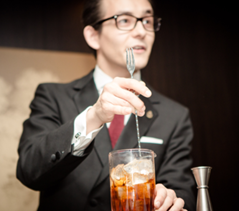 50ml Chivas 12
20ml Gancia Bianco
2 large orange segments
2 large lemon segments
Handful of mint
1 whole passion fruit
Method: Muddle Orange and lemon segments in large glass with spoon
Add mint and passionfruit
Top up with crushed ice, Chivas 12, Gancia Bianco
Garnish with mint sprig
https://www.youtube.com/watch?v=hIozn7c5FiY

Balmoral Tribute
By The Ritz's Walter Pintus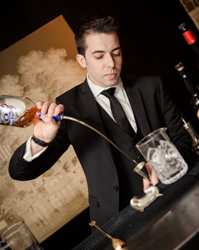 45ml Chivas 12
15ml Tawny port 10 YO
15ml Domaine de Canton ginger liquor
5ml honey
2 drops orange bitters
Orange rind 'orange twist' to garnish
Method:
Begin with large glass half filled with large ice cubes. Add all ingredients, stir. Strain into Martini glass. Garnish with orange twist
https://www.youtube.com/watch?v=sLNdiJ188_A
Darkness Devotion
By Benares' Giovanni Spezziga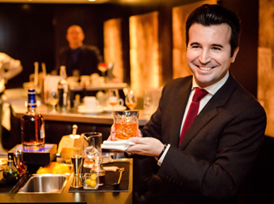 50ml Chivas 12
20ml Cocchi Vermouth di Torino
10ml Galliano Ristretto
Dash chocolate bitters
Garnish: Dried orange, dried fig, dried apricot on a cinnamon stick
Garnish: Frozen chocolate spray
Method:
Add all of the ingredients in a cocktail shaker with two large cubes of ice
Combine with 'throwing style'
Spray chocolate spray over coupette glass
Pour cocktail into glass
Garnish with cinnamon stick
https://www.youtube.com/watch?v=Kvyk_xmUDsw
Cup of Kindness
(Named after Robert Burn's Auld Lang Syne, which references whisky as the drink of friendship)
By Novikov's Theo Veremis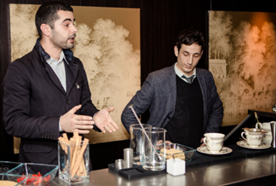 25ml homemade blueberry syrup
50ml Chivas 12
Ginger ale
Thistle to garnish
Method: Combine blueberry syrup and Chivas 12. Top up with crushed ice and ginger ale
Garnish with thistle
https://www.youtube.com/watch?v=g3jkV7SdjFQ
Blueberry syrup
300g heather honey
350ml water
400g blueberries
Skin of one lemon
1tsp freshly ground ginger
1 star anise
5 cloves
(Yields 300 ml of syrup)

Place the blueberries in a medium pot and crush them with a potato masher. Add the rest of the ingredients and bring to a boil stirring occasionally. Simmer for 15 minutes and then press the mixture through a fine sieve.
If you would like to see all the Scottish Blends please click here
Enjoy Chivas Responsibly