The Glenlivet drops new limited edition whisky, 'licensed dram', inspired by the first bottle of whisky ever licensed in the Livet Valley in 1824.
Published Date: 2nd November 2021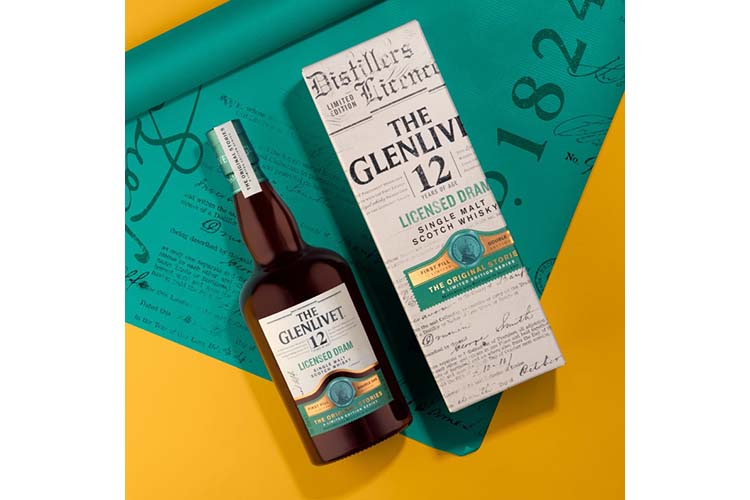 2nd November 2021: Listen up, whisky fans, 2021's hottest new dram is here! The Glenlivet has today launched an exclusive, limited edition whisky, The Glenlivet Licensed Dram, inspired by the first bottle of whisky ever licensed in the Livet Valley in 1824.
Whisky lovers will need to be quick to get their hands on one of a select number of bottles. 'Licensed Dram' is available exclusively on Amazon for £50 while stocks last - and they won't last long.
Described as a "First Fill Double Oak", the new drop sees the fruity house style of The Glenlivet 12-year-old whisky matured in First Fill barrels to produce a long and slightly sweet finish with lasting spice notes. At 48% ABV, the single malt is a fresh new take on the original Speyside Whisky that started it all.
Paying homage to its pioneering history, the bottle has been designed to reflect the oldest The Glenlivet bottle and comes in a striking box that's illustrated with the restored Distilling Licence granted to George Smith in the 1800s.
The 'Licensed Dram' marks the second chapter of The Glenlivet's 'Original Stories' collection following the launch of the widely popular 'Illicit Still' last November.
The latest launch brings to life the story of founder, George Smith, who defied century-long traditions of distilling illicit whisky in the hidden bothies of the Glen to persuade the Duke of Richmond to give him the first whisky licence. Despite facing violent opposition from armed smugglers and neighbours, Smith's dream of sharing The Glenlivet's legendary liquid with the world became a reality thanks to his courage, wit and conviction - something the brand still aspires to today.
With the licence for his beautifully smooth dram secured, George Smith continued to lead the whisky industry by pioneering changes in law and technology, setting new standards to create a global phenomenon that would stand the test of time.
Tasting Notes for The Glenlivet Licensed Dram:
Nose: Soft peaches, strawberry jam intertwined with warming cinnamon and gingerbread.
Taste: Golden honey, vanilla custard layered perfectly with hazelnut and liquorice
Finish: Long and slightly sweet finish with lasting spice notes
David Robinson, Brand Ambassador at The Glenlivet said: "Being bold is in our DNA at The Glenlivet. Ever since George Smith defied convention to legally bring his smooth and fresh single malt to the world, we've been pushing the boundaries of whisky making and our limited edition 'Licensed Dram' is no exception. We know this innovative twist on the original Speyside style will resonate with fellow whisky drinkers as they join us to celebrate our founder's history-changing accomplishment."
More Whisky News