Tomatin Scotch Whisky Distillery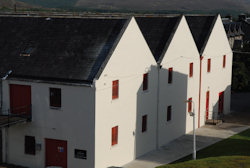 Tomatin Scotch Whisky Distillery was built in 1897 and is located in the Speyside region of Scotland just south of Inverness and is one that is very special to Planet Whiskies. It is own by Japanese company Takara Shuzo.
The distillery is a producer and blender of Scotch whisky, boasting a strong core range of single malt whiskies along with a range of popular blends which are sold in over 30 international markets. In the past this distillery was mostly used to make other whiskies in the form of blends ( The Antiquary, The Talisman and Big 'T'.), but during recent years the distillery has now focus on growing the Tomatin Single Malt brand in its own right.
The distillery produces the Tomatin 10 Year Old Single Malt Whisky, Tomatin 12 Year Old Single Malt Whisky and Tomatin 30 Year Old Single Malt Whisky. The contact details for this distillery are Tomatin Distillery, Tomatin, Inverness-shire, IV13 7YT and the contact telephone number is +44 (0)1808 511444.
Illicit stills are an important part of the history of whisky distilling in Scotland. Tomatin as a distilling site, illicit or otherwise, dates back to The 15th century when drovers (men who drove their cattle to market) Would stop to fill their ram's horns at the still of the old laird's house. This house was part of the tomatin estate and was located where the Modern day distillery stands.
Where to buy malts from Tomatin Distillery
View more of the selection of Tomatin malts on the Planet Whiskies
Read more about Tomatin Distillery on Planet Whiskies
Read about Planet Whiskies tour of Tomatin Distillery
Read a Q&A's from Graham Eunson - Master Distillery at Tomatin Distillery
See the range of malts at Tomatin
The below details are taken straight from the Tomatin Press Pack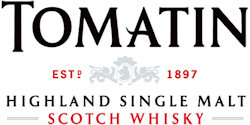 Producer and blender of highland Region scotch whisky in tomatin, Located 16 miles south of Inverness.
Whisky production has been central to the way of life in this area most probably since the 15th century and certainly since 1897 when the first formal distillery on the site was established. The settlement of Tomatin was formed only as result of the wealth created by the distillery.
Eighty per cent of our employees still live on site in the distillery houses, so working at Tomatin is more than just a job for our employees; it is a way of life. This in turn is reflected in the quality of whisky produced; every bottle of whisky we make is distilled with pride.
The whisky produced at Tomatin was always sold as 'bulk whisky' for use in major blends. But in recent years there has been a change in strategy to grow the Tomatin brand in its own right. The range of single malts is currently sold in over 35 export markets, with additional markets being added all the time.
The company also owns a number of blends, including The Antiquary, The Talisman and Big 'T'.

• Japanese-owned since 1986
• Sales and distribution run by J & W Hardie Ltd
• Currently exporting to over 35 international markets
• In Gaelic, Tomatin translates as 'Hill of the Juniper bush'
• One of the last distilleries with a working cooperage
• One of the highest distilleries in Scotland at 315 metres above sea level
History of the Tomatin Distillery

1897 Tomatin Distillery Established

1906 Liquidation

1909 Revived by the new Tomatin Distillers Co Ltd

1956 Stills increase from 2 to 4

1958 Stills increase from 4 to 6

1961 Stills increase from 6 to 10

1964 Stills increase from 10 to 11

1974 Stills increase from 11 to 23 – the largest distillery in the world

1984 Liquidation

1986 The Tomatin Distillery Co Ltd established by Takara Shuzo Co

1996 J & W Hardie Ltd becomes part of the Tomatin Group, bringing with it 'The Antiquary' blend

2002 Stills decrease from 23 to 12 and we embark on driving the Tomatin Single Malt range

2009 Tomatin undergoes a re-brand to the current branding used today
You can also view the single malts that are on offer from this distillery on this website
Distilleryt Owners website www.takarashuzo.co.jp/english/index.htm

You can also see Buy Tomatin Scottish Single Malts Whisky on Planet Whiskies
Website: www.tomatin.com
Facebook: www.facebook.com/Tomatin1897
Twitter: www.twitter.com/Tomatin1897
Latest Whisky News from Tomatin Distillery
Take the Tomatin Tour If You Dare - Tomatin distillery brings back hauntingly good tour
Published Date: 24th September 2018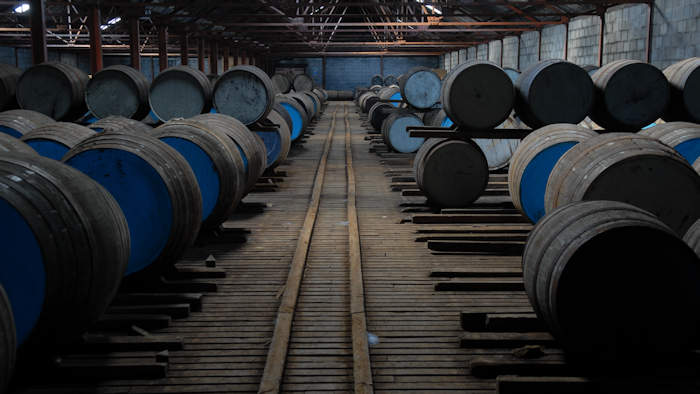 Highland whisky distillery Tomatin, is gearing up to host its infamous spook-tacular Fright Night tours in celebration of Halloween on Friday 26th of October. Read more 
Tomatin Launches Limited Edition 1972 Single Malt From their Warehouse 6 Collection: 19th July, 2017
Tomatin Distillery Boss Joins Host Of Celebrities As He Is Named Keeper Of The Quaich : 6th April, 2017
Tomatin Distillery Unveils Super Premium 44 Year Old Single Malt :: 1st July, 2016
Tomatin distillery unleashes new limited edition single malt :: Vintage 1988 :: 31st May, 2016
Tomatin Distillery :: Champions League... Of Whisky :: Tomatin Distillery recognises UK businesses' whisky achievements :: 12th September, 2015
Tomatin Distillery | New Edition Of Tomatin 36 Year Old Small Batch Tomatin Released :: 29th June, 2015
Tomatin Distillery :: A New Chapter from The Antiquary :: Premium Blended Scotch Whisky :: 11th May, 2015
Tomatin Distillery :: Going for Gold at San Francisco :: 2nd April, 2015
Tomatin First Cask Strength Release :: A marriage of full maturation Bourbon and Oloroso Sherry casks :: Read Tasting Notes :: 23rd February, 2015
Tomatin First Cask Strength Release :: A marriage of full maturation Bourbon and Oloroso Sherry casks :: 23rd February, 2015
Read about Planet Whiskies tour of Tomatin Distillery
Read a Q&A's from Graham Eunson - Master Distillery at Tomatin Distillery
Tomatin Distillery | Ryder Cup Hero Gallacher Lines Up For Tomatin Pro-Am | 17th April, 2014
Tomatin - New Product Release - Cù Bòcan Highland Single Malt Scotch Whisky - Limited Edition Cask Strength 1989 - 9th April, 2014
Tomatin Distillery Reduces Its Carbon Emissions By Over 80% - 11th November, 2013
Tomatin Distillery | New Product Launch - Cù Bòcan | 4th September, 2013
Tomatin Wins Gold At The 2013 International Wine & Spirit Competition - 25th July, 2013
Tomatin Distillery Earns 2013 TripAdvisor Certificate of Excellence - 22nd May 2013
Tomatin Distillery Wins at World Whiskies Awards - 4th April, 2013
Whisky News - Tomatin Distillery New Product Release - 21st March, 2013
Tomatin Celebrates Best Drink Accolade - 23rd October, 2012
Tomatin Distillery £150,000 upgrade to our Visitor Centre - 27th June, 2012
New Product Launch - Tomatin Distillery - Limited Edition Fifteen Year Old - 13th June, 2012
Tomatin Distillery - Whisky ambassador receives two industry honours - 4th April, 2012
Whisky News - Tomatin Performs Extraordinarily Well in New York - 16th March, 2012
Tomatin Celebrates Master Distillers 50th Year - 23rd June, 2011