Cù Bòcan Releases Second Batch Of Highly Awarded 15 Year Old, '2023 Edition'.
Published Date: 27th September 2023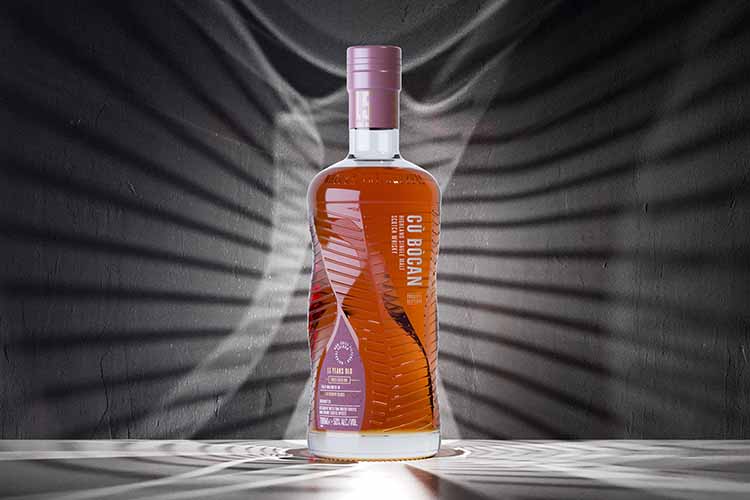 Cù Bòcan Single Malt has just released (Wednesday 27th) the second batch of its highly awarded Limited Edition 15 Year Old. Fully matured in Oloroso Sherry casks for a minimum of 15 years, this 2023 Edition is the second in a series of planned annual batch releases.
The award winning experimental Highland Single Malt is distilled every winter at Tomatin Distillery in limited batches and made with lightly peated Scottish barley for its signature wisp of smoke. In late 2005, after Tomatin had achieved its annual production quota, the Distillery Manager at the time brought in a load of lightly peated barley allowing the distillery to produce its own peated spirit for the last week of the year.>
This production coincided with incredibly low water temperatures and resulted in a slightly oilier mouthfeel in the new make spirit. Recognising the quality of this spirit, the distillery continued to produce Cù Bòcan in small batches every winter since 2005. The Cù Bòcan brand was launched in September 2013 and is celebrating 10 years this month. The newly released Cù Bòcan 15 Year Old features some of the first lightly peated spirit to be laid down in casks.
The first batch, 2022 Edition, which launched last September, has already earned a series of highly awarded credits, "DOUBLE GOLD" at this year's San Francisco World Spirit Competition, 94 points at the International Wine and Spirits Competition and Gold Category winner at the 2023 World Whisky Awards for both taste and design.
Matured fully in Oloroso Sherry casks for a minimum of 15 years, Cù Bòcan 15 Year Old is a decadent single malt with sun dried fruits and smoky exotic spices. Varying ever so slightly per batch, this time around the Oloroso Sherry casks have imparted flavours of beeswax polish, Seville marmalade peel, extra-dark chocolate and Jamaican ginger cake. The peat provides a traditional earthy dryness rather than an obvious smoke, this has helped keep some of the sweeter elements of the Sherry casks perfectly balanced.
Cù Bòcan is also renowned for exploring innovative maturations, creating whiskies full of intrigue and surprise. Earlier this year the brand released two new expressions, Creation #5, finished in Colombian Andean Oak casks and Cù Bòcan 12 Year Old, finished in Caribbean Rum Casks.
The current Cù Bòcan range now comprises of Cù Bòcan Signature, matured in Bourbon, Oloroso Sherry and North American Virgin Oak casks, the Creation series, Cù Bòcan 12 Year Old and the newly released Cù Bòcan 15 Year Old 2023 Edition.
Each Cù Bòcan Single Malt offers an exploration in the subtleties of smoke, the character of the casks and the mastery of maturation. The range is always non-chill filtered and natural in colour. Cù Bòcan 15 Year Old, 2023 Edition, has been bottled at 50% Abv. and is a limited batch release with only 6,000 bottles available worldwide.
To celebrate 10 years of Cù Bòcan, guests for the first time ever can take part in a Cù Bòcan only tour for a limited time only, the first tour will take place Friday (29th) at Tomatin Distillery, coinciding with the Highland Whisky Festival. Click HERE for more info.
Later in the year the brand is (once again) collaborating with Chef Tony Singh MBE, Maggie's Highland's and Alistair Birt to host a dining experience like no other, two luxurious, intimate Supper Club events held at Tomatin Distillery on the 1st and 2nd of November with all ticket proceeds going to Maggie's Highlands. Guests will enjoy the best of the Highland's natural larder paired with Tony's unique and vivacious fusion of flavours and to round the night off Harrods Head Pastry Chef, Alistair Birt, will be curating a dessert inspired by the newly released Cù Bòcan 15 Year Old. Contact marketing@cubocan.com for more information.
Cù Bòcan 15 Year Old, 2023 Edition, is available in specialist shops worldwide with an RRP of £97 per 700ml bottle.
More Whisky News
Distillery of the Month: November 2023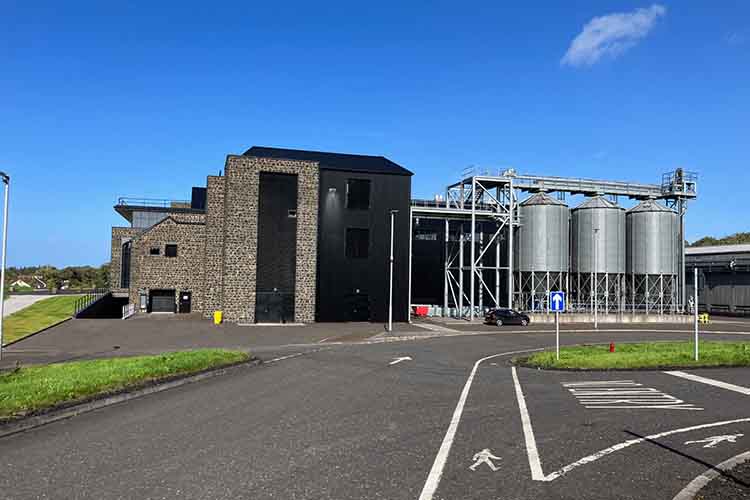 Planet Whiskies visited the new Bushmills Distillery in Northern Ireland on the 25th and 26th of September. Read our review of the experience of Bushmills and Northern Ireland at Planet Whiskies tour of Bushmills and Northern Ireland
You can also read the whole section about Bushmills Distillery at Bushmills Distillery Information on Planet Whiskies... So Bushmills is Planet Whiskies Distillery of the Month title for November 2023
Get Newsletter
Subscribe to our newsletter to get latest news, popular news and exclusive updates.