Tomatin Wins Gold At The 2013 International Wine & Spirit Competition - 25th July, 2013
Tomatin Distillery is delighted to announce that they have won five awards in the 2013 International Wine and Spirit Competition (IWSC) for their core range of Highland Single Malt Scotch Whisky.
The results, announced at the London International Wine Fair on Monday 20th May, mark the 44th year of the
Competition. Founded in 1969, the IWSC is considered to be the most prestigious competition of its kind in the world.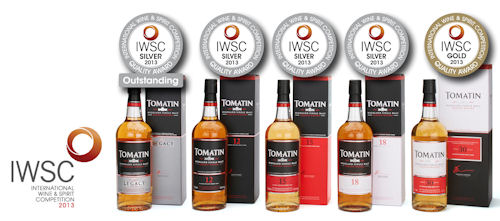 The awards given by the competition are believed to be among some of the highest honours in the industry. Judging for the Competition is unique in that it has two stages; first, the products are tasted blind by expert panels, selected from over 300 fully experienced and qualified industry judges. Then, products are subject to technical analysis before results are released; this crucial stage ensures winners receive complete validation.
All products in Tomatin's core range achieved a Silver award or higher. The recently released no‐age‐statement expression, Tomatin Legacy, was awarded 'Silver Outstanding', a great reflection of the reception this product has had in the marketplace. The brand's 30 year old expression, regularly voted 'favourite dram' at whisky tasting events, was awarded Gold.
Stephen Bremner, Sales Director, said: "Credible product awards like these are extremely influential in the buying process; therefore we are happy with these excellent results from IWSC 2013 which reflect consistent quality across the range, right from our youngest non‐aged expression to the higher‐end 30 year old."
More details at www.tomatin.com.
<< View Tomatin Single Malt Range
<< View more details about the Tomatin Distillery
<< Read about Planet Whiskies tour of Tomatin DIstillery
<< Read more Graham Eunson Master Distiller
<< Back to all the latest whisky news brought to you by Planet Whiskies
Distillery of the Month: November 2023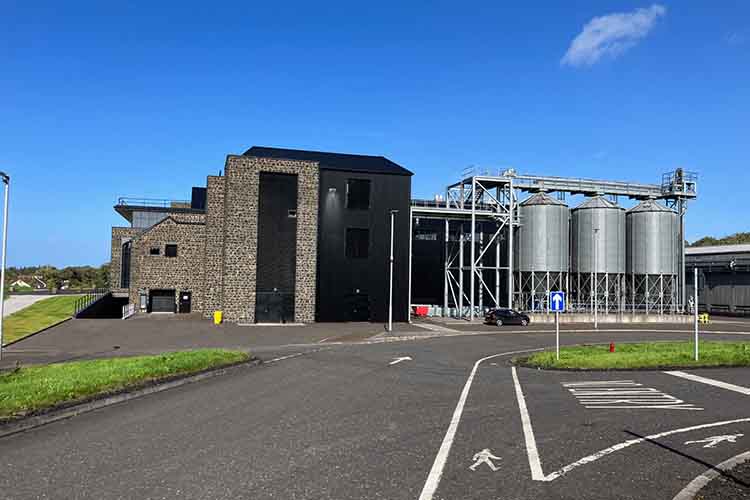 Planet Whiskies visited the new Bushmills Distillery in Northern Ireland on the 25th and 26th of September. Read our review of the experience of Bushmills and Northern Ireland at Planet Whiskies tour of Bushmills and Northern Ireland
You can also read the whole section about Bushmills Distillery at Bushmills Distillery Information on Planet Whiskies... So Bushmills is Planet Whiskies Distillery of the Month title for November 2023
Get Newsletter
Subscribe to our newsletter to get latest news, popular news and exclusive updates.