Tomatin Distillery Unveils Super Premium 44 Year Old Single Malt :: 1st July, 2016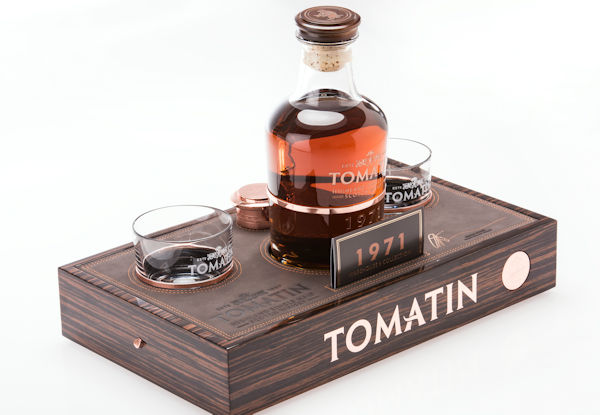 Highland based Tomatin Distillery unveiled last night at the RSA Vaults in London, an extremely rare single malt whisky, distilled in 1971.  This 44 year old single cask release is the first of the luxury Warehouse 6 Collection which will include some of the most refined spirits from the Highland distiller.
The unique malt was revealed at the London event by Distillery Manager, Graham Eunson who was joined by journalists, specialist drink retailers, bartenders and bloggers to toast the new limited edition expression.  Just 252 bottles of the spirit, matured in hand selected Spanish Oloroso sherry casks, are available. 
Bottled at a strength of 45.8% volume, the whisky is described as having aromas of almond, plum, ginger cake and marzipan merged with warm flavours of caramel, dark chocolate, coffee and winter fruits before a rich, refined, lingering finish.
The complex malt is encased in a crystal decanter decorated with solid copper along with two crystal tumblers, inside an impressively ornate box comprising of varnished wood laminate, plexiglass and rose gold metal to reflect its exclusivity. 
Sales Director, Stephen Bremner commented: 'We are thrilled to launch our 1971 single malt today, the first rare and limited expression in our Warehouse 6 Collection.  We have spent decades perfecting this delicate spirit that reflects our dedication to producing whisky of exceptional quality.  The single malt evokes the soft house character of Tomatin with an intricate medley of rich tones and flavours which are truly unique.'
This exquisite creation will be available at specialist retailers and establishments worldwide, retailing at £2,500.
More details at www.tomatin.com.
<< View Tomatin Single Malt Range
<< View more details about the Tomatin Distillery
<< Read about Planet Whiskies tour of Tomatin DIstillery
<< Read more Graham Eunson Master Distiller
<< Back to all the latest whisky news brought to you by Planet Whiskies