Tomatin Distillery Boss Joins Host Of Celebrities As He Is Named Keeper Of The Quaich : 6th April, 2017
Published Date: 6th April 2017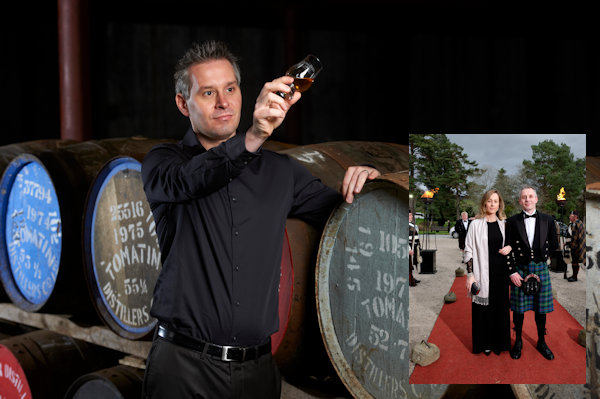 Tomatin Distillery has today, Thursday 6th April, revealed that one of its board directors, Stephen Bremner (41), has been inducted into the exclusive Scotch Whisky society, The Keepers of the Quaich. Stephen joins the likes of Prince Charles, Jackie Stewart, Ronald Reagan and Alex Salmond in his exclusive new role.
Stephen was raised in Inverness, where he now lives with his wife and children. He has worked with Tomatin for 13 years, joining as a Logistics Coordinator before progressing to his current position as Sales Director, where he is tasked with developing the businesses portfolio of brands around the world.
His induction took place earlier this week at the spectacular Blair Castle, the ancient home of the Earls and Dukes of Atholl, where 41 new Keepers and six Masters were welcomed at the bi-annual event. This years inductees come from 16 countries around the world, and have amassed 900 years of experience amongst them.
Founded to represent the Scotch Whisky industry worldwide, The Keepers promotes the goodwill of the industry and honours those who have made a recognisable contribution.
Stephen Bremner, Tomatin Sales Director, said, "Being invited into The Keepers of the Quaich is an incredible honour. Our CEO Bob Anderson was made a member back in 2015 and I'm hugely grateful to be joining him and to be part of the society's esteemed membership."
This recognition is testament to the continued growth of Tomatin and the commitment of the wider team behind our fantastic distillery."
The ceremony, led by the Grand Master Mrs Sarah Troughton, and guest speaker Rory Bremner, sees members entertained at a banquet with the finest of Scottish hospitality.
Tomatin recently won Distiller Of The Year 2016 and Brand Innovator Of The Year 2017 at the Icons of Whisky Scotland Awards. Tomatin currently ranks in the Top 10 Single Malt brands in the USA and is one of the fastest growing in the UK.>
More details at www.tomatin.com.
<< View Tomatin Single Malt Range
<< View more details about the Tomatin Distillery
<< Read about Planet Whiskies tour of Tomatin DIstillery
<< Read more Graham Eunson Master Distiller
<< Back to all the latest whisky news brought to you by Planet Whiskies