Whisky News - Tomatin Distillery Reduces Its Carbon Emissions By Over 80% - 11th November, 2013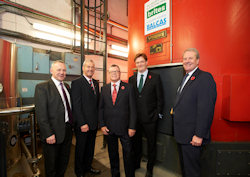 Local MP Danny Alexander and UK Green Investment Bank Chairman, Lord Smith of Kelvin, visit distillery to see its new carbon saving biomass boiler
Tomatin Distillery, located 16 miles south of Inverness, has become the first Scottish Distillery to install a new, state of the art, sustainable biomass boiler. This new renewable energy boiler displaces the distillery's previous heavy-fuel oil usage and produces both heat and steam for the whisky making process.
The installation of the new biomass boiler as part of an Energy Supply Contract (ESCO) has immediately improved the distillery's energy efficiency, cutting carbon emissions by 80% or over 4,000 tonnes CO2 each year, equivalent to taking 1,200 family cars off the road.
The ESCO was part-financed by the UK Green Investment Bank, through its fund manager Equitix, and Balcas. Balcas is the largest manufacturer of wood pellets in the UK with production sites in Northern Ireland and in Invergordon, Scotland, 35 miles north of the distillery. This plant alone produces100,000 tonnes of sustainable biomass pellets annually.
Tomatin Distillery is the first distillery in Scotland to achieve the Scotch Whisky Association's target
In cutting its carbon emissions by 80%, Tomatin Distillery is the first distillery in Scotland to achieve the Scotch Whisky Association's target for 2050 - 37 years ahead of schedule.
Robert Anderson, chief executive of Tomatin Distillery and Ernest Kidney, managing director of Balcas provided Danny Alexander MP and Lord Smith of Kelvin with an overview of the environmental and economic benefits of the new biomass fuelled steam boiler.
The Rt Hon Danny Alexander, Member of Parliament for Inverness, Nairn, Badenoch & Strathspey said:
"It is terrific to see this landmark Green Investment Bank project come online with its first investment in the Highlands.
"I'm delighted that Tomatin Distillery is to benefit, with the support of Balcas, from this flagship Lib Dem initiative which will reduce its energy costs and use cleaner energy.
"Both the Distillery and Balcas are to be congratulated for their forward thinking and positivity.
"The North of Scotland has huge potential for growth in renewables and green energy. I'm confident that this project will be the first of many to benefit the local economy and boost jobs in the area."
Lord Smith of Kelvin, Chairman of GIB said:
"Every one of us can do more to save money and reduce our environmental impact through a greater commitment to energy efficiency. Tomatin Distillery has taken a lead and shown the very real gains that businesses of all sizes can make by investing in energy efficiency. The have provided a great example to other small and medium sized businesses that I hope others will follow.'
Robert Anderson, chief executive of Tomatin Distillery said:
"We are delighted to welcome Danny Alexander and Lord Smith to Tomatin so that they can see for themselves how we as a company have embraced renewable energy and in doing so have achieved our 2050 carbon reduction targets from the Scotch Whisky Association. In addition to reducing our carbon emissions, the energy solution from Balcas has had many additional benefits to us including clear financial savings, the ability to benefit from the Renewable Heat Incentive for the next 20 years, and a local and secure fuel supply."
Ernest Kidney, managing director of Balcas said:
"Tomatin is the first company to benefit from our unique integrated energy proposition and I congratulate them on achieving their carbon reduction targets for 2050. Given that the RHI is for the next twenty years we believe that having a world class solution for the supply of steam in an industrial or commercial setting backed with the security of supply of fuel for the next twenty years has, and will be, a decisive factor for many customers in this marketplace."
More details at www.tomatin.com.
<< View Tomatin Single Malt Range
<< View more details about the Tomatin Distillery
<< Read about Planet Whiskies tour of Tomatin DIstillery
<< Read more Graham Eunson Master Distiller
<< Back to all the latest whisky news brought to you by Planet Whiskies
Distillery of the Month: November 2023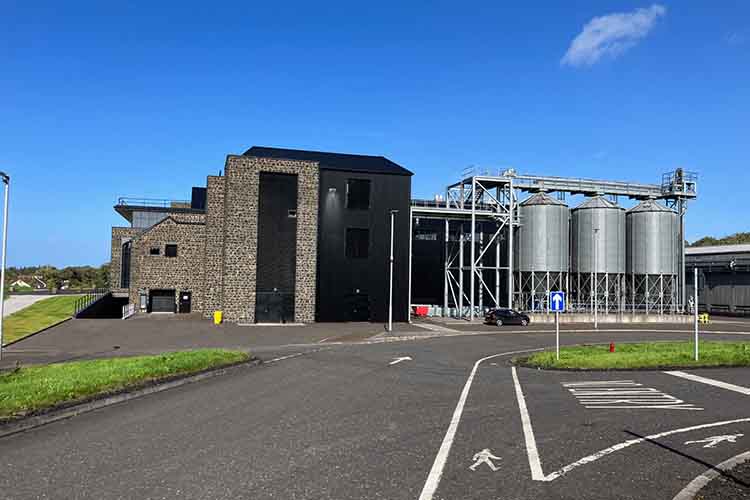 Planet Whiskies visited the new Bushmills Distillery in Northern Ireland on the 25th and 26th of September. Read our review of the experience of Bushmills and Northern Ireland at Planet Whiskies tour of Bushmills and Northern Ireland
You can also read the whole section about Bushmills Distillery at Bushmills Distillery Information on Planet Whiskies... So Bushmills is Planet Whiskies Distillery of the Month title for November 2023
Get Newsletter
Subscribe to our newsletter to get latest news, popular news and exclusive updates.