Tomatin Distillery | New Product Launch | Cù Bòcan | 4th September, 2013
Today there is a new product Launch by Tomatin Distillery call Cù Bòcan (picture below). This new malt whisky is lightly peated and has been matured in a combination of Virgin Oak, Bourbon and Sherry casks. Cù Bòcan will be released in batches and there will only be 60,000 litres of this malt produced per annum.
Cù Bòcan has stalked residents of the remote Highland village of Tomatin for centuries, his legend embellished by the hellhound's increasingly fractious behaviour.
Sightings are rare, once in a generation, always terrifying. A distillery worker, out walking late, was once relentlessly pursued by an imposing black beast, steam spiralling from flared nostrils, teeth bared.
Compelled beyond all natural reason to feel the hound's dense fur he stopped and reached out, hand trembling, only to see the ghostly spectre - Cù Bòcan - dissolve before his eyes leaving nothing but a vacuum of deathly silence and an inky blue cloud of smoke, soon spirited away across the peat moorland…
THE WHISKY
Cask Type: Matured in a combination of Virgin Oak, Bourbon and Sherry casks.
Strength: 46% alc./vol.
Availability: September 2013
Distribution: Worldwide
Price: RRP £43.99 per 70cl bottle

This whisky is described as "light smoke intertwined with rich citrus and exotic spices".
AROMA
Coconuts and cream with some botanic notes, parsley and coriander. The smoke emerges after a minute
followed by a mix of lime, grapefruit and tangerines with rich almond and aniseed.
More details at www.tomatin.com.
<< View Tomatin Single Malt Range
<< View more details about the Tomatin Distillery
<< Read about Planet Whiskies tour of Tomatin DIstillery
<< Read more Graham Eunson Master Distiller
<< Back to all the latest whisky news brought to you by Planet Whiskies
Distillery of the Month: November 2023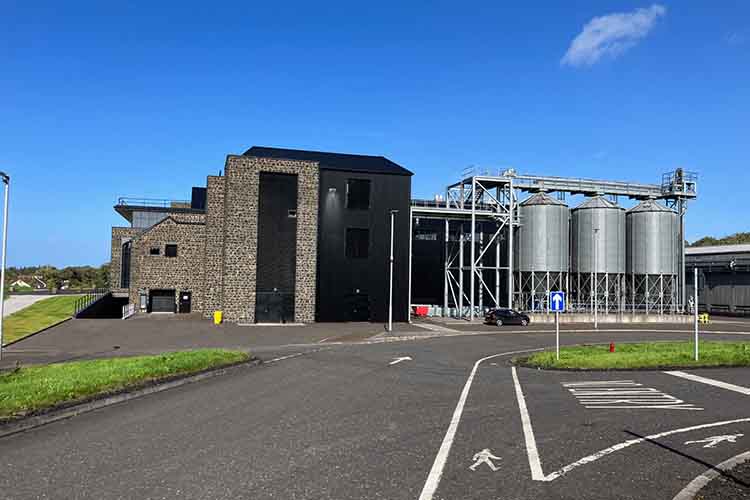 Planet Whiskies visited the new Bushmills Distillery in Northern Ireland on the 25th and 26th of September. Read our review of the experience of Bushmills and Northern Ireland at Planet Whiskies tour of Bushmills and Northern Ireland
You can also read the whole section about Bushmills Distillery at Bushmills Distillery Information on Planet Whiskies... So Bushmills is Planet Whiskies Distillery of the Month title for November 2023
Get Newsletter
Subscribe to our newsletter to get latest news, popular news and exclusive updates.