Latest Whisky News - The Macallan Visitor Attraction Wins Five Star Accolade - 5th July, 2011
The Macallan Visitor Centre, Speyside, has been awarded the prestigious five star rating from VisitScotland's quality assurance scheme, confirming the distillery as a world class destination.
The annual review by VisitScotland consists of unannounced visits by an auditor who assesses core areas covering all aspects which have an impact on a customer's visit, including: promotional literature; signage; appearance of grounds and buildings; the welcome given by staff; attitude and appearance of staff; decor and maintenance; ambience; merchandise presentation.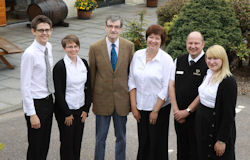 Following the completion of an investment programme of over £1m, The Macallan Visitor Centre offers a highly innovative and distinctive distillery experience. A memorable and interactive learning journey takes visitors through the production life-cycle of The Macallan including two significant areas, The Masters of Spirit Experience and The Masters of Wood Experience.
Easter Elchies Estate, overlooking the river Spey, has been The Macallan's spiritual home since the distillery was founded in 1824 and welcomes visitors from across the world all year round. Visitors can choose between two tours. The Experience Tour is lead by The Macallan's friendly and knowledgeable guides, ending with a dram of The Macallan while the Precious Tour is more in-depth ending with a tutored nosing and tasting of some of The Macallan's older whiskies.
Alec Reid, Visitor Centre Manager, The Macallan commented: "The team truly feel we have developed an outstanding experience for our visitors and this accolade is testament to that. In addition to our rich heritage, visitors can enjoy a modern and unique interpretation of what makes The Macallan single malt so distinctive and appreciated as the world's most precious whisky. We all feel rewarded by this recognition and will continue to maintain the high standards that have led to this latest achievement. "
VisitScotland has operated a quality assurance scheme for visitor attractions since 1995. The scheme gives operators an independent quality assurance award and incorporates the inspection of properties for Thistle tourist signposting.
The Macallan tours should be pre-booked by calling 01340 872280 or emailing distillery@themacallan.com. The Experience Tour is priced £10 per adult and £5 per child (aged 8 – 17 years). The Precious Tour is priced £20 per adult.
View at the full range of Macallan Single Malt Whiskies
<< Back to all the latest whisky news brought to you by Planet Whiskies