Latest Whisky News -The Macallan Single Malt Whisky
The Macallan launches first ever virtual dram app - 29th November, 2011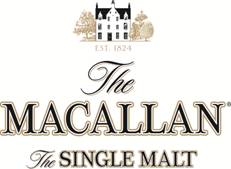 The Macallan, distributed by Maxxium UK, has become the first whisky brand to create a virtual dram app on Facebook, as part of its social media strategy.
Entitled 'Share a dram', the app has been developed to build on the brand's growing presence on Facebook, which recently smashed the milestone of 60,000 fans.
The app, which launched today, will allow fans to share a virtual dram with their friends by selecting their favourite expression from The Macallan range on the app, including The Macallan Sherry Oak 12 years old, The Macallan Fine Oak 15 years old and the 1824 Collection. A variety of serving options are also offered including the famous The Macallan Ice Ball serve.
As fans share further drams with their friends on Facebook, they will gain access to higher end whiskies such as The Macallan 1824 Estate Reserve and The Macallan Fine Oak 21 years old. Fans will also gain an insight and learn more about the different whiskies in The Macallan range.
This innovative tool will allow The Macallan to further engage with existing fans and appeal to new fans across the global social media sphere.
Facebook is continuing to generate significant momentum with currently more than 800 million active users worldwide and over 50% of those logging on daily. Every month, over 500 million people use an app on Facebook.
Annabel Kohler, Marketing Innovation Manager for The Macallan said: "This marks an exciting move for The Macallan in the world of social media. The launch of the new app will build upon the nature of sharing a dram with friends, as well as the luxury, style and authenticity long associated with The Macallan.
"We recognise that Facebook offers a powerful platform to interact directly with our fans. It has become an integral part of daily life and is set to continue its growth. We are confident that our new app will really capture the imagination of our fans and introduce newcomers into the world of whisky, by allowing them to experiment and share different expressions with friends. It is also a great way to enhance the way in which our fans interact and engage with one another."
The Macallan 'Share a dram' app can be accessed on The Macallan Facebook page: http://on.fb.me/s0w9zw
To find out more about The Macallan go to www.themacallan.com
<< View Single Malt Whiskies in The Macallan range
<< Back to all the latest whisky news brought to you by Planet Whiskies