Isle of Jura Scotch Whisky Distillery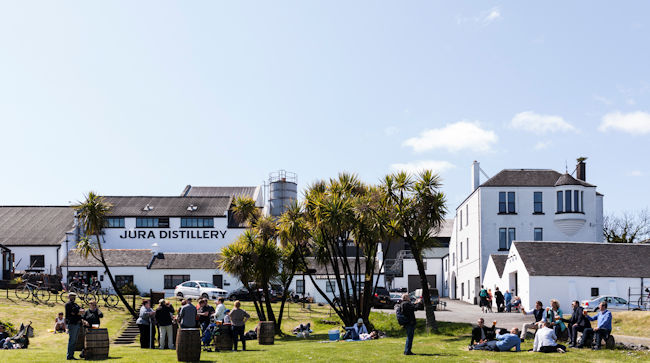 Isle of Jura Scotch Whisky Distillery was built in 1810 and is situated just off the West Coast of Scotland and East of Islay. The first official Scottish distillery on Jura was built in 1810, but there is evidence that whisky had been made on the island as early as 1502.
The distillery produces the Isle of Jura 16 Year Old Single Malt, Isle of Jura 21 Year Old Single Malt and Isle of Jura 27 Year Old Single Malt to name a few.
The Isle of Jura distillery has know a new visitor center which opened in May 2011 and cost £100,000. The opening mark the first day of the Feis Ile. This visitor centre is on the site of the first distillery shop and show has the distillery has developed over the years. If you are also thinking about have a distillery tour of Jura this is the meeting place for such a tour. The contact details for the distillery are Isle of Jura Distillery, Jura, Argyllshire, PA60 7XT and the phone number is (0)1496 820240.
Where to buy Isle of Jura Malts
Buy Jura Scottish Single Malts Whisky
Latest Whisky news from the Jura Distillery
Jura celebrates momentous year with release of new Prestige Range
The Single Malt Maker reveals Rare Vintage Jura 1988 and Jura 28 Year Old, single malts perfected over decades.
Published Date: 11th December 2018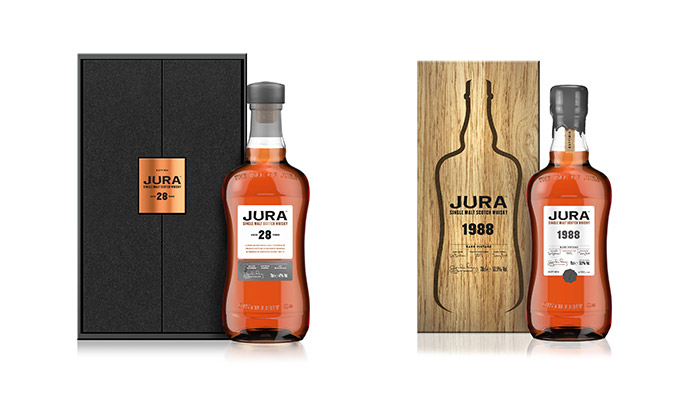 To mark the end of a monumental year for Jura Single Malt Whisky, the brand has revealed the first in the development of a new Prestige Range, showcasing some old and rare stocks from Jura's whisky making history. Read more
Jura Whisky Launches New Signature Series: 5th March, 2018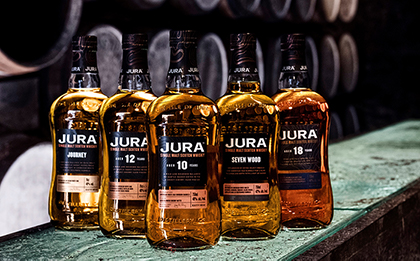 Hours away from the Scottish mainland, miles away from 'ordinary'; Jura might not be the easiest place to make whisky, but we believe it's the best. One road, one pub and one distillery - and home to a determined community spirit.  Free from distractions, we focus entirely on one thing – making the very best single malt whisky we can. Read more
Jura Celebrates Island Community With One And All Release: 1st September, 2017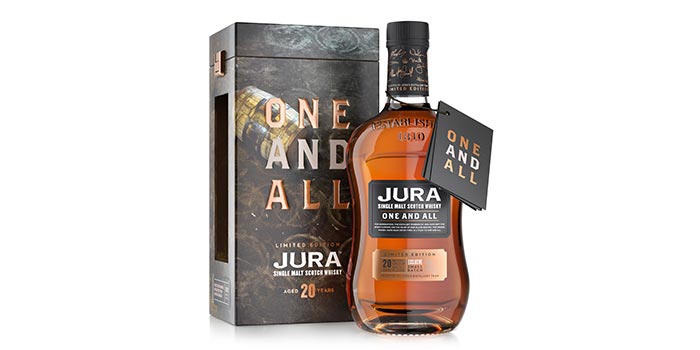 Jura Single Malt Whisky today, 1st September, unveils a new limited edition expression, created in celebration of Jura's community and the team of distillery workers who craft the award-winning whisky. Chosen by them, it's fittingly named One And All. Read more
A Warm Welcome Awaits At Jura Tastival 2017: Tickets are now on sale for Jura Tastival 2017: 27th April, 2017
Jura Tastival Whisky :: Tastival 2016 Bottling Brings Festival Flavours to Life :: Limited edition Tastival 2016 bottling inspires unique packaging, chosen by Jura fans :: 25th May, 2016
Jura Brings Taste Of Island Life To Festive Gifting :: New premium Jura gift tins: the hot-ticket for whisky lovers this Christmas :: 5th November, 2015
Tastival 2015 Bottling gets Jura in the Festival Spirit :: Jura release limited edition Tastival 2015 bottle to celebrate annual island whisky festival :: 27th May, 2015
'Dram-packed' schedule announced for Jura Tastival 2015 :: A Must for whisky lovers on 27 & 28 May 2015 :: 8th April, 2015
Jura Launches "Whisky Pursuit" to Win a Free Bottle Every Week for a Year - 20th February, 2012
Top Crime Author Stuart MacBride Opens Jura Writers' Retreat - 28th November, 2011
Latest from Jura Distillery - Jura Launches Elixir Whisky for Christmas - 17th November, 2011
Latest from Jura - Online whisky tasting offers Diurachs the best of the fest - 9th June, 2011
Latest News - New Distillery Visitor Centre Opens on Jura - 26th May, 2011
Jura toasts 200th celebrations with a dram of newly releases 21 YO - 27th October, 2010
<< Back to Scottish Whisky Distillery Home Page