Latest from Jura - Online whisky tasting offers Diurachs the best of the fest - 9th June, 2011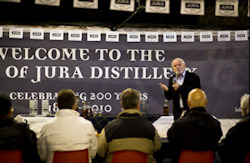 Fans of JURA single malt can relive the island's recent two-day whisky festival thanks to the launch of an online tasting session and a festival highlights package, both hosted on https://jurawhisky.com/
Online tasting with Willie Tait and Willie Cochrane
Led by Willie Tait, Master Distiller, and Willie Cochrane, Distillery Manager, the tasting session offers those who were unable to attend the festival, a chance to savour a taste of the Feis Isle online and soak up the whisky wisdom of the knowledgeable duo. During the ten minute video, the two Willies guide viewersthrough thedistillery's four classic bottlings – the 10-year-old, the 16-year-old,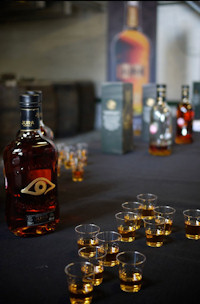 Superstition and Prophecy – lending their own brand of Hebridean humour to proceedings! Before watching the video, viewers are encouraged to download a tasting mat from https://jurawhisky.com/ to guide them through the whisky flight.
Best of the Fest
Visitors to the website can also watch a 7 minute Festival highlights package that takes viewers on a journey through the three hosted tasting sessions which took place on the island in May. In the first session, under the guidance of Master Distiller Willie Tait, viewers can join the visitors on their journey of the distillery's core expressions, as well as a very special sampling of its commemorative 21-year-old.
The second session shows visitors on a distillery tour with Distillery manager Willie Cochrane, during which they were invited to become a part of the distillery's history by pouring a litre each into a cask and signing their names. In years to come, these fans can return to see the cask, knowing they were involved in making Jura whisky.
The final tasting session captures Richard Paterson and visitors sampling from a very special cask which was created last year and released this year.
Both videos are now available for viewing at https://jurawhisky.com/.
Willie Cochrane, Distillery Manager at Jura Distillery, said: "I'm always disappointed that our small island can only accommodate around 100 visitors to the festival every year. So I'm pleased that we can offer our fans who couldn't make it the opportunity to take part in a tasting session themselves and savour a taste of island life online. And if they like what they see…..well maybe they'll need to keep a close eye on the Feis Isle programme next year to snap up one of those precious tickets!"
<< Buy Jura Single Malts Whisky
<< Read more about Jura Distillery
<< Back to all the latest new brought to you by Planet Whiskies
Distillery of the Month: November 2023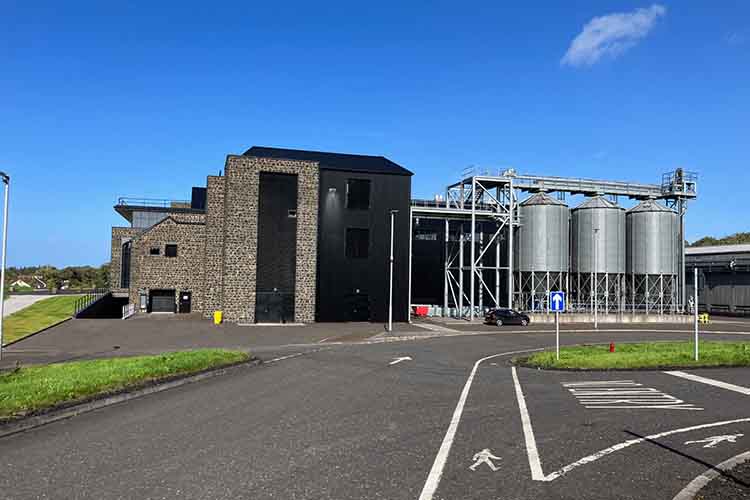 Planet Whiskies visited the new Bushmills Distillery in Northern Ireland on the 25th and 26th of September. Read our review of the experience of Bushmills and Northern Ireland at Planet Whiskies tour of Bushmills and Northern Ireland
You can also read the whole section about Bushmills Distillery at Bushmills Distillery Information on Planet Whiskies... So Bushmills is Planet Whiskies Distillery of the Month title for November 2023
Get Newsletter
Subscribe to our newsletter to get latest news, popular news and exclusive updates.