Jura Whisky brings the tropical to its island home with new Rum Cask Finish. Exotic single malt added to its portfolio
Published Date: 29th March 2021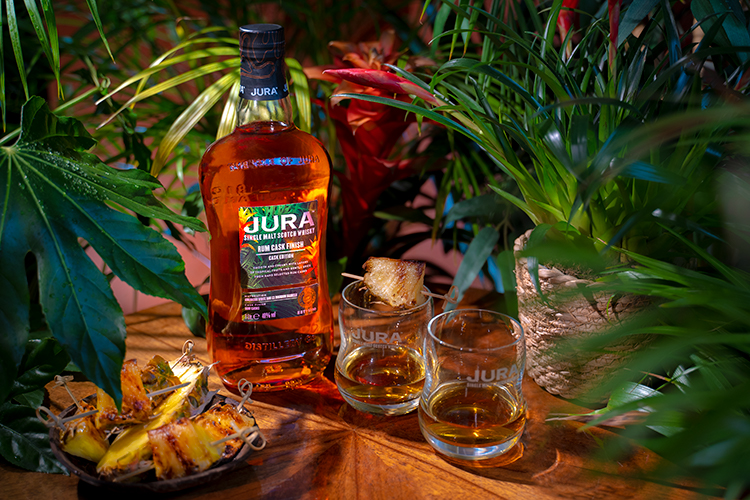 Jura Single Malt whisky has announced the latest addition to its exciting portfolio in the shape of Jura Rum Cask Finish, a fruity, exotic single malt bringing the lively taste of the tropical to its range of whiskies.
Initially matured in American White Oak Ex-Bourbon barrels, the spirit went on to conclude its maturation journey in hand-selected Caribbean Rum Casks to create a smooth, creamy and fruity finish.
The rum cask influence gives this rich golden amber single malt an exotic flair. From warm and welcoming aromas of exotic guava and coconut, sugar-coated almonds, apricots and a touch of citrus entice the nose. Mouth-wateringly smooth, the taste promises rich and creamy hints of sweet vanilla with fudge coming through, beautifully balanced with layers of enticing fruit sweetness of mango, banana and guava.
Gregg Glass, Whisky Maker & Blender at Whyte & Mackay, commented: "Our Jura Cask Editions have been created to showcase cask types in partnership with the Jura distillery character. The flavours offer interesting interpretations of our classic style, making them ideal for those looking to explore new flavours and finishes. With Jura Rum Cask Finish, the taste experience has been enhanced through the finish to create a beautifully tropical and fruity result. In making this release, we wanted to share a Single Malt that's easy drinking and great value with compelling character!"
The third in the recently introduced Jura Cask Editions, this whisky is presented in a striking silver carton, with a distinctive design of lush green leaves and tropical flowers celebrating the origin of the Caribbean casks used to finish this whisky.
Head of International Malts at Whyte & Mackay, Kirsteen Beeston said, "Summer is on its way, and with it, consumers are seeking fruity, vibrant flavours that they can enjoy both mixed and on their own. Jura Rum Cask Edition offers an easy-sipper that will transport tastebuds to tropical islands by way of the remote Scottish island of Jura – whether in the comfort of a private balcony or garden."
To emphasise the fruity flavours of the release, fans are recommended to try alongside a serve of grilled or glazed pineapple or enjoy alongside a traditional Caribbean dish such as Jerk Chicken. It is also encouraged to explore the dimensions of flavour in a sharing fruit punch or in a classic ginger beer long serve, swapping rum for 50ml of Jura Rum Cask Finish.
Each bottle of Jura Whisky is a celebration of our island home and embodies the passion of those who make it. This remote Scottish island provides the canvas from which these dedicated islanders take their inspiration, and our distillery provides the means by which to bring this to life through whisky making.
Jura Rum Cask Finish launches initially in the UK in 2021, available in Tesco stores from mid-March at £45 for 1 litre.
More Whisky News
Distillery of the Month: November 2023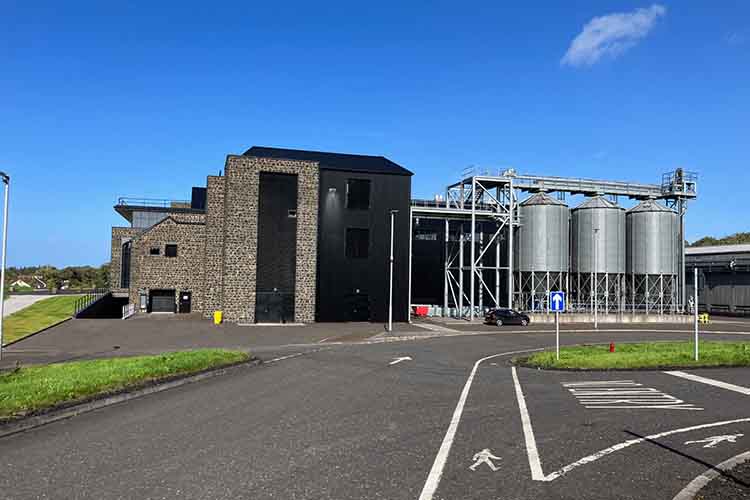 Planet Whiskies visited the new Bushmills Distillery in Northern Ireland on the 25th and 26th of September. Read our review of the experience of Bushmills and Northern Ireland at Planet Whiskies tour of Bushmills and Northern Ireland
You can also read the whole section about Bushmills Distillery at Bushmills Distillery Information on Planet Whiskies... So Bushmills is Planet Whiskies Distillery of the Month title for November 2023
Get Newsletter
Subscribe to our newsletter to get latest news, popular news and exclusive updates.