Jura Celebrates Island Community With One And All Release: 1st September, 2017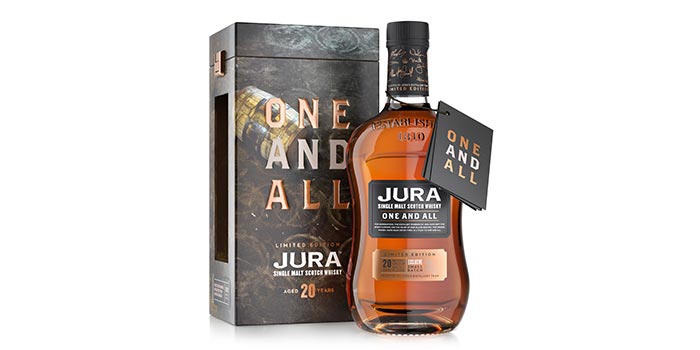 Jura Single Malt Whisky today, 1st September, unveils a new limited edition expression, created in celebration of Jura's community and the team of distillery workers who craft the award-winning whisky. Chosen by them, it's fittingly named One And All. 
This celebratory 20 year old single malt assemblage, which is non-chill filtered and natural colour, raises a glass to the distillery team and island community who make the whisky what it is today. A must-have collectable for whisky fans, with the community at the heart of it, this small batch release (51% ABV – Cask strength) is available globally with an RSP of £120.
The community on Jura, a remote and beautiful island nestled off the West Coast of Scotland, has a unique bond with whisky. Around 200 people inhabit Jura's landscape, outnumbered by more than 5,000 red deer which roam the island's vast, empty planes. Together, the Diurachs (the name for people who live on Jura) and the distillery have rebuilt a thriving local economy since re-opening the distillery over 50 years ago. It's this tenacity of Jura's people, which makes the island and its whisky so special – a community of few, shaped by a passion for the island they live on, brought there through family, fate and history.
The realities of living on a remote island in a small community means that everyone has to work together for the benefit of one and all. Nowhere is this bond stronger than at Jura Distillery.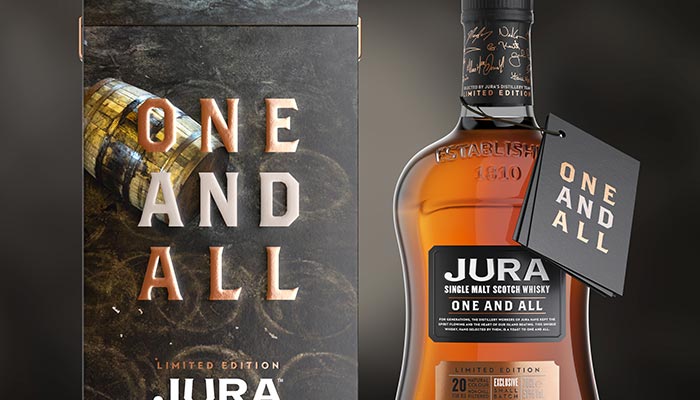 On the 6th of February 2017, the Jura Distillery team got together to choose this year's Limited Edition bottling. An uncommon single malt, One And All is matured in American White Oak ex-bourbon barrels and specially prepared with Jura aged in Sherry wood, Sparkling Cabernet Franc casks, Cabernet Sauvignon casks and Pinot Noir barriques.
Graham Logan, Distillery Manager said: "There's no better way to mark the distillery team's dedication and craftsmanship, than by creating a limited edition expression in their honour – chosen by them. In tribute to their passion and tenacity - the shared spirit that each person brings to every last drop - this special whisky is the perfect dram to toast one and all. We can't wait to hear what people think. "
One And All will be available online and in shops globally, RRP £120 from 1st September.
<< Buy Jura Single Malts Whisky
<< Read more about Jura Distillery
Other News From Jura Single Malt Whisky
A Warm Welcome Awaits At Jura Tastival 2017: Tickets are now on sale for Jura Tastival 2017: 27th April, 2017
Jura Tastival Whisky :: Tastival 2016 Bottling Brings Festival Flavours to Life :: Limited edition Tastival 2016 bottling inspires unique packaging, chosen by Jura fans :: 25th May, 2016
Jura Brings Taste Of Island Life To Festive Gifting :: New premium Jura gift tins: the hot-ticket for whisky lovers this Christmas :: 5th November, 2015
Distillery of the Month: November 2023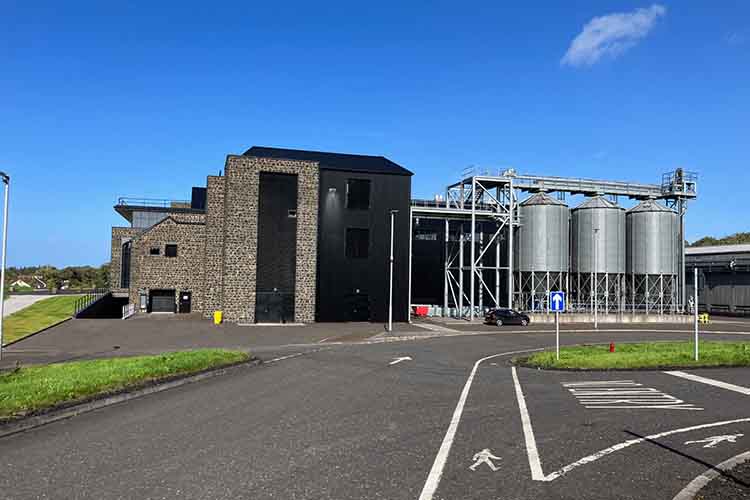 Planet Whiskies visited the new Bushmills Distillery in Northern Ireland on the 25th and 26th of September. Read our review of the experience of Bushmills and Northern Ireland at Planet Whiskies tour of Bushmills and Northern Ireland
You can also read the whole section about Bushmills Distillery at Bushmills Distillery Information on Planet Whiskies... So Bushmills is Planet Whiskies Distillery of the Month title for November 2023
Get Newsletter
Subscribe to our newsletter to get latest news, popular news and exclusive updates.