Aberfeldy Scotch Whisky Distillery Information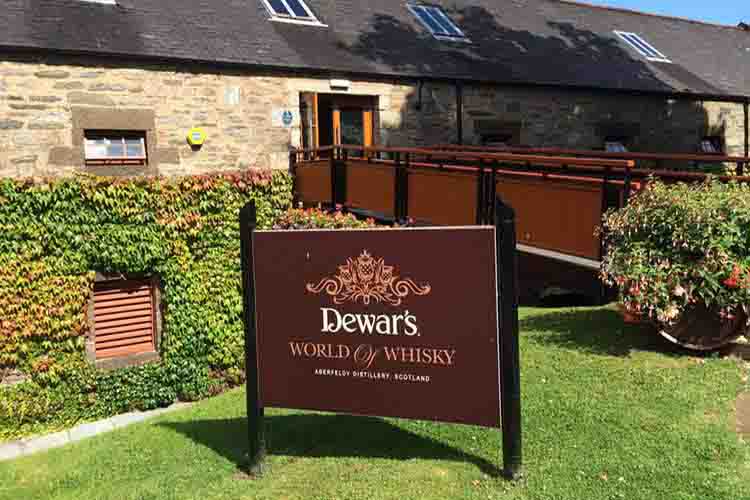 Aberfeldy Scotch Whisky Distillery open in 1898 and was built by John Dewar & Sons Ltd. The type of malt produced at Aberfeldy is beautifully balanced single malt whiskies with heather honey notes. The distillery is situated right in the heart of the Perthshire countryside and have distillery tours throughout the year. These details are below.
Aberfeldy produce Single Malt Scotch Whisky including the famous Aberfeldy 15 year and Aberfeldy 1980. This distillery is acclaimed as "the ultimate Scotch Whisky visitor centre'', by the visitscotland website. Here you will learn the history of the Dewar family shown on a giant screen. The visitor centre is full of the latest tecnology, but also you will discover the history is the art of distilling. So if you are in the area of this distillery you have to visit as it is very worthwhile and one for all the family to enjoy.
The tours of this distillery are very worth while and if you are in the area of Aberfeldy a tour is a must. The opening times are as follows
Contact Details for Aberfeldy Scotch Whisky Distillery
April to October
Monday to Saturday - 10am till 6pm
Sunday 12 noon to 4pm
November to March
Monday to Saturday - 10am till 4pm
For more details and prices of tour please contact the distillery or visit their website at Aberfeldy Distillery website
The Aberfeldy Distillery Visitor centre address is, Aberfeldy, Perthshire, PH15 2EB and contact phone number is +44 (0)1887 822010. Further information can be found out regarding this distillery by writing to Ms Jane Grimley to the same address above. To see accommodation listings near the distillery visit the page on Planet Whiskies for accommodation in the Scotland Highlands near Aberfeldy Whisky distillery.
Where you can buy Aberfeldy Malts
<< View Aberfeldy Single Malt Whisky Range
<< View Aberfeldy Single Malt Whisky Range
<< Back to Scottish Whisky Distillery Home Page