Highlands Whisky Accommodation near Aberfeldy Distillery - PH15 2EB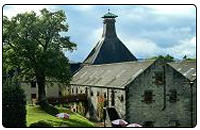 Welcome to the accommodation section on Planet Whiskies for hotels, bed and breakfast etc near Aberfeldy Distillery, Perthshire. If you would like to have you hotel, self catering cottage etc listed on this website please email Planet Whiskies with details of your accommodation and a picture of your lodgings.
If you are wanting to know more regarding this distillery please go to the Scottish distillery section on the website where you can read about the Aberfeldy Distillery and see all their contact details.
Aberfeldy Weem Hotel, Aberfeldy, Perthshire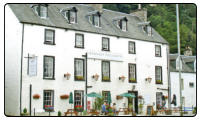 The Aberfeldy Hotel is an ideal place to stay while visiting the Aberfeldy distillery or just even the Perthshire region of Scotland. This hotel is in easy reach Pitlochry, Dunkeld and of course Perth. The hotel itself has 13 en-suite bedrooms all in excellent condition. This can make your stay here very special as everyone of the guest can expect personal service from the hotel staff. The hotel is the only 3 star hotel in Aberfeldy and are always offering special deals with can be found on their website which is listed below. The hotel has free wireless broadband for all so you can look up Planet Whiskies to work out the next distillery you would like to visit.
Other features Aberfeldy hotel have to offer are a fine selection Scotch malt whiskies within there bar and a Patio and beer gardens for you to relax in after a day of touring the local distillery. The hotel is also pet friendly which is an extra bonus if you always want to take your pets with you on holiday. Contact details for Aberfeldy Hotel are Weem, Perthshire, Scotland PH15 2LD and telephone number +44 (0)1887 820381. If you would like to contact the hotel directly by email this address is info@weemhotel.com. More information can be found on the hotels website www.weemhotel.com
Novar Bed and Breakfast Aberfeldy Perthshire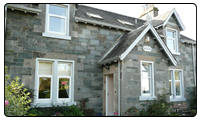 Novar Bed and Breakfast is a lovely small B & B in Aberfeldy with all the local activities right on its doorstep. It is only a short walk to the town centre of Aberfeldy and is a ideal location for fishing, golfing, walking the Perthshire countryside and of course visiting Aberfeldy Distillery. There is also a great range of gift shops and galleries. All the bedrooms in this bed and breakfast are very comfortable with all the rooms having a television, hair dryer, ironing facilities and a welcome hospitality tray . All the bedrooms are on the ground floor so making it easy access for all its guest.
Contact details for this B & B are Janette Hardie, Novar, Home street, Aberfeldy,Perthshire, PH15 2AJ with their telephone number +44 (0)1887 820335. If you would like to email Novar directly their email address is janette@bandb-aberfeldy.co.uk. On the Novar B&B website you will find all the information that you need and the rate for staying at this accommodation. The web address is www.bandb-aberfeldy.co.uk.
Moness House Hotel & Country Club, Aberfeldy, Perthshire
The Moness House Hotel & Country Club is a beautiful place to stay in Aberfeldy. The hotel is set in 35 acres of Perthshire countryside and has a total of 26 luxurious rooms of all types. In the same location there is an indoor swimming pool, steam room, solarium and snooker room where you can relax the time away after an action pack day. There are also two top of the range restaurants and a well stock bar with all the single malts you would like to try. Within the grounds of the hotel there are also self-catering cottages which are fully equipped for all your family needs.
The contact details for this lovely hotel are Moness House Hotel & Country Club, Aberfeldy, Perthshire PH15 2DY. The hotel contact telephone is national rate and it is 0845 330 2838If you would like to email them directly please us this email info@moness.com. For more information, visit the Moness website at www.moness.com where you can get latest information.