Whisky on Ice! Penderyn Distillery Announces Landmark Partnership with Cardiff Devils
Published Date: 24th August 2023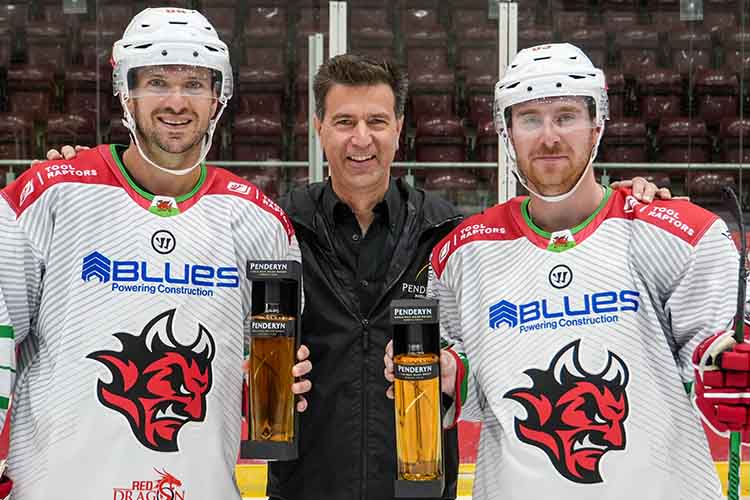 Penderyn, the Welsh whisky giant based in Brecon, is the upcoming season's Man of the Match partner with the Devils - with the brand supporting 80 different awards across the 40 matches to come.
Penderyn's a brand that's always been passionate about sport - and this latest link-up holds lucrative benefits for both parties. Not only will it help to bring Penderyn's brand to ice hockey fans across the country, but the Devils, their staff and fans will benefit from some exclusive Penderyn perks, too.
"We're big fans of the Devils here at Penderyn, and this next season is going to be massive for both our brands," says Giancarlo Bianchi, Commercial Director of the Welsh whisky brand. "While a lot of people might assume Welsh sport starts and ends at rugby, we're a nation of hockey lovers, too - and we're thrilled to show support for one of Wales' best-loved teams."
The Penderyn-Devils partnership will see Man of the Match winners presented with a bottle of Penderyn Madeira Finish, bottled in the distillery's house style.
What's more, players will also get the chance to enjoy a guided tour of the Penderyn Swansea Copperworks Distillery, which opened in July this year. There'll also be opportunities for on-site tastings and presentations with major sponsors across the season too.
"We're excited to partner with such an iconic Welsh brand for the season ahead of us and we're delighted to have Penderyn Distillery as our 'Man of the Match' sponsor.
"The partnership not only highlights the true talent we have in Wales, from a sports perspective, but also in producing premium Single Malt Welsh Whisky, together we help elevate Wales as a nation!" added Todd Kelman, Managing Director of Cardiff Devils Ice Hockey Club.
"The Man of the Match award is very prestigious," says Bianchi. "It's the same in every team sport - but with ice hockey, players have to work extra hard to keep on their toes. It's an accolade every player wants to take home at some point in the season, and it's wonderful to have Penderyn join that experience."
"We've worked carefully to create a partnership with the Cardiff Devils that supports the players, the fans, and the teams behind the scenes. What's more, we really think this is the Devils' season - we have every faith!"
The Cardiff Devils remain one of the most recognisable British ice hockey teams, and as such, are icons of Wales - much like Penderyn in the whisky world. Both brands continue to put Wales on their respective maps, making this partnership all the stronger.
Penderyn has a history in supporting Welsh sporting talent. During Wales' football World Cup campaign in 2022, the distillery bottled a series of themed whiskies to present to the national side before they headed to Qatar - with the help of actor Michael Sheen.
In 2023, however, Penderyn's taking to the ice - and with it, a raft of perks for players, coaches, and fans await.
"There's something electric about ice hockey," says Bianchi. "You can't just go to one game - it's exhilarating."
"The Devils are due this year - there's going to be some good fortune coming their way, and Penderyn will be there to support them through thick and thin."
Penderyn will partner with the Cardiff Devils across the 2023/24 season, with branding and Man of the Match partnering debuting from late August.
More Whisky News