Highland Park Distillery Launches Tasting Collection
Published Date: 18th December 2009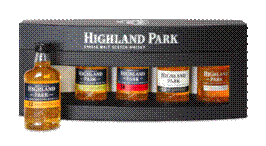 Highland Park single malt Scotch whisky has for the first time launched a Tasting Collection allowing consumers to sample five of Highland Park's award-winning single malts.
Assuring undeniable quality with Orcadian hallmarks of smokiness, peat and heather-honey, the Tasting Collection comprises five 5cl miniatures of the most popular Highland Park expressions, 12, 15, 18, 25 and 30 year old.
First in the range, Highland Park 12 year old is lauded as "the greatest all rounder in the world of malt whisky" by late drinks writer Michael Jackson and embodies a rounded smokey sweetness to appeal to whisky devotees and newer consumers alike.
Highland Park 15 year old is an exceptionally fine whisky with a remarkably complex nose and the flavour from the rich, mature oak casks makes a truly smooth and satisfying malt.
Recently named 'the best spirit in the world'* for the second consecutive time, Highland Park 18 year old boasts rich full flavour with hints of honey and peat with a soft, long rounded finish.
Highland Park 25 year old, neat to enjoy, is an immense vanilla sensation with the characteristic honey sweetness developing into complex aromas of cinnamon, nuts and dark fruit.
The fifth in the collection, Highland Park 30 year old is merited with time and attention and bursts fudge sweetness together with complex aromatic spices and dark chocolate orange.
Priced at £42.50 (RRP), the Tasting Collection is presented in a stylish windowed box with tasting notes for each expression. It is available online at www.highlandpark.co.uk and at whisky specialists nationwide.
Read more about Highland Park Distillery
<< View the whole range of Highland Park Single Malts
<< Back to all the latest whisky news brought to you by Planet Whiskies