Highland Park Latest News - Slow Food UK Announces its 100th Chef Alliance Member - 13th Nov, 2013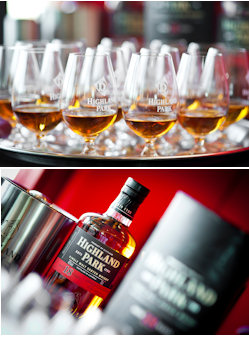 13th November 2013: Only two years on from its launch, the Slow Food UK Chef Alliance in Partnership with Highland Park single malt whisky and Lavazza coffee is delighted to announce its 100th member, Pierre Koffmann.
Pierre Koffmann joins celebrated Scottish chefs including; Carina Contini, Suzanne O'Connor, Neil Forbes, Marcelo Tully and Zoltan Szabo in the alliance, which aims to champion small scale producers and good quality local and sustainably produced food.
To mark this milestone, members of the Alliance and Forgotten Foods producers gathered at The Photographers' Gallery to celebrate with a Lavazza coffee experience, a dram of Highland Park, and Forgotten Food canapes prepared by culinary greats including; Chris Galvin and Richard Corrigan.
Pierre Koffmann joins 99 other leading lights of the culinary world who have all pledged their support to actively champion and support the aims of Slow Food UK, in particular its Forgotten Foods programme (UK Ark of Taste); a list of 68 precious UK products that are in danger of disappearing.
Founded two years ago by Slow Food CEO Catherine Gazzoli and Spokesperson of the Slow Food Chef Alliance Richard Corrigan, the Chef Alliance works to promote Forgotten Foods by encouraging chefs to serve them on their menus when they can, and to work closely with their small-scale producers to help promote good quality local and sustainably produced food.
Says Pierre Koffmann; "Growing up in Gascony has had a lasting impact on my philosophy. I have always enjoyed cooking with the freshest local produce while showing great respect towards every ingredient. It has been fantastic to see the transformation of British food culture over the last 40 years, which is in part thanks to the efforts of many inspirational chefs in the Slow Food Chef Alliance. Joining the Alliance as 100th member is an honour, and I am proud to work with Slow Food in this ambassadorial role and offer my experience alongside so many great chefs to positively influence British cuisine in the future."
Says Cat Gazzoli; "It's been a phenomenal two years, I am absolutely over the moon with the support that we have received from so many talented and influential chefs around the country. I want to personally say thank you to each and every chef member; our Chef Alliance partners Lavazza and Highland Park; and indeed every Slow Food UK member and supporter, who have all come together in our pledge to protect and defend edible biodiversity that is our birth right."
Peter Sandstrom, marketing director, Highland Park - Maxxium UK
Peter Sandstrom, marketing director, Highland Park - Maxxium UK commented: "Our partnership with Slow Food UK has gone from strength to strength and we are extremely encouraged and excited that 100 of the UK's best chefs are now members of the Slow Food UK Chef Alliance. This is a significant milestone, as we reach out to more and more chefs this will allow us to promote our passion for flavour and craftsmanship, which is at the very heart of Highland Park."
Lavazza, who has proactively supported Slow Food in its endeavours to spread the message of good, clean and fair food on an international level, is also delighted to see the Chef Alliance welcome its 100th member. Claudia Galetta, Lavazza's Trade marketing Manager, says; "Lavazza has a long history with Slow Food in Italy, and supporting the UK Chef Alliance is our great pleasure, as it focuses on supporting small producers, championing high quality produce and protecting biodiversity, which corresponds with the values Lavazza stand for. We have always enjoyed working closely with world-class chefs such as Ferran Adrià and Antonino Cannavacciuolo, and so we are delighted to support the Slow Food UK Chef Alliance"
Other members of the Chef Alliance include: Tom Kitchin (The Kitchin), Francesco Mazzei (L'Anima), Pascal Aussignac (Club Gascon), Stevie Parle (Dock Kitchen), Andy McFadden (L'Autre Pied), Theo Randall (The InterContinanetal), Chris Galvin (Galvin Restaurants), Martin Wishart (Restaurant Martin Wishart), Carina Contini (Centotre), Nick Gillespie (La Rock), Sat Bains (Restaurant Sat Bains) and Tom Aikens (Restaurant Tom Aikens).
For more information visit www.slowfood.org.uk/chef_alliance_info/chef-alliance.
Slow Food is a global, grassroots movement that links the pleasure of food with a commitment to community and the environment.
<< View the whole range of Highland Park Single Malts
<< Back to all the latest whisky news brought to you by Planet Whiskies