Highland Park Distillery to create living tapestry of global fans - 1st August, 2012
Published Date: 1st August 2012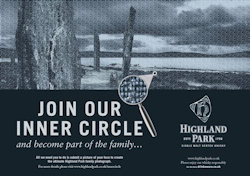 The home of the 'best spirit in the world'* is set to make its fans around the world a permanent part of its distillery through the creation of a new, innovative piece of artwork. The Highland Park 'mosaic' is a collection of people's faces crafted into an image capturing one of Orkney's most striking and unique views.
Everyone who visits Highland Park on Orkney always says that when they leave, they take a little piece of the Island with them. With that in mind, Highland Park has taken this one step further and given its Inner Circle members a unique chance to be immortalised within the very walls of the distillery itself.
Daryl Haldane, Global Brand Advocate, Highland Park, said, "Today, we feel as strongly about our family as Magnus Eunson did back in 1798 and when this unique family portrait is completed, it will adorn one of the walls in the distillery, meaning that no matter how far away you happen to live from our beloved home, you can always say that you've left a lasting impression. It really does bring a whole new meaning to the phrase 'your face here'...!"
To be part of the mosaic, all people need to do is upload a picture of themselves to the mosaic and in return for their unwavering loyalty they will become part of the distillery's rich history, by joining our living artwork.
Photographs can be submitted in three ways; by downloading the Highland Park App from iTunes; on Highland Park's Facebook page www.facebook.com/HighlandParkWhisky or via www.highlandpark.co.uk
* Highland Park is also the only ever spirit to be awarded the prestigious Best Spirit in the World, receiving the accolade in both 2005 and 2009 for its 18 year old single malt.
<< View the whole range of Highland Park Single Malts
<< Back to all the latest whisky news brought to you by Planet Whiskies