Highland Park Distillery reaches out to record audiences at Hay Festival
Published Date: 23th June 2011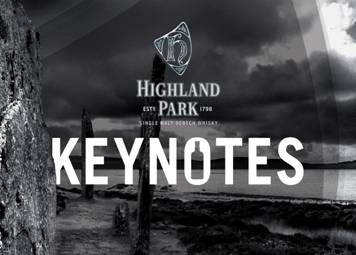 Highland Park's sampling platform, Keynotes, enjoyed record attendance figures at this year's Hay Festival, aided by over 250,000 visitors to the ten day festival.
The festival saw the return of the popular Highland Park Keynotes, a series of free intimate performances from some of the Festival's most recognised artists, combined with the opportunity to sample a complimentary dram of Highland Park 12 year old, known as 'the greatest all-rounder in the world of whisky'.* The Highland Park Keynotes marquee saw over 15,000 brand interactions and 15 incredible performances over six days.
The Festival, situated in a small Welsh village, has grown considerably since taking off in 1988. It is now taken internationally to 12 countries and has positioned itself as one of the most important literary events in the world, being described as "The Woodstock of the mind" by ex President Bill Clinton.
This year saw headline performances from Bob Geldof, David Bailey, Chris Evans, Kevin McCloud, Brian Cox, Ralph Fiennes, Rob Lowe and Gillian Anderson who were joined by a host of Nobel Laureates and some of the world's leading authors.
The Keynotes area had an international feel with performers hailing from eight different countries, including leading British scientist Marcus du Sautoy, comedian David Baddiel, script writer and author of 'About Schmidt' Louis Begley and Hanif Kureishi, one for the 50 greatest British writers since 1945. Each artist gave short readings from their novels or shared their thoughts on subjects as diverse as mathematics, the US-Mexico border, human rights, the first British art movement, sex and class conflict in 90's Pakistan, foreign encounters in Egypt and Muslim prejudices to name only a few.
Peter Sandstrom, Marketing Director at Maxxium UK ltd said: "Highland Park has a strong relationship with the world of literature. We are delighted with the reception Highland Park Keynotes received at this year's Hay Festival, allowing us to reach out to consumers who share our passion for literature and appreciate a good dram. The campaign has bolstered our brand awareness south of the border and we look forward to taking Keynotes to further literature festivals later this year."
Read more about Highland Park Distillery
Click to see the range of Highland Park Malts
<< Back to all the latest whisky news brought to you by Planet Whiskies