Highland Park visitor centre retains five star accolade
Published Date: 28th September 2010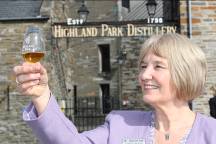 28.09.10 - Highland Park's Visitor Centre in Orkney has retained its five star rating from VisitScotland's quality assurance scheme for the seventh year running.
In order to achieve five star status, an overall score of 85 per cent must be achieved by the visitor attraction. The annual review consists of an unannounced visit by an auditor who assesses core areas covering all aspects which have an impact on a customer's visit, including: promotional literature; signage; appearance of grounds and buildings; the welcome given by staff; attitude and appearance of staff; decor and maintenance; ambience; merchandise presentation.
Pat Retson, Brand Heritage Manager at the Highland Park Distillery, said: "We are thrilled to have retained our coveted five star status. The VisitScotland criteria is very strict so this really is true recognition of our team's efforts here at the distillery. We look forward to welcoming more visitors over the coming months."Visitors to the Highland Park Distillery can discover the whisky making techniques that have made its whisky arguably the most respected single malt in the world, by taking a guided tour of the distillery and, of course, a tasting.
The distillery and its whisky have won a plethora of awards over the years. Highland Park 18 year old single malt Scotch whisky was named the 'Best Spirit in the World' by US drinks expert Paul Pacult in the Spirit Journal's Top 115 Spirits in the World in 2005 and 2009. More recently Highland Park has won Gold 'Best in Class' for its 18 and 25 year old and Silver for its 12 year old single malt at the International Wine & Spirit Competition (IWSC) 2010.
VisitScotland has operated a quality assurance scheme for visitor attractions since 1995. The scheme gives operators an independent quality assurance award and incorporates the inspection of properties for Thistle tourist signposting.
The standard guided tour of Highland Park distillery costs £6 per adult while the connoisseur's tour is £35 per adult. For further information please visit www.highlandpark.co.uk or call the visitor centre on 01856 874619.
<< View the whole range of Highland Park Single Malts
Read more about Highland Park Distillery
<< Back to all the latest whisky news brought to you by Planet Whiskies