First flow of Orcadian Vintages from the creators of the best spirit in the world - Highland Park releases 1964 and 1968 premium editions
Published Date: 6th November 2009
View Highland Park Q&A regarding the release of the 1964 and 1968 premium editions - Click Here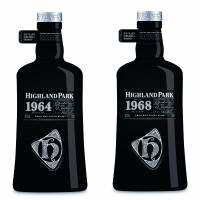 November 6th 2009 - Highland Park is launching the eagerly anticipated 1964 and 1968 expressions from the distillery's new Orcadian Vintage Series in response to the growing international demand for high quality aged single malt whisky.
The success of Highland Park's recently released 40 year old, the 30 year old before it and the distillery's impressive climb in exports over the last four years has enabled the award winning distillery to address the growing demand for exclusive bottlings for the premium connoisseur customer.
Over the next five years Highland Park will release up to ten exclusive Vintage limited editions. Max McFarlane, Highland Park's acclaimed Whisky Maker will hand-select casks from specific years, based on their maturity and exceptional character; these will then be married together in order to ensure consistency and Highland Park's inimitable balance.
Jason Craig, Global Controller of Highland Park said: "We have worked tirelessly to take the Vintages from the initial concept to reality and we are exceptionally pleased with the end result. Followers of Highland Park respect and knowingly trust our instinctive nose and tastings and the Vintages certainly meet our high standards.
"We have used the best craftsmanship and time old traditions to create the '64 and the '68 and feel very excited at being able to offer discerning whisky lovers from all over the world a very exclusive Highland Park tasting experience. Buyers will recognise our all-pervading obsession with quality and attention to detail; distinct aromas balanced with a full-bodied floral sweetness that comes from a long-term maturation that is distinct to Highland Park."
The 1964 Vintage is the oldest within the Vintages Series and due to the rarity of the liquid, only 290 bottles of this finest limited edition premium single malt will be made available. The liquid has been created from only two hogshead oak casks specifically chosen by Max McFarlane and when combined will create the 290 bottles at 42.2% abv (alcohol by volume) with a retail price of £3750.
According to Max McFarlane; "The refill hogshead casks have allowed the delicate fragrance of the original spirit to shine through without being overpowered by the oak notes. This distinct and aromatic fragrance comes from hand-turned malt which has been dried over Orkney's aromatic heather based peat. In addition, the peaceful drawn out maturation the whisky has enjoyed in Orkney's cool climate has resulted in a remarkable, world-class taste – at full strength the 1964 Vintage is redolent of toasted oak, dried strawberries and shellac with a generous coating of beeswax. The finish - a rich, long, lingering spiciness completes the sensational tasting experience of this venerable single malt. Simply put, it's pleasure in a glass."
The second release, the 1968, is an equally impressive malt and 1550 bottles will enter the market; both at home and abroad. Eight carefully chosen refill casks make up the exceptional character of the '68. With its naturally golden hue colour, full bodied flavour with hints of opaque honey and lemongrass, this Highland Park Orcadian Vintage is an exceptionally fine whisky that builds on the world-class reputation of the internationally acclaimed distillery.
To compliment the exquisite design of these fine liquids a distinct presentation portfolio has been expertly considered. Drawing on the current style of the Highland Park 40 year old, the Vintage's debut is revealed in a unique decanter-esque bell-bottomed jet back glass bottle that features flashes of silver foil, embossed Pictish knot work design on necker and banding and the distinct pewter 'H' Amulette adorned to the front of the bottle.
The bespoke black glass, the manufacturer of which is an all but defunct art form, reflects the careful artisan precision that has been considered. The silver cap with Pictish designs completes the look of this exclusive limited edition. Stoelze Flaconnage, acclaimed glass specialist has produced this majestic looking bottle that consumers can keep long after the liquid has been savoured.
The 1964 and 1968 Vintages are presented in a naturally coloured oak wooden box finished to high specification cabinet quality. The craftsmen have enhanced the boxes with ornate marquetry; the pewter Amulette embedded into the front of the box which also features inlay design work. Inside collectors will discover a detailed booklet featuring explanatory notes about the Vintages range; from thought to taste.
Detail: Orcadian Vintage Series 1964
A 45 year old single malt ~~ A strength of c.42.2% abv ~~ Price: £3750
Colour: A delightfully rich, russet hue with exemplary clarity and brightness
Nose: At full strength the 1964 Vintage is redolent of toasted oak, dried strawberries and shellac with a generous coating of beeswax. When reduced, toasted toffee and smouldering bonfire embers come to the fore, followed by beguiling notes of gingerbread, sandalwood and cinnamon bark.
Palate: Unreduced, this expression has the delicious sweetness associated with Highland Park but combined with a fascinating spiciness, crushed black pepper, crème brulee and toasted vanilla pod add to the complexity. The addition of water reintroduces the toasted oak initially encountered on the nose accompanied by distinctive hints of Applewood smoked cheddar, vanilla sponge and paprika.
Finish: Rich, long, lingering spiciness completes the sensational tasting experience of this venerable single malt.
Detail: Orcadian Vintage Series 1968
A 40 year old single malt ~~ A strength of c.45.6% abv ~~ Price: £2250
Colour: A delightfully rich, naturally golden hue with remarkable clarity and brightness.
Bouquet: At full strength the 1968 Vintage is reminiscent of thick, opaque honey but with attractive notes of lemongrass, sandalwood and a variety of aromatic spices. When reduced, citrus fruits and pencil shavings become immediately apparent, followed by sweet aromas of rose and crème caramel.
Palate: At natural strength, this expression of Highland Park has a delicious complexity, the citrus evident on the nose develops into dried orange peel whereas the pencil shavings transform into toasted oak. The aromatic spices are revealed as ginger and cloves as well as some camphor. The judicious addition of water creates a delicious balance between vanilla sweetness and delicate spiciness
Finish: A lasting impression of rich spiciness is the legacy of a single malt that is extremely long and surprisingly sweet.
Both Vintages will be available in the UK from specialist independent whisky retailers from November 2009.
Read more about Highland Park Distillery
<< View the whole range of Highland Park Single Malts
<< Back to all the latest whisky news brought to you by Planet Whiskies