Latest News from the whisky industry - Ardbeg
The below information is from the distillery itself and the contents and text has not been modified.
Other links on the website for Ardbeg
Tasting note for the Ardbeg 10 Year Old Single Islay Malt
Ardbeg Whiskies Distillery on the latest news page.
Ardbeg Single Malt Whisky
Ardbeg Supernova Launched Today – Peatiest Whisky.. 05/05/09
Ardbeg Corryvreckan Launch – Inspired by Europe's Largest Whirlpool - 01/09/09
Ardbeg celebrates its Committee's 10th Birthday with a thrilling ride - 12/02/2010
Latest Whisky News for Ardbeg Distillery - 1st September, 2009 Ardbeg Corryvreckan Launch – Inspired by Europe's Largest Whirlpool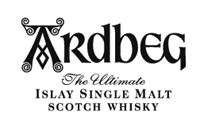 The iconic whisky distillery Ardbeg – which has won the coveted World Whisky of the Year title two years running – announces today (Tuesday 1st September) the launch of Ardbeg Corryvreckan - a whisky inspired by the famous Corryvreckan whirlpool.
Corryvreckan is Europe's largest, and the world's second largest whirlpool. It lies near Jura and Islay, Ardbeg's island home. Considered by the Royal Navy as one of the most dangerous stretches of water in the British Isles, the Corryvreckan whirlpool can be heard from a distance of 10 miles. The whirlpool's raw, magnetic power exactly mirrors Ardbeg - the peatiest, smokiest and most complex of all the Islay whiskies.
Dr Bill Lumsden, Head of Distilling and Whisky Creation, explained: "Like the whirlpool, Ardbeg Corryvreckan is heady, intense and powerful. Its 'finish' is long and deep, leaving the connoisseur with a lingering thought of a mysterious and daring journey.

Experiments initiated in 1999, and continued ever since, have created parcels of Ardbeg stock slowly maturing in French oak casks on Islay. These are at the heart of Corryvreckan's perplexing character, teasing spicy and sumptuous sweet fruity notes from the maturing whisky."
Ardbeg Brand Director, Hamish Torrie, added: "Ardbeg Corryvreckan has already had a tremendous welcome from our loyal followers, the Ardbeg Committee, in 2008, when we released 5,000 preview bottles. Their hugely positive reaction has encouraged us to add Ardbeg Corryvreckan to the regular Ardbeg range."
Ardbeg Corryvreckan will be available from 21st September at a price of around £60 (pounds sterling) in shops and online at www.Ardbeg.com. Bottled at a strength of 57.1% ABV and non chill-filtered, to impart full body and texture, Ardbeg Corryvreckan is the epitome of what Ardbeg stands for: "the untamed spirit of Islay".
Ardbeg Corryvreckan 57.1 % abv Tasting Notes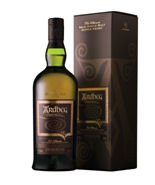 The epitome of "the untamed spirit of Islay"
Colour: Deepest amber
Aroma: Heady, intense and powerful.
Swirl the glass and dip your nose into torrents of tarry ropes and creosote. As you succumb to its power, a collision of waxy dark chocolate, blackcurrants and muscovado sugar, followed by a burst of plump cherries and earthy pine needles.
With water, cayenne peppered steak surfaces with smoky bacon, cloves and blueberries. A heady force of treacle, menthol and chilli sauce.
Taste: The first plunge is deep, peppery and chewy with crispy seaweed. As you descend deeper, a mouthful of espresso coffee that coats the palate with rich melted dark fruits (blackcurrants, blueberries and cherries) and star anise.
Finish: Long, deep and remaining powerful into the finish with black tarry coffee, chocolate coated cherries and hot pepper sauce, the lingering memories of your mysterious and daring journey into Corryvreckan.
<< See the range of Ardbeg Single Malt Whisky
<< Back to all the latest whisky news brought to you by Planet Whiskies