Tasting Notes for Ardbeg 10 Year Old Single Islay Malt
The below information is from the distillery itself and the contents and text has not been modified.
Other links on the website for Ardbeg
Ardbeg Press Release -23th October 2008.
Ardbeg Whiskies Distillery on the latest news page.
Scottish Single Malts Whiskies - Page A
Ardbeg Supernova Launched Today – Peatiest Whisky.. 05/05/09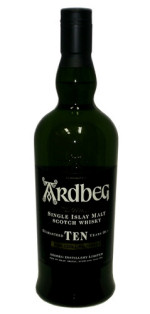 ABV: 46% Colour Light gold
Aroma
Exceptional balance and depth. At full strength, the aroma is a beguiling mix of toffee and chocolate sweetness, cinnamon spice and medicinal phenols. Fresh citrus and floral notes are evident, as are melon, pear drops and a gentle creaminess. There is also a fresh phenolic aroma of sea spray (iodine) and smoked fish. Hickory and coffee emerge later as the most volatile top notes fade
With water, the depth of the peat opens up, at once revealing layers of phenols with gristy peat and leather followed by medicinal phenols (carbolic soap) and a whiff of wood smoke. However, the sweetness of vanilla and the fragrance of citrus fruits are never far behind, maintaining the balance and intrigue
Taste
An initial moderate and clean sweetness is rapidly followed by a mouthful of deep peat notes, with tobacco smoke and strong espresso coffee, which then gives way to treacle sweetness and liquorice. The mouthfeel is firstly lightly spiced, then chewy, mouth-watering and full, finally drying
Finish
Long and smoky. A smoky sweetness is left on the palate, with a crushed peat and sweet malted cereal character
More information regarding Ardbeg DIstillery can be found at the latest news section on this website.