The Glenmorangie Company Achieves Top Honours at World's Leading Spirits Awards
Published Date: 21st November 2011
--- Glenmorangie is the toast of London's Guildhall after winning IWSC UK Spirits Producer Trophy ---
--- Over the past five years the Company has collected more Gold Best in Class IWSC medals than any other single malt distiller worldwide ---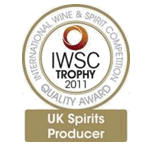 The Glenmorangie Company was the toast of the prestigious International Wine & Spirit Competition (IWSC) this week after picking up the best UK Spirits Producer award, fighting off stiff competition from vodka, gin, rum and other whisky producers.
Glenmorangie has won a remarkable total of 18 'Gold Best in Class' medals over the past five years at the IWSC – the most internationally-recognised awards body. This is more than any other single malt Scotch whisky, making Glenmorangie the 'best awarded' of any single malt.
Since its foundation in 1969 the IWSC and its panel of judges have rewarded excellence in the world of wines and spirits. London's historic Guildhall played host to Wednesday night's banquet which drew 500 aficionados from across the globe.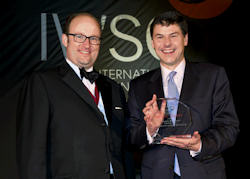 Paul Skipworth, President & Managing Director at The Glenmorangie Company, said: "We are extremely proud of our heritage and the acknowledgement of the extra mile that Glenmorangie goes to deliver an exceptional quality of whisky. This recognition by the IWSC judges is a great honour to everyone in our team and especially our legendary craftsmen: the 'Men of Tain' "
Dr Bill Lumsden, Head of Distilling & Whisky Creation at The Glenmorangie Company, said: "It's great to receive validation from the IWSC of our 'unnecessarily well made' whiskies. We have the tallest stills in Scotland giving us a smoother, purer spirit; we only use our casks twice for maximum flavour – whereas other companies use theirs many more times; and we are undisputed pioneers of extra maturation. Glenmorangie was the first whisky company to use the concept of extra maturing our whisky in ex-wine casks and we are the leading experts in this today."
David Kelly, IWSC marketing manager, said: "2011 has been a record year for the Competition, with an increase of whisky entries by 21 per cent. The quality of products entered has been particularly high, and it is no surprise that Glenmorangie has won this award."
The follows Glenmorangie's win at this year's Wine Enthusiast Wine Star Awards in the Distiller of the Year category, beating an impressive list of nominees.
According to Wine Enthusiast Magazine, Glenmorangie's nomination resulted from its impressive innovation "ranging from polished classics and elegant cask-finished whiskies to its 2011 release of the luxurious Glenmorangie Pride 1981 bottling."
<< Back to all the latest whisky news brought to you by Planet Whiskies