The Famous Grouse is famous for a reason as new Christmas advert is unveiled
Published Date: 16th December 2009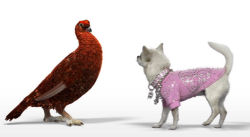 The Famous Grouse has launched a new TV advert this Christmas for fans of Scotland's Favourite Whisky, conveying the brand's unique blend of wit and charm, as the next instalment in the Winter Grouse Season marketing plan.
First aired on Monday 23rd November, the new 'Diamante Dog' advert draws a contrasts between the enduring fame of The Famous Grouse brand with the superficial, fleeting fame prevalent in today's Z-list celebrity loving culture, thereby illustrating the difference between 'quality' and 'substance' and lack of it. In doing so it also highlights the important Famous Grouse characteristic; understated modesty that only those of true worth can carry off. The Famous Grouse has a real reason to be Famous; it's been Scotland's No.1 selling or indeed its favourite whisky for almost 30 years.
The advert starts with a pampered Chihuahua (complete with a diamante studded coat) strutting across screen accompanied by a slightly tacky music track and the screams and camera flashes of a watching crowd until it encounters our Famous Grouse. This is followed by a shake of his head and shudder to make his feelings apparent. The now familiar Famous Grouse theme tune is introduced to accompany his turn and walk off to adopt his final and famous pose, and the line 'Famous for a reason – Scotland's Favourite Whisky' appears
Both The Famous Grouse and The Black Grouse brands are benefiting from a significant media spend in the lead up to Christmas including TV and online advertising. This new advert will be screened alongside a selection of the brand firm favourites, including 'Perfectly Composed' and the 'Medals' versions. It is estimated that 39 million consumers will see one of these TV adverts, that is 80% of all UK adults.
Not to be upstaged The Black Grouse has announced the brands first ever cinema ad running as part of a six week campaign to reach a new audience of consumers.
Linda Sooprayen, Brand Manager for Maxxium UK, said: "We are continuing our Winter Grouse Season support package with a heavyweight media investment to really drive sales in this key period. The advert is a light-hearted take on the current obsession with fame and what it means to be famous. Having been Scotland's no. 1 selling whisky since 1980 we believe The Famous Grouse has good reason to be called Famous."
This activity comes on the back of the announcement of the 'Winter Grouse Season', the most comprehensive package of marketing activity yet from The Famous Grouse. Expected to be the highest investment in marketing activity within its competitive set, this package to support the trade runs not only during the vital sales period over Christmas but all the way through from November to March.

<< Back to all the latest whisky news brought to you by Planet Whiskies