Latest whisky news - Smokehead Flying High with The Sons of Icarus - 20th January, 2011

The Sons of Icarus have been crowned the first ever winner of the UK's largest unsigned band competition, the Marshall Ultimate Band Contest (UBC).
Sponsored by rock icon Marshall Amps, the Lick Library and Smokehead Islay Single Malt Whisky, the UBC came to a thrilling conclusion, with five finalists battling head to head at a live gig at Marshall's Milton Keynes HQ.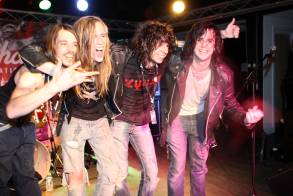 Judged by a panel of influential industry heavyweights including Ian Williamson of Classic Rock Magazine, Kim Waller of The Lick Library and Chris George, International Demonstrator for Marshall Amplification, The Sons of Icarus were voted the unequivocal champions, winning not only the honour of being the first ever Marshall Ultimate Band but also get a full Marshall Endorsement (previously bestowed on the likes of Slash and Jimi Hendrix).
The Sons of Icarus will also receive a substantial equipment loan, a Limited Edition bottle of Smokehead Extra Black each, LickLibrary DVDs, a re-master of four tracks by famed Metropolis Studio and a covermount CD by Classic Rock Magazine.
Described as a modern rock band, The Sons of Icarus (formerly The Fury) are based in Guildford and consist of Andy Masson (vocals/ guitar), Alex Masson (bass/ backing vocals), Mike McQuillan (Drums), Steve Balkwill (Lead Guitar), who study together at the Academy of Contemporary Music, Surrey. The band reached the final thanks to fans voting online and the final was also broadcast by Lick Library via a webcast and was viewed by nearly 1,700 visitors.
Paul Marshall, Artist and Customer Liaison Manager of Marshall Amplification said: "The Sons of Icarus are an outstanding band and truly worthy winners of the Marshall UBC. I am sure 2011 will see the band go from strength to strength and I understand a management company is now looking to sign them.
"A major part of winning the Marshall UBC is the added exposure it offers allowing the band opportunities to get in front of very influential people in the industry, which otherwise can be very difficult.
"I would like to thank all the bands that entered as the overall standard was extremely high making for a great evening and some tough judging. I would urge all the bands out there to look out for the opportunity to enter the Marshall UBC 2011."
Iain Weir, Marketing Director of Smokehead Whisky and UBC judge said: "We were thrilled to be able support the first ever UBC and The Sons of Icarus were deserving winners. Over the last 12 months we have increasingly grown Smokehead's rock credentials, not only with our work with Marshall and Lick Library but also by our continued support of key events in the rock calendar including the Classic Rock Hall of Fame Awards.
"The Marshall UBC was a great success and we cannot wait until Year Two of the Marshall Ultimate Band Contest - this is just the beginning."
Sons of Icarus commented: "We absolutely loved playing at the Marshall HQ. The sound was awesome and the guys at Marshall are some of the friendliest people in the industry we've ever met. The competition was fantastically done, and we couldn't be happier to have won it. Thanks so much to Marshall, Lick Library and Smokehead!"
Smokehead Whisky, the powerful Islay Single Malt which has become the drink of choice at rock events including High Voltage Festival and, for the second time, the Classic Rock Roll of Honour Awards, which took place at the Roundhouse in London in November. Legendary shock-rocker Alice Cooper was this year's Master Of Ceremonies, along with TV presenter and all-round rock fan Sarah Cawood. Canadian rockers Rush were honoured with the Living Legend award (sponsored by Marshall), heralding the first time a band has won this prestigious accolade – previous recipients include Alice Cooper, Ozzy Osbourne and Iggy Pop. Rock icon Slash picked up the award for Album of the Year.
For more details, rules of entry and to enter see www.marshallubc.com
Described as being like a cannonball, Smokehead is an explosive combination of peat, smoke and spice with some delicate sweetness. The single malt flavour is described as fresh, fruity and immense, with notes of sherry, iodine, toffee, smoke and sea salt. The taste hits the palate at once with cocoa, peat and some honey sweetness, before exploding with peppery spice and more earthy peat.
In his new book 101 Whiskies to Try Before You Die, Ian Buxton says of Smokehead 18 Years Old: "I saw Extra Black compared to the amplifier that goes all the way up to 11 in Spinal Tap. This is just as rock and roll as that."
Smokehead is widely available throughout the UK and worldwide, RRP £31.99. Details of stockists, including Sainsbury's can be found on the website www.smokehead.co.uk
Curious to discover more, visit www.smokehead.co.uk
Smokehead Islay Single Malt Scotch Whisky encourages responsible drinking
www.drinkaware.co.uk ~~ www.scotch-whisky.org.uk
<< Back to all the latest whisky news brought to you by Planet Whiskies
Distillery of the Month: November 2023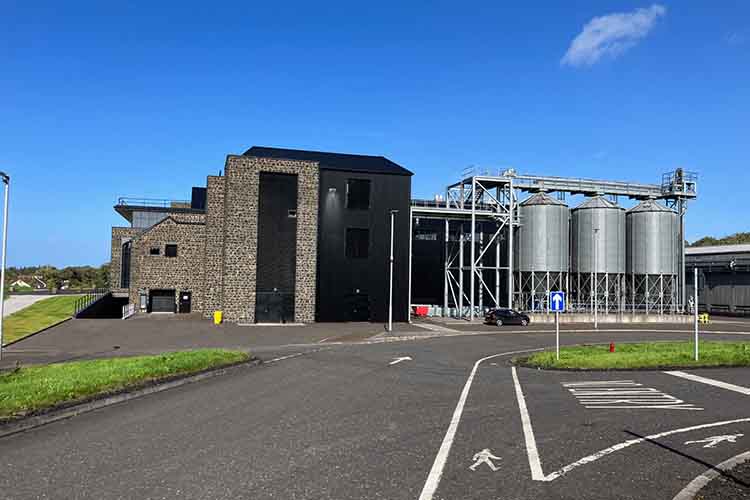 Planet Whiskies visited the new Bushmills Distillery in Northern Ireland on the 25th and 26th of September. Read our review of the experience of Bushmills and Northern Ireland at Planet Whiskies tour of Bushmills and Northern Ireland
You can also read the whole section about Bushmills Distillery at Bushmills Distillery Information on Planet Whiskies... So Bushmills is Planet Whiskies Distillery of the Month title for November 2023
Get Newsletter
Subscribe to our newsletter to get latest news, popular news and exclusive updates.